What influences Worcester Bosch boiler costs?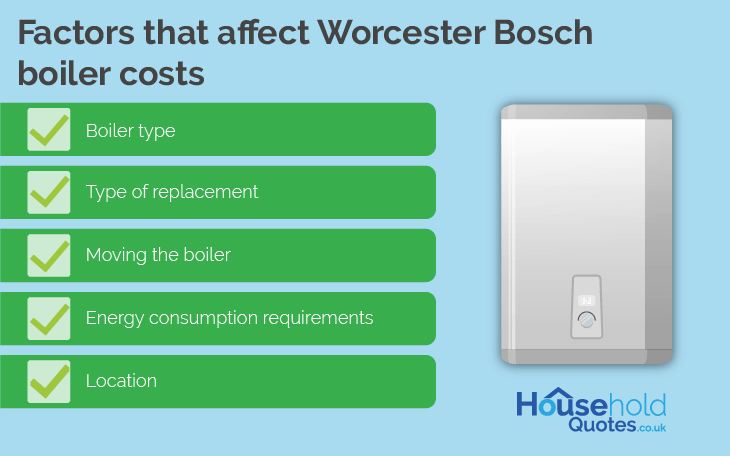 The main factors that impact the total cost of your new Worcester Bosch boiler are the type of boiler you opt for, whether you choose a like-for-like replacement or want a different boiler type, and if you want to move your boiler within your home. Other determining factors are your energy consumption requirements and your location. 
Below we explain how each of these characteristics can influence your expenses when it comes to your boiler replacement. 
The type of boiler you choose
The type of boiler you choose directly impacts the price you pay for your Worcester Bosch boiler. Below is a rundown of the different boiler types and their costs.
Combi boiler
A Worcester Bosch combi boiler both heats your water and controls the central heating around your home from one central unit. With a combi boiler, you don't need to find space for a large storage tank or hot water cylinder, as the water is actually heated directly by the boiler when you switch on your tap.
Combi boilers can accommodate most water pressures. However, they can struggle if more than one tap is being used at the same time. 
Combi boiler installations are often cheaper than conventional boilers because they require your installer to carry out less piping work. However, changing to a combi boiler from a system or regular boiler tends to be more expensive. An engineer will be able to provide you with the exact installation cost for your home. Just know that you can expect to pay between £730 to £2,400 for the boiler itself.
Conventional boiler
Worcester Bosch conventional boilers are generally installed in homes that already have a conventional boiler that is nearing the end of its lifespan. Conventional boilers use a cold water storage tank which is normally housed in your loft and this tank is connected to and feeds water to the hot water cylinder that you normally find in an airing cupboard. 
Conventional boilers are suitable for properties where there is an older radiator system, where there are two or more bathrooms, where local water pressure is low, or for homes with high hot water usage. 
The estimated cost of a conventional boiler is between £760 and £2,200.
System boiler
A Worcester Bosch system boiler shares many features with a conventional boiler, except that there is no need for a separate cold water storage tank. Instead, a system boiler only needs a hot water cylinder that contains all the heating and hot water parts in its construction.
System boilers are generally cheaper than conventional boilers and they work well in properties with more than one bathroom, as they can supply hot water at the same pressure to as many taps as you want. The installation time required for a system boiler is usually less than with a conventional boiler.
System boilers cost anywhere between £960 and £1,900, depending on the model you choose.
Whether you choose a like-for-like replacement or a boiler conversion
Switching your type of boiler to another will be more expensive than switching to a like-for-like upgraded model. If you do want to change to a different boiler or fuel type, keep in mind that your replacement costs will be higher. You should also consider the fact that some boiler types (such as conventional boilers) take up more space in your home.
If you need to move your boiler
You'll pay more for a new Worcester Bosch boiler if you choose to have it installed in a different location than your original boiler. That's because additional piping will be required for the fitting. You can also expect higher labour costs because this kind of installation takes longer to complete.
How much energy you consume
Your energy consumption requirements will directly impact the cost of your Worcester Bosch boiler. This is also connected to the type of fuel you choose for your boiler, as different fuel types come with different costs.
Your boiler can run on gas, oil, LPG (liquefied petroleum gas), electricity, or biomass. Today, gas is the most common fuel type for boilers in the UK. In some areas, it is also the cheapest option. However, prices for heating fuel also vary per region. 
If you're deciding between a gas boiler or a heat pump, then it's also important to understand how the efficiency of your heating system will affect your running costs. A highly efficient heat pump could bring down your electric running costs below that of a gas boiler.
As part of the Future Homes Standard, the UK government may begin phasing out gas boilers starting with newly built properties and eventually all properties, although these plans may be subject to change. You can check our page on these policies to learn more if you want to know when are gas boilers being phased out.
Before choosing your fuel type, you will want to check oil boiler costs, LPG boiler costs, electric boiler costs, as well as the other kinds of fuel to compare prices and find out which costs apply to you based on how much energy you consume. You can learn more about fuel prices from our electric boiler vs gas boiler comparison page.
Your location
Boiler and installation costs vary per area in the UK. Generally, you can expect to pay more if you live in a large city and less in a rural area. This has to do with availability and demand in different locations.
To find out the exact installation costs for your location, you will want to work with a specialist near you, who can provide the exact price for their services. Luckily, you don't have to spend hours looking up installers in your area, because we can help you find one in just 1 minute!
Simply click below and fill in our simple form. You will then receive quotes for Worcester Bosch boilers and installation services from local heating engineers. Get started today to find the best boiler and installer for your home.
Fill in the form in just 1 minute
Worcester Bosch boiler review: pros and cons
Like all things, Worcester Bosch boilers come with both advantages and disadvantages. To further help you decide whether this model is the right fit for your home, we compiled a list of the pros and cons of this appliance.
Advantages of Worcester Bosch boilers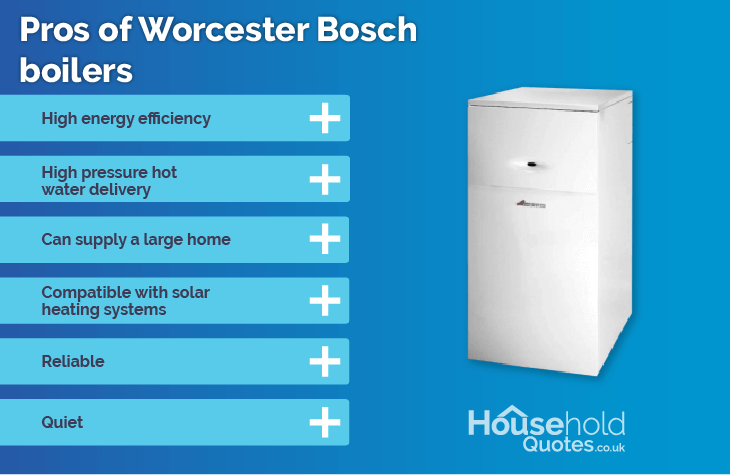 High energy efficiency: Worcester Bosch boilers can supply your home with heating and hot water while using less fuel. This allows you to avoid overspending on your energy bills.
High pressure hot water delivery: Hot water is delivered at mains pressure, which means that you do not require a separate pump for a strong water pressure. 
Can supply a large home: Worcester Bosch boilers are a great option for homes with two or more bathrooms, as they can easily supply hot water to multiple taps at the same time. 
Compatible with solar heating systems: Worcester Bosch boilers are compatible with solar water heating systems. This can help you reduce both your carbon footprint and your energy expenses in the long run.
Reliable: Worcester Bosch boilers have a lifespan of over 20 years and they are known for their quality workmanship and reliability.
Quiet: Some Worcester Bosch boiler models have been awarded the Quiet Mark, meaning that while they operate, they do not disrupt the quiet in your home.
Disadvantages of Worcester Bosch boilers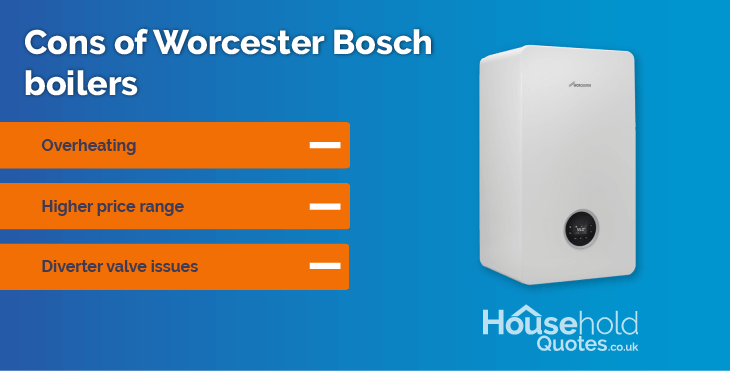 Overheating: Worcester Bosch boilers can experience some overheating, which can lead to the degradation of the boiler, in some cases. 
Higher price range: Compared to other brands, Worcester Bosch boilers can be more expensive. As a result, they might not be suitable for all homeowners' budgets.  
Diverter valve issues: One of the most common reasons for lack of hot water supply from Worcester Bosch boilers is their potential faulty diverter valve. 
While these are some important factors to consider when choosing a new boiler for your home, it is important to note that with proper care and maintenance, issues such as overheating or faulty diverter valves can be prevented. This allows you to enjoy the benefits of your new Worcester Bosch boiler for years to come. 
If you want to know more about Worcester Bosch boilers than just these advantages and disadvantages, you will want to contact a specialist. In addition to providing you with more technical information about this appliance, a heating engineer can also help you determine the exact cost of a new boiler for your home. 
Not sure where to find a trusted engineer? You can start by clicking below to request quotes from local installers from our network of specialists. 
Get started today to learn more about Worcester Bosch boilers!
Fill in the form in just 1 minute
Worcester Bosch boiler customer reviews

Not only do the technical specifications of Worcester Bosch boilers attest to their high performance and quality, but they are also highly regarded by homeowners who have them installed.
Worcester Bosch products are very popular with both homeowners and installers. They currently enjoy a 4.6 out of 5 rating on Trustpilot based on over 30,000 customer reviews.
Additionally, in the most recent Which? survey, 9,610 participants rated Worcester Bosch boilers 5 out of 5 for both reliability and overall customer score. Installers also appreciate the reputation of the brand, giving it a 5 out of 5 score for availability of parts and engineer recommendations.
How do Worcester Bosch boilers compare to other boiler brands?
What makes Worcester Bosch boilers stand out from other options on the market is that they are highly regarded as reliable quality products by homeowners, as well as by installers. Not only that, but they have one of the longest standard warranties available for their products.
To make it easier to compare the performance of a Worcester Bosch boiler to other boiler brands, we provide an overview of some of the features of each product below. The efficiency, warranty, and price we estimate are for combi boilers for each brand.
Worcester Bosch Compared to Other Boiler Brands

| Specifications | Worcester Bosch | Ideal | Baxi | ATAG | Viessmann | Valliant |
| --- | --- | --- | --- | --- | --- | --- |
| Efficiency (%) | 94% | 93-94% | 93% | 94% | 92-94% | 94% |
| Standard warranty | 2-5 years | 2 years | Up to 7 years | Up to 12 years | 3-5 years | 2-5 years |
| Price | £730-£3,837 | £950-£1,400 | £600-£1,100 | £1,100-£2,150 | £800-£2,000 | £850-£1,800 |
As you can see, Worcester Bosch boilers are high quality products that rival other brands on the market today. Their quality, efficiency, and durability make them a popular choice for homeowners and heating engineers alike. 
While they might be more expensive than other brands, with a Worcester Bosch boiler you know that you will be enjoying the benefits of a reliable high-quality appliance for years to come. 
If these facts and figures have helped you decide to have a Worcester Bosch boiler fitted in your home, we can help you get the process started. The first thing you will need to do after making your boiler choice is to find an installer to work with. 
You can avoid hours of research on the best installation services in your area by filling in our short form to receive quotes from local heating engineers. In 1 minute, you can request quotes for new boiler and installation services to find the best deal for your home. 
Click below to get started today! 
Fill in the form in just 1 minute
Is a Worcester Bosch boiler the right choice for my home?
To be able to decide whether a Worcester Bosch boiler is the best option for your home, you might want to know a bit more than just its technical specifications. Below, you can learn more about the company, its products, and its services to have a better idea of the well-established reputation of Worcester Bosch boilers. 
Worcester Bosch, founded in 1962 and now part of the Bosch organisation, provides solar water heating systems, heat pumps, hot water cylinders, gas boilers, and oil boilers across the UK and around the world. They operate from two sites in the UK – Worcester and Clay Cross in Derbyshire. In September 2021, they won the Which? Best Buy Award for Gas and Oil Boilers.
Worcester Bosch boilers are also a great option for homeowners because of their guarantees. The company offers 2-year guarantees as a minimum on all oil boilers and a 5-year guarantee for all gas boilers. They also offer other warranty options that extend up to 12 years.
What is more, Worcester Bosch are known not only for their quality products, but also for their outstanding care for customer satisfaction. They have a dedicated customer support centre to help homeowners find a solution to any problems they are experiencing with their appliances. If you have an issue with your boiler, you can easily book their boiler service options.
If this information has convinced you that you want to have a Worcester Bosch boiler installed in your home, you are ready for the next step in the process – finding the best deal when it comes to product and installation costs.
Instead of spending hours researching installation companies, you can fill in our simple form in 1 minute and request quotes for Worcester Bosch installation costs from local heating engineers. You can then compare the information you receive to find the best price for your home and choose the installer you want to work with. 
Click below and request quotes for a Worcester Bosch boiler today!
Fill in the form in just 1 minute
Frequently Asked Questions