Electric Boiler vs Gas Boiler: Costs, Pros, Cons & Performance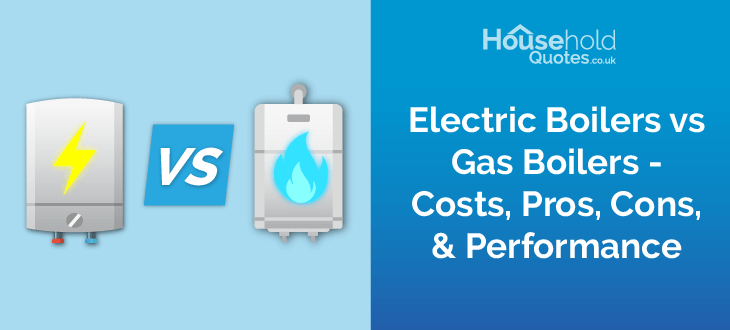 When it comes to central heating, boilers are the most common choice in the UK. Among boilers, one of the major points of comparison is the "electric boiler vs gas boiler" debate. Generally, gas boilers can be cheaper to run in regions where gas prices are lower than electricity prices. However, they are less efficient and may not be suitable for homes without a gas main.
Even though electric boilers can be more expensive to run, they have other advantages. They can operate at 98% to 100% efficiency, require little maintenance, and carry no risk of carbon monoxide poisoning. However, they may not be appropriate for houses of larger sizes.
We'll dig deeper into this discussion but the best way to find out what will work best for you is to contact an installer. If you're looking for a new boiler, you will need an installer you can trust. Finding one can be a laborious process that takes days of research and thumbing through prices if done all on your own. Fortunately, we can offer a far quicker alternative.
Our service can provide you with up to 3 free, non-binding quotes from installers in your area. All the installers in our network have been thoroughly vetted so you can rest assured that you're getting quality service. All you need to do is click the button below and fill out a 30-second form to get started. It's that simple!
Comparing Quotes Could Save You Up To 40%:
Fill in the form in just 1 minute
What are electric and gas boilers?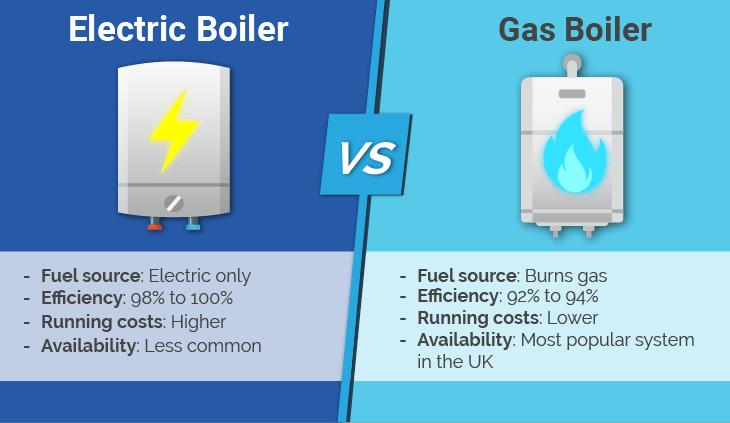 An electric boiler is one that solely runs on electricity while gas boilers tend to use a mix of electric power and gas to heat homes. Gas boilers can be connected to the house gas main and use combustion to power homes.
Many gas boilers are also compatible with LPG (Liquid Petroleum Gas). These can be powered using gas tanks or canisters which are especially handy for large homes that do not have a connection to the gas grid. LPG prices vary from gas prices, being more expensive in some regions while cheaper in others (such as Ireland).
Due to this, gas boilers tend to be cheaper to run in most instances since they use a less expensive power source. However, it's not always as simple as looking at the fuel sources. New boiler cost, efficiency, and running costs should all factor in.
So, are electric boilers expensive to run? They can be, depending on your home's water demand. While they sport efficiencies that are higher than those of gas boilers, this will only matter if the price of electricity is roughly commensurate with that of gas. In situations where electricity is far more expensive, the efficiency of electric boilers probably won't matter.
While they tend to do the same job (assuming that they are a similar size and category of boiler), their efficiencies can differ. Electric boilers also do not (directly) burn fossil fuels and can be connected to other electricity sources such as solar panels to increase their sustainability.
Electric boiler purchase costs are similar to those of gas boilers. They are newer than gas boilers so there are fewer varieties of them in terms of models provided by manufacturers. Electric boilers can be free to run if you connect them to solar panels but that will add even higher installation costs.
Advantages of electric boilers vs gas boilers
When it comes to electric boilers vs gas, there can be numerous points of difference that would give either fuel type an edge.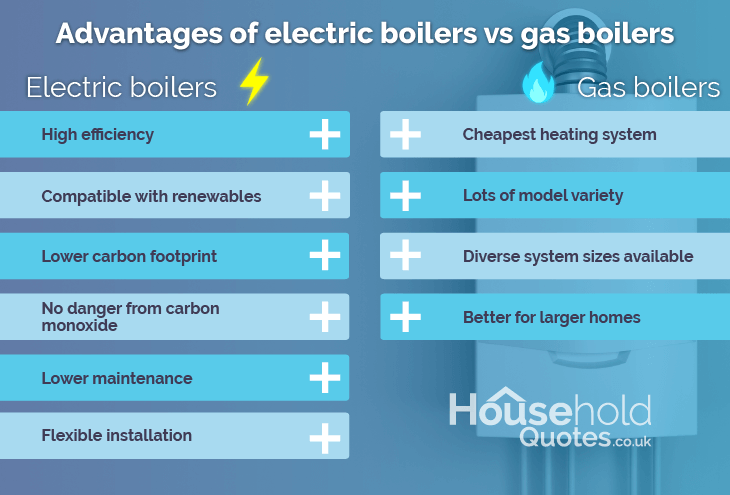 Electric boilers have many advantages worth considering:
High efficiency: Electric boilers can be 98% to 100% efficient, whereas gas boilers can be 92% to 94% efficient upon installation (which will decrease further over time).
Compatible with renewables: Electric boilers can be hooked up to alternative energy sources and could even become free in terms of running costs.
Lower carbon footprint: While they aren't automatically sustainable, they use far less fossil fuels than gas.
No danger from carbon monoxide: Gas boilers release carbon monoxide which is an odourless by-product that can cause brain damage in high doses. This is not an issue that electric boilers suffer from.
Lower maintenance: Electric models require far less maintenance and have fewer parts to be concerned about. They are also safer in the event they break down or are not maintained as they don't release hazardous gases.
Flexible installation: Since there is no need for a connection to the gas main, electric boiler installation is far less elaborate or cumbersome.
Gas boilers also have their pros:
Cheapest heating system: You can't go cheaper than gas when it comes to running costs. This is far more applicable to England, Scotland, and Wales where gas prices are significantly lower than electricity.
Lots of model variety: There are numerous models of gas boilers with a range of combi, system, and conventional boilers. This also means they are more accessible as well since you may not find the exact size and type of electric boiler in your area.
Diverse system sizes available: Gas boilers come in a larger number of sizes that can suit a variety of different homes.
Better for larger homes: Homes with high water demands are more likely to benefit from gas boilers as they are less costly and generally have a better ability to meet water demands.
Disadvantages of electric boilers vs gas boilers
While the points above may make it sound like electric boilers are a great addition, many disadvantages might make them less viable for your particular situation.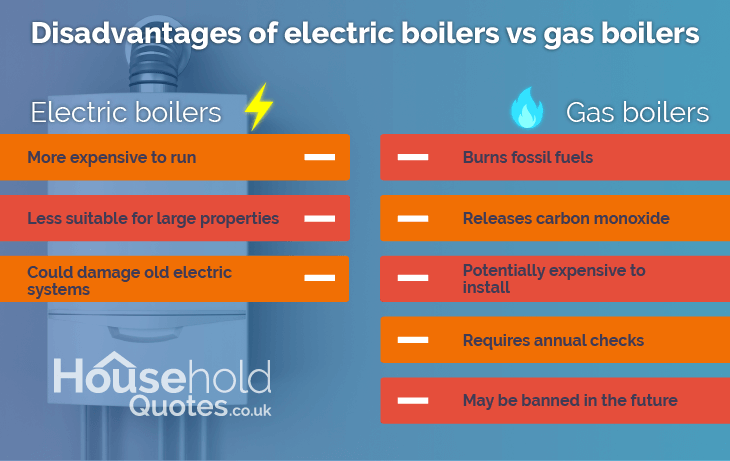 The downsides of electric boilers include:
More expensive to run: Gas is generally cheaper in most regions, so electric boilers have steep competition.
Less suitable for large properties: Large properties with high water demand may require more power than an electric boiler can handle. System and combi electric boilers may not be able to compete with conventional gas boilers in terms of water demands.
Could damage old electric systems: Older electric systems with 60A (ampere) fuses may not be able to handle it. Electric boilers often run on 48A, so a few other electrical appliances may blow out the fuse.
Similarly, the cons of gas boilers include the following:
Burns fossil fuels: Gas boilers burn fossil fuels so there is no chance that they will be sustainable. While they can operate with a range of different gases, they are all derived from fossil fuels.
Releases carbon monoxide: Carbon monoxide poisoning can be a real danger from older gas boilers. Depending on the regulations in your region, you may also have to install carbon monoxide detectors and alarms.
Higher maintenance costs: Gas boilers require a lot more maintenance to keep them running efficiently. They also have more parts that could present problems. This could end up costing more in the long run.
Potentially expensive to install: It's expensive to install a connection to the gas main and do the extra pipework, particularly if your home doesn't already have one.
Requires annual checks: Due to all the issues presented above, it's recommended that you have your gas boiler checked at least annually. This can be cumbersome throughout its lifespan.
May be banned in the future: There is a possibility that gas boilers will be banned for new properties and eventually for all properties in the coming decades. This is part of the Future Homes Standards policy, often referred to as a gas boiler ban.
A potential gas boiler ban in the UK may apply to new properties starting in 2025, banning the installation of gas boilers in freshly built homes. The current plan, as part of the "Future Homes Standard", aims to phase out fossil fuel systems starting with new homes and eventually banning them altogether by 2035 (although dates have been shifted and delayed multiple times).
Electric boiler prices vs gas boiler prices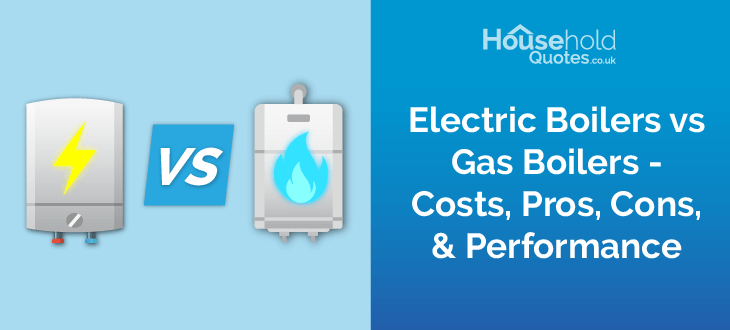 Electric boilers tend to usually be combi or system types (with a few outliers) while gas boilers come in combi, system, and conventional formats. While there are fewer electric boilers on the market, they can be as affordable as their gas counterparts.
In terms of electric combi boiler vs gas combi boiler prices, they tend to be fairly similar, starting at £600 and going over £2,000, but there are far more options for gas boilers. Electric boiler costs can be lower overall since they don't require connecting to a gas main.
System boiler prices tend to be higher since they are meant for homes with more demanding energy needs, with supply costs ranging from £600 to £2,500. These models are ideal for homes with multiple, simultaneous running water sources and high hot water needs. System boilers (and conventional boilers) also require extra space and additional components which can add to installation costs.
Some companies like Worcester Bosch provide both electric and gas boilers, but not all. Other companies like the Electric Heating Company specialise in electric models.
To learn more about gas boiler prices you can check the following links:
Electric boiler installation costs vs gas boiler installation costs
Electric vs gas boiler installation cost
Electric boiler
£500 – £1,500
Gas boiler (standalone)
£500 – £1,500
Gas boiler + Flue cost
£800 – £2,100
Whether it's a gas or electric combi boiler, the installation will free up space since combi boilers do not need additional parts such as water tanks. With the electric combi, the gas main attachment will not be needed. This often pushes the installation cost of a gas boiler on the higher side of the spectrum, which can go up to nearly £3,000.
It's also worth noting that the average cost to replace a gas boiler with an electric model can be higher than a like-for-like switch (e.g. gas to gas or electric to electric). Switching from electric to gas can be even more expensive since it will require extensive pipework and connecting the gas mains to the new boiler.
Electric models don't require a flue which means that in the event of a new installation, gas boilers can cost an extra £300 to £600. Moreover, installing an entirely new gas connection or priming a house for a gas boiler can be a heavy-duty task. This can require days of labour so it doesn't come cheap.
However, if you have a gas connection and/or gas boiler already installed, the replacement is far less complicated. It may end up costing the same as an electric boiler installation i.e., roughly between £500 to £1,500.
Electric boiler running costs vs gas boiler running costs
When it comes to electric boiler running costs vs gas, the latter wins out in any region where the electricity price is higher than gas costs.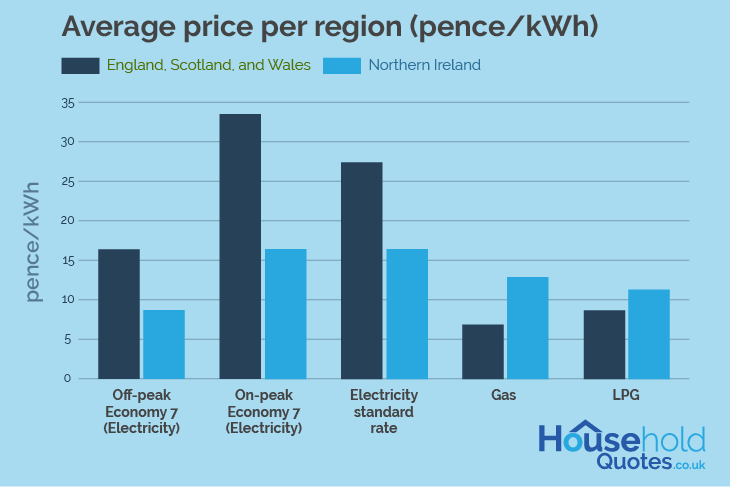 Average Price per Region (pence/kWh)
England, Scotland, and Wales
Northern Ireland
Off-peak Economy 7 (Electricity)
16.35
8.7
On-peak Economy 7 (Electricity)
33.44
16.4
Electricity standard rate
27.35
16.4
Gas
6.9
(+ £99.35/year standing charge)
12.87
LPG
8.7
(+ £62.84/year standing charge)
11.3
(+ £63.01/year standing charge)
Energy Savings Trust, October 2023
Comparing electric boiler vs gas boiler running costs, it's clear that in the majority of cases, gas boilers will win out over electric boilers. An exception to this is the off-peak hour electricity prices for Northern Ireland, where gas is very expensive and other energy sources tend to be cheaper.
Whether you want to install a gas or electric boiler, you'll still need one thing: an installer you can trust. Finding one can be difficult since you might have to scour the Internet or the phone book and assess each one you find all on your own. Instead of wasting precious days on that, why not let us do the heavy lifting?
Our service can quickly and easily provide prices from multiple installers we've vetted so you don't have to. That way you can be sure you're getting a professional who will get the job done while providing you with the best central heating prices. Click the button below to receive up to 3 free, non-binding quotes from trusted professionals in your area. It only takes 30 seconds to get started.
Comparing Quotes Could Save You Up To 40%:
Fill in the form in just 1 minute
Is an electric boiler or gas boiler easier to maintain?
Electric boilers are easier to maintain than gas boilers. This can be attributed to the lack of additional pipework and how electric boilers do not emit hazardous gases. Electric boilers have simpler connections since they are not attached to a gas main, making them easier to install and maintain.
Gas boilers, on the other hand, require frequent maintenance and an annual checkup is recommended. Without these, gas boilers not only lose efficiency but also could be leaking carbon monoxide, which is harmful, odourless, and invisible. This makes old gas boilers a potentially hazardous appliance if left unattended.
This is not to say that electric boilers do not require any maintenance. An occasional tune-up is still recommended to retain their efficiency. However, there are fewer parts to maintain and almost no potential hazards compared to gas boilers.
Is an electric boiler or a gas boiler more efficient?
Electric boilers are more efficient than gas boilers. They tend to have 98% to 100% efficiency compared to the usual 92 to 94% for gas boilers. This means that there is little to no energy loss for electric boilers.
Another aspect to consider is that boilers all lose efficiency over time. Gas boilers will lose a lot more over time as they start with a lower efficiency even at installation. At the same time, they also require more extensive maintenance to keep their efficiency at a higher level.
Which one is the best fit for your household?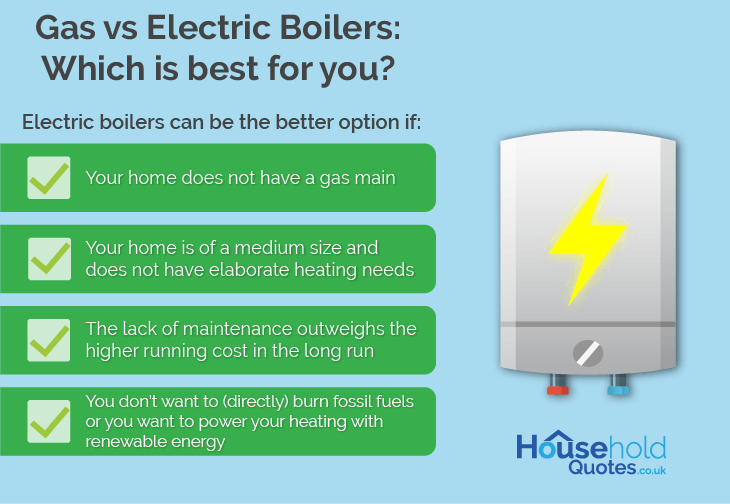 Whether a gas boiler or combi boiler will be the best for your home depends on how complex the installation will be, whether it will require new components, and what the running costs of each system may be.
If you have a small home without a gas main and low water demands (often for 2 to 3 people) an electric combi may be the most financially viable. Larger homes without a gas main or in an area with expensive gas prices can also opt for an LPG or oil boiler, as an electric model may not be able to keep up.
However, if gas is readily available and you have an existing gas boiler, installing a replacement is best for running costs. While they require maintenance and checks, they are often more powerful systems that can handle the demands of larger houses.
On the other hand, it might get harder to buy gas boiler parts and components as they may be phased out in the future. This may not yet be a certainty, but if the ban goes through, alternative systems like electric boilers or heat pumps may be the better option.
Ultimately, the best way to assess your needs is to contact an installer. Finding a trustworthy professional can take days of strenuous research and price comparisons until you find the right one. Even then, you can't be certain you've found the right person for the job. That's why we provide a better way to save time and get in contact with trustworthy installers.
All you have to do is fill out a 30-second form and we will provide you with up to 3 free, non-binding quotes from trusted installers. We've thoroughly vetted them so you can be sure you'll be getting the best help and prices available. Click the button below to get started.
Comparing Quotes Could Save You Up To 40%:
Fill in the form in just 1 minute
FAQ