Double Glazed Windows Prices: Costs in the UK 2023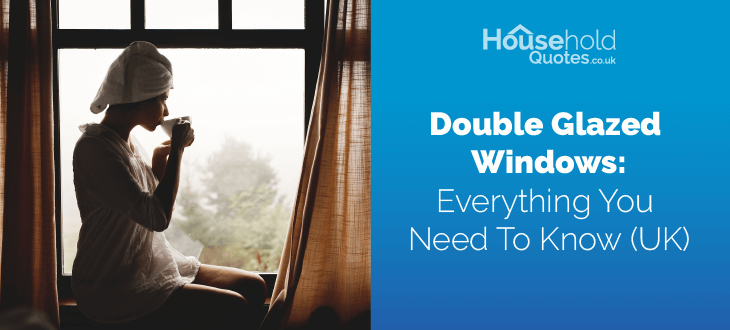 Double glazed windows are a wonderfully effective energy conservation solution that many homeowners tend to overlook. It's one thing to equip your home with an energy-efficient heating system, but how much of your produced heat is lost to poor insulation? 
Through their innovative design, double glazed windows can decrease your home's heat loss by 30% or more, compared to single glazed windows. Alongside the long lifespan, enhanced security, and a dizzying array of styles, double glazed windows allow you to save up to £235 on your annual energy bills.
In this article, we will discuss everything you need to know about double-glazing your home from prices to efficiency, types, models, as well as potential grants to ease your investment. 
Are you already interested in double glazed windows for your home? Researching and vetting a sea of manufacturers and installers can have you spending weeks on online pages and phone calls. Look no further than HouseHold Quotes for quotes tailored to your specific needs.
Simply click the button below and fill out our 30-second survey to obtain double glazing quotes from reputable manufacturers in your area; free of charges and obligations!
Fill in the form in just 1 minute
How much does double glazing cost in the UK?
The question that is often on every homeowner's mind is: how much does double glazing cost? Despite what may add up to a hefty first investment, the long-term benefits of double glazed windows absolutely justify their price. On average, double glazing prices sit at around £4,500 for a home, but there are several key factors that will influence the overall cost of double glazed windows such as their size, chosen frame material, type of glass and more. 
The table below gives you an average window replacement cost based on the frame material you opt for. While these prices will increase for larger sized windows, it can give you a better idea of what to expect as a baseline:
| Frame material | Average cost per window |
| --- | --- |
| uPVC | £160 – £990 |
| Aluminium | £210 – £1,290 |
| Wood | £240 – £1,485 |
How much does it cost to double glaze a house?
While it's difficult to state accurate prices considering the many factors that can influence the cost of double glazing a full home, below is an average cost breakdown of what you could potentially expect as your overall investment based on home size and material choice:
| Number of windows | uPVC | Aluminium | Wood |
| --- | --- | --- | --- |
| 4 | £640 – £3,960 | £840 – £5,160 | £960 – £5,940 |
| 8 | £1,280 – £7,920 | £1,680 – £10,320 | £1,920 – £11,880 |
| 12 | £1,920 – £11,880 | £2,520 – £15,480 | £2,880 – £17,820 |
| 15 | £2,400 – £14,850 | £3,150 – £19,350 | £3,600 – £22,275 |
| 20 | £3,200 – £19,800 | £4,800 – £25,800 | £4,800 – £29,700 |
In addition to the material itself, another component of your overall investment will be the double glazing installation cost. On average, we can assume that the hourly rate of a double glazing installer will range somewhere between £25 – £35 per hour. This would amount to around £200 – £280 per day to get your new windows installed.  
In any case, it is highly recommended to consult with a licensed and reputable installer so that you may form a better understanding of your final investment with all factors considered. However, this is easier said than done given the vast choice of both windows and installers. That's where HouseHoldQuotes comes in!
Through our services, you can receive home-tailored accurate quote prices that are free of charges and obligations. In addition to saving you time, our network of trusted local installers can ensure that you land the best bargain possible. Simply click the button below to begin!
Fill in the form in just 1 minute
How does the window material affect the double glazing cost?
To best understand how much is a double glazed window, you also need to delve into the window material cost differences. 
Alongside aesthetic value, each window material and style also comes with its own set of pros and cons to consider beyond just the price. In this section, we break down the average cost expectations for your material and stylistic window choices:
uPVC: Unplasticised polyvinyl chloride (uPVC) frames are regarded as the most cost-effective choice. They are durable, require little to no maintenance, and offer great insulation for their price.
Aluminium: Whilst they are far more durable, yet pricier than uPVC frames. Aluminium windows are not as insulating as the other options. Nevertheless, these frames are highly recommended for much larger home windows that need structural support.
Wood: Typically the most expensive option on the market, wooden frames offer exceptional insulation, and come in many classic styles that homeowners love. On the downside, these frames require frequent maintenance to prevent issues such as rot, mould, and insect damage.
In addition to the choice of materials, there are also four main styles of window frames you will often come across, these are: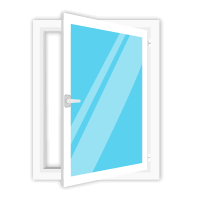 Casement: A common window style by which the window is attached to its frame with side-mounted hinges. This allows the window to open fully like a door, as well as allows lots of light and ventilation to enter your home.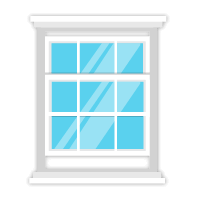 Sash: A classic window style with two sashes that allow one window pane to slide vertically upwards. While it is a popular elegant choice that enhances a home appearance, sash windows allow less ventilation than casement windows.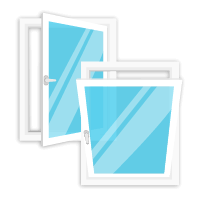 Tilt and turn: A modern and practical twist on casement windows; literally. These windows have both side hinges and a bottom hinge that allows you to twist the handle and open your window at a vertical angle. In addition to practicality, the small vertical opening enhances your home security as it is too small an opening for a break-in.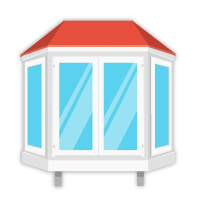 Bay: As the name suggests, bay windows protrude outside of a home's main wall, creating a sort of bay or alcove inside the home as well as panoramic views through 3 sided windows. Alongside increased exposure to natural light, bay windows add a special charm to any home. A bay window price tends to sit higher than other styles.
It's worth mentioning that our provided list of window styles is not exhaustive. There are many other stylistic choices out there on the market, these just happen to be some of the most common styles of windows you will likely see.
To give you a better idea, below you can find a table that breaks down the average cost of a window per material and window style:
| Window style | uPVC | Aluminium | Wood |
| --- | --- | --- | --- |
| Casement | £160 – £825 | £210 – £1,075 | £240 –  £1,240 |
| Sash | £240 – £1,240 | £315 – £1,615 | £360 – £1,860 |
| Tilt and Turn | £200 – £1,030 | £265 – £1,345 | £300 – £1,550 |
| Bay (3 Panels) | £1,190 – £1,800 | £1,550 – £2,340 | £1,785 – £2,700 |
uPVC double glazing costs
In the UK, uPVC window frames have become an increasingly popular investment for homeowners seeking an affordable, yet durable solution to energy-efficient windows. 
Additionally, uPVC frames are much easier to customise to fit any size or specification compared to their counterparts. They are also practically unaffected by UV light damage, exposure to moisture, or strong winds, making them very robust choices for the price.
Let's have a look at some estimated price ranges for uPVC new double glazed windows in different styles: 
| uPVC window style | Price range per window (600 x 900mm) |
| --- | --- |
| Casement | £300 – £450 |
| Sash | £240 – £990 |
| Tilt and Turn | £200 – £825 |
| Bay (3 panels) | £1,190 – £1,725 |
Aluminium double glazing costs
Double glazing prices with aluminium frames start at a slightly higher margin than uPVC frames given their enhanced strength and durability. Nonetheless, aluminium framing makes a stylish, long-lasting, and easy-to-maintain addition to any home. 
Aluminium is highly durable, practically weatherproof, and relatively easy to maintain. While the metal frame itself is a poor insulator of heat, aluminium frames are fitted with a thermal break that successfully prevents heat loss.
Let's have a look at some estimated price ranges for double glazed aluminium windows:
| Aluminium window style | Price range per window (600 x 900mm) |
| --- | --- |
| Casement | £210 – £860 |
| Sash | £315 – £1,290 |
| Tilt and Turn | £265 – £1,075 |
| Bay (3 panels) | £1,550 – £2,250 |
Wood double glazing costs
The price of double glazed windows with wood framing tends to be more expensive than the uPVC or aluminium counterparts, but for good reason as well. Usually found as hardwood (such as oak), some cheaper softwood options also exist.
Alongside their very distinctive aesthetic appeal and wide choice of styles, wooden frames are also natural, and naturally good at insulating heat. This makes them a far more renewable material than uPVC, as well as a more effective insulator than aluminium. 
A wood windows price will depend on factors such as your chosen type of wood, the size of frame needed, and the style of window you opt for. As an example, you can check out our work on a wooden sash window price. In terms of downsides, wooden windows require regular maintenance such as re-varnishing to prevent rot and mould. 
Let's have a look at some price estimates for double glazed wooden windows:
| Wooden window style | Price range per window (600 x 900mm) |
| --- | --- |
| Casement | £240 –  £990 |
| Sash | £360 – £1,485 |
| Tilt and Turn | £300 – £1,240 |
| Bay (3 panels) | £1,785 – £2,590 |
Steel double glazing costs
While less common than the aforementioned three, one other option for framing is steel. Well known for their superior durability, resistance to corrosion, and sleek futuristic look, steel frames stand out as another great choice, despite their high price brackets. 
Their ultra-slim minimalistic frames prioritize the view out of your window and reduce the visual clutter in your home. Additionally, they can easily be painted to any color choice to match your home's aesthetic style. 
Given that steel window frames are far less commonplace, and are harder to customize to size, giving accurate price ranges per window style is difficult to do accurately. Nevertheless, the average cost of double glazing with steel window frames can range from £1,000 all the way up to £6,000 per window depending on the size of the window. 
Which other factors could affect the double glazing cost?
When investing in double glazed windows for your home, it is important to consider the factors that can influence the average price for double glazing. Below are some examples of what to consider: 
Style: While we've covered this earlier in the article, it's worth stressing that windows come in a dizzying array of styles beyond just the ones we have mentioned. Beyond common styles like casement, sliding sash, tilt-and-turn, and bay windows, you may find other options you like. Each has its own price range and function to consider.
Frame: The main three materials for window frames are usually uPVC, aluminium, and wood. Steel is also emerging as a popular, albeit expensive option. Each material comes with its own pros and cons to consider.
Type of glass: Standard clear glass, tempered glass, or low-emissivity glass are just some of the options on the market, and all come with their own pros, cons, and pricing, as well as differing rates of energy efficiency.
Type of insulation: There are two main types of filler used between the double glass panels; dehydrated air, or inert gas (such as argon or xenon). While the former is an effective insulator, the latter is agreed to be the most effective.
Home size: Naturally, the size and number of windows in your home requiring double glazing will influence the overall cost of the process.
Window size: Simply put, larger windows will cost more than small ones due to manufacturing and material costs. An accurate quote can be drawn up for your home by a reputable installer.
In any case, to get the most accurate understanding of your potential investment, it is highly recommended to consult with several licensed professional installers in order to get a clearer picture. However, spending hours researching online, and vetting installers through calls can be a draining experience with no end in sight. That's where HouseHold Quotes can help you out. 
Through our quick 30-second form, you can be put into contact with trusted local installers in your area, who in turn will deliver home-tailored quotes completely free of charges and obligations. What are you waiting for? Click below to begin!
Fill in the form in just 1 minute
What are the benefits of getting double glazed windows?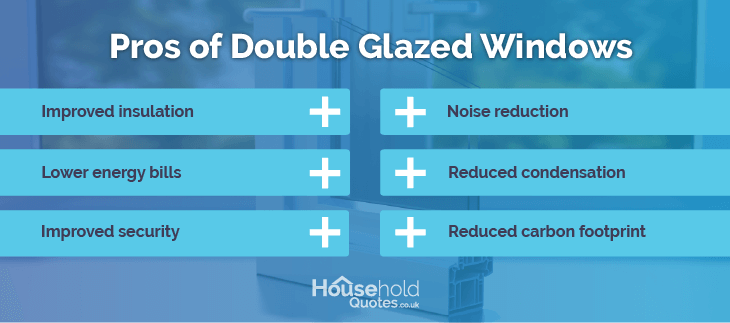 While the initial investment may seem daunting at first glance, double glazed windows are a treasure trove of positives for any home! In this section, we will break down some of the key advantages you can expect from this useful home investment.
Double glazing is an effective long-term measure of sustaining efficiency in your home for an investment far less than a triple glazing cost, but far more effective than dishing out for a secondary glazing price, making it an ideal middle-ground investment that is worth every penny. Here are some positives to consider:
Improved insulation: The gap between the two panels of glass in double glazed windows can be filled with dehydrated air, or inert gases (e.g. argon) which are highly effective in insulating heat. This way, your home will stay warmer for far longer. 
Lower energy bills: Given the improved home insulation, your home's internal temperature will be maintained steady for far longer, resulting in less use of your heating system and more money for your pockets.
Improved security: Double glazed windows are far thicker for insulation purposes, but they also provide an enhanced layer of security, as the glass is inevitably tougher to break than single-pane windows. Combined with toughened/tempered glass and a multi-point lock system, you've got yourself some impenetrable windows.
Noise reduction: The air or gas-filled space between the two panes of glass also works as an effective noise insulator. For instance, double glazed windows can reduce a lawnmower outside (95 db) to the sound of a running refrigerator (51 db) inside. This is because double glazing can reduce outside noise by 36 decibels, or up to 44 decibels with acoustic laminated glass, making your home more peaceful.
Reduced condensation: Double glazing also reduces the transfer of moisture into your home, meaning much less condensation on the inside of your windows. This, in turn, helps to avoid any structural damage, rot, or mould from forming in your home.
Reduced carbon footprint: Perhaps the most impressive of all, this handy improvement to your home results in a massive reduction in carbon footprint. Double glazing drastically reduces your use of energy for heating, cuts down on your energy bills, and further cuts down on your household emission of GHG gases. It's a win-win! 
Is It Worth It To Get Double Glazing?
The average price of double glazing may fluctuate a lot depending on personal household needs, but the benefits remain worth it. With all things considered, double glazing your home's windows comes with a wealth of benefits, making it one of the more logical steps in improving your home's energy efficiency. 
On top of it all, double glazing your home's windows allows you to make drastic savings on your energy bills, the table below estimates just how much you could potentially save:
| Efficiency rating | Estimate savings (annual) | Estimate savings (20 years) |
| --- | --- | --- |
| A rated double glazing | £195 | £3,900 |
| A++ rated double glazing | £235 | £4,700 |
Despite the upfront costs being on the higher end, double glazing windows can also comfortably return on your investment through significant annual savings. 
Based on our cost estimates, the average payback period for your investment would sit at around 25 years for an average home, but this very much depends on the various factors that have been discussed throughout this article. In comparison, the average lifespan of double glazed windows can reach up to 50 years.
Based on these estimates, here's the average payback time for an average home (8 – 10 windows) based on the type of double glazing you opt for:
| Material type | Average double glazing cost (8 – 10 window home) | Estimated payback period |
| --- | --- | --- |
| uPVC | £3,375 | 17 years |
| Aluminium | £4,725 | 24 years |
| Wood | £5,085 | 26 years |
Are there double glazing grants available in the UK?
If there wasn't enough reason to seriously consider the transition to double glazed windows for your home, the UK government also wants to help you in this process.
Most prominently, the UK government initiated the Energy Company Obligation (ECO4) scheme in April 2022, designed to tackle fuel poverty and promote the reduction of carbon emissions. Available in Scotland, England and Wales, this scheme offers up to £14,000 in grants for home improvements such as heating and insulation upgrades, and double glazing windows. The scheme is set to run until March 2026.
For those who do not qualify for the ECO4, there is also the Local Authority Flexible Eligibility (LA Flex) scheme that helps local authorities fund home improvements for those who fall short of the criteria needed for the ECO4 scheme. 
There are more than just these two potential avenues to receive government assistance from in the UK. To better know your options, you could also check our article on purchasing windows on finance, to find out how to land the best bargain for your home without a grant.
To further help you out, we highly recommend consulting with multiple trusted installers to ensure you are getting your money's worth. Instead of spending stressful weeks marred in online research and phone calls, let HouseHold Quotes take care of the weight. 
With our quick 30-second form, you can receive multiple home-tailored quotes from trusted local installers in your area, completely free of charges or obligations. This way you can rest assured that you walk away with a bargain worthy of your home. Simply click the button below to begin!
Fill in the form in just 1 minute
Frequently Asked Questions