Gas Boiler Ban in The UK: Are Gas Boilers Being Phased Out?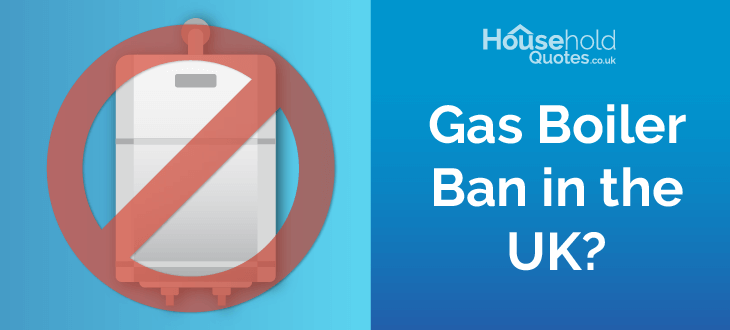 What's often considered the gas boiler ban in the UK might sound like a drastic measure but the name can be deceptive. The intention of the new policies around gas boilers is to make them less available to newly built properties. So, if your concern is that your home's boiler will need to be replaced or taken away for no reason, you can rest easy knowing that it affects new homes and may concern new boiler installations/replacements after a decade or more.
However, will gas boilers be banned in the UK as part of more extensive plans in the coming years? What does the Future Homes Standard (FHS) plan hold for the future of central heating? When will gas boilers be phased out in the UK? Let's examine the details of the recent legislative proposals to see what they're about.
But first: if you're on the hunt for a new boiler, you'll need an installer. Finding a trustworthy one can be a difficult task that could stretch on for days, requiring laborious research and price comparisons. If this sounds like a chore to you, we offer a far better way.
Our service can make your search far easier, quickly providing you with up to 3 free, non-binding quotes from installers in your region. Our network is full of thoroughly vetted professionals who can provide you with the service you need. All you have to do is fill out a 30-second form. Click the button below to get started.
Comparing Quotes Could Save You Up To 40%:
Fill in the form in just 1 minute
Are gas boilers being phased out?
As part of the UK's commitment to reaching net zero emissions by the year 2050, a slate of policy proposals has been approved. Among the many proposals are a number of restrictions, tariffs, and subsidies that affect heating and cooling appliances. This includes what is being called the "gas boiler ban" but is actually the 2025 Future Homes Standard.
As mentioned earlier, gas boilers aren't really being taken away but the government is planning to shift away from gas. So it's not an immediate ban but rather a series of policies meant to phase them out slowly and make alternative technologies more affordable for the average consumer. It will affect gas, oil, and LPG boilers as a fossil fuel-dependent category.
As stated by the Committee on Climate Change, a third of the UK's emissions are the result of heating (domestic and commercial combined). 95% of the homes in the UK have central heating, with the majority of these being oil or gas-based. They tend to be inefficient and lose more energy compared to electric boilers or other forms of heating.
While this isn't a UK-only issue since gas boilers are dominant across many countries, a global ban on gas boilers seems unlikely. However, curbing national emissions targets is a good start since it brings many additional benefits aside from boosting eco-friendly measures. 
While gas boilers are, at present, the cheapest option, they have their issues. Efficient heating may benefit the consumer along with the environment. Gas boilers can also cause CO leaks which can be fatal. 
As a result, the government is looking to make more efficient heating systems with electric and/or renewable sources more prominent. The policies can mean lower installation costs and subsidies for alternative heating systems. Many homes aren't connected to gas lines, so these measures can be handy for them.
But are gas boilers being phased out any time soon? Here's a handy timeline to help illustrate the plan: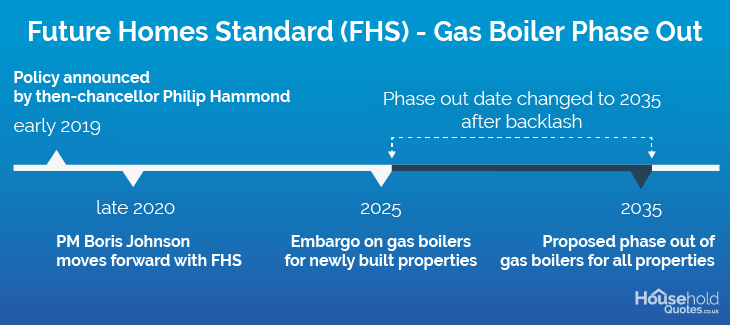 Let's dig deeper into what this means.
Will gas boilers be banned in 2025?
Currently, the plan is to bar new properties from installing gas-based systems by 2025. This will not apply to pre-existing properties in need of a boiler replacement. Alongside this policy, a number of subsidies are in effect that make alternative heating systems cheaper to purchase.
As part of the FHS plan first proposed by ex-chancellor Phillip Hammond, the policy is meant to reduce carbon emissions by 75-80%. Part of this was improving heating standards and efficiencies in homes. By the tail-end of 2019, a consultation on updated housing standards was launched by the Johnson administration.
There is no plan to have gas boilers banned in 2025 in homes, aside from new properties. The question still remains: why would the government want gas boilers phased out in newer homes?
At present count, there are roughly 160,000 new homes built annually. The installation of more fossil fuel-based systems can be a detriment to the net-zero carbon schedule. Gas boilers, while affordable for many, are also highly inefficient compared to newer boilers and alternatives like heat pumps.
Will gas boilers be banned in 2035?
So, when will natural gas be phased out in the UK? The expected gas boiler ban in 2035 is where you can expect there to be a total embargo, although it's worth mentioning that plans can change over time. In fact, they have altered the timeline before due to backlash from homeowners who found the time period unfeasible.
A ban on the sale of new gas boilers is currently slated for 2035. However, there is a reasonable possibility of backlash from homeowners who may not be able to afford new installations. Many speculate that the UK government could extend the deadline to 2040.
The gas boiler phase out in the UK may not happen for another decade, so if you need a new boiler till then, you can still get one. If you are looking to install one, you'll need a professional you can trust. With the abundance of boiler installers, it can take days of strenuous research to find one that is both trustworthy and fits your price point. Luckily, we have a faster method.
Our service can provide you with up to 3 free, non-binding quotes from installers in your area. We've already vetted them so you can be sure they'll get the job done. Moreover, with multiple quotes you can easily compare prices and pick the best one. All you have to do is click the button below and fill out a 30-second form.
Comparing Quotes Could Save You Up To 40%:
Fill in the form in just 1 minute
What will replace gas boilers?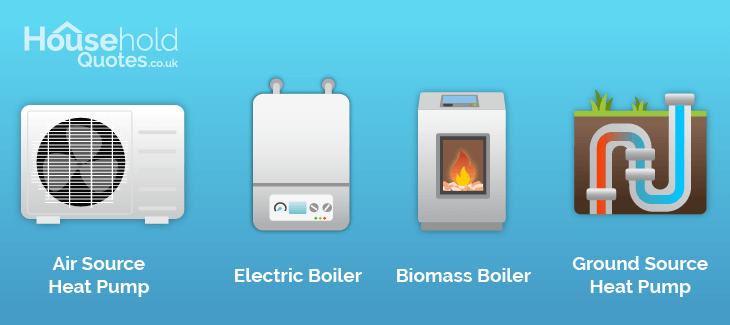 There are many alternatives to gas boilers that are just as effective and usually more energy-efficient. While not all are low-carbon, they rely less on gas and more on the electric grid. Some are more sustainable than others but some are still reliant on the fossil fuel-based energy grid, so they aren't automatically greener. The latter category is best utilised with solar panels if sustainability is your main concern.
The main contender will probably be electric boilers as they are more affordable for the majority of people. Although their running costs are higher (in places where electricity is more expensive than gas), they are cheaper, easier to install, and usually more compact since they don't require a connection to the gas main.
A number of different manufacturers provide electric boilers (among other types). Electric boilers tend to beat out oil boiler prices (which can cost £1,100 minimum) and compete fairly well with gas boiler costs. In comparison, the minimum price of an electric boiler can be as low as £650 and they can potentially require far less installation work compared to gas boilers.
Electric system boiler prices tend to be higher than electric combi boiler prices and are less compact. That said, just like gas system boilers, they tend to be better for homes with more than one shower or generally higher hot water demands.
More upscale systems can be on the pricier side. Baxi is one of the companies that provides both gas and electric boilers, with the Electromax electric combi boiler being their most prominent model (distributed through their Heatrae Sadia subsidiary). In terms of Baxi boiler cost, the Electromax is rather pricey coming in at £2,000 but it is one of their top-line models.
However, electric boilers aren't the only game in town in terms of what will replace gas boilers after 2025 (for new properties, at least). There are many low-carbon alternatives that are also worthy replacements for gas boilers.
What are low carbon alternatives to gas boilers?
With gas boilers phased out, low-carbon systems might be more viable for the market.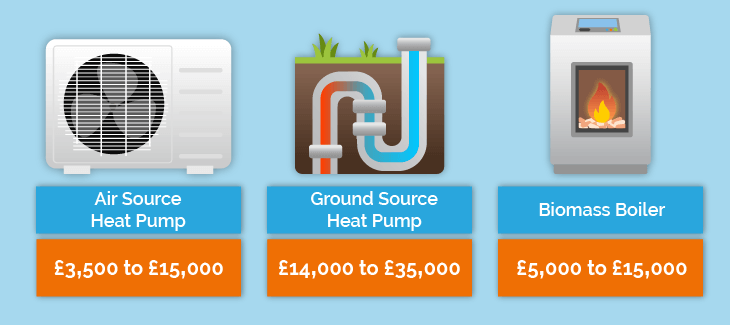 As appliances, heat pumps are a very sustainable solution. Using only a small amount of electricity, they are capable of transferring heat from the air, water, or the ground and turning it into cold or vice versa. In the winter they can heat your home and in the summers they can cool it, all with up to 400% efficiency.
Heat pumps transfer heat (or cold) rather than generating it. The difference is that for gas boilers to generate heat, some form of burning has to take place. Here, the air is passed through a fluid or coolant and compressor to adjust its temperature. Heat pumps tend to cost between £5,000 and £35,000 depending on the model and complexity of the installation.
There are 2 types of heat pumps:
Air source heat pumps: ASHPs extract cold air and turn it into warmer air for ventilation. As a coolant passes through the heat pump, either absorbing or expelling air, it can adjust the temperature inside a home. ASHPs are cheaper than ground source models.
Ground source heat pumps: Ground source heat pumps require a fair bit of burrowing and digging holes, but they can be an excellent source of sustainable air. Here, the mechanism relies on the fact that the temperature below the soil remains relatively stable all year. By passing a mixture of water and antifreeze into the ground via the heat pump, it can adjust the temperature of the air within a home.
Another alternative to gas boilers is a biomass boiler. These boilers are sustainable because they use renewable and biodegradable biomass to generate heat. These are usually wood and wood derivatives that are ignited within the boiler using an electric probe. They tend to cost between £5,000 and £15,000.
Do I need to replace my gas boiler after 2025?
While the government is phasing out gas boilers, you will not have to ditch your gas boiler any time soon. They will be available on the market till at least 2035, if not further. In the event, that you do need to replace it, there are a number of schemes available that might help you out.
The UK government is offering £5000 (for biomass boilers) to £7,500 (for a heat pump) grants for households that can improve their energy efficiency as part of the Boiler Upgrade Scheme. Slated to promote clean heat from low carbon technologies such as heat pumps and efficient boilers, you can pay off all or part of your new boiler cost with this grant if you switch to a biomass boiler.
Starting April 2022, the government has set aside £450 million under this scheme and intends to run it till 2025. If successful, it could possibly get extended as has happened with other policies like the ECO scheme.
Till then, if you need to replace your gas boiler immediately, here are a number of informative pages with manufacturers and prices:
Is it worth getting a new gas boiler?
Gas boilers are the cheapest heating system in terms of running costs but they also have their issues. If your boiler is past 10 to 15 years old, it may be worth installing a new boiler or an alternative to gas. There are several considerations to take into account.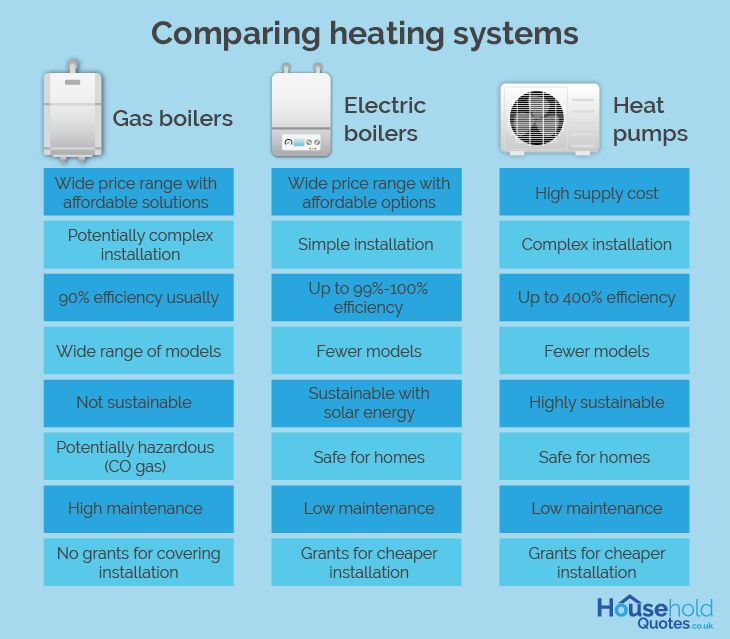 Despite their affordable running costs, old gas boilers can be inefficient, especially as they lose efficiency over their lifespan. They can even be potentially hazardous due to carbon monoxide leaks, requiring frequent maintenance to ensure their safety and efficiency. 
Installation can also require extra parts and a connection to the gas main so they may not be suitable for every home. Moreover, there is no government assistance available for gas boilers, unlike the alternatives.
Ultimately, if you can afford the running costs of an electric boiler, it is a viable option. If possible, the ideal solution is to get an electric boiler with solar panels, which would be the cheapest in terms of running costs, while also being the most sustainable option. The downside is that getting both a boiler and solar panels can be very pricey.
The installation price issue is also prevalent with heat pumps. However, they could be worth it if you can obtain a grant to cut their installation costs, and since their efficiency is about 4 times higher than a gas boiler's, the return on investment is high. They are also renewable so, in terms of sustainability, they are the best standalone option.
However, regardless of what heating system you want, you'll need an installer you can trust. While this can take numerous days of research and price comparisons if undertaken on your own, we offer a better way.
All you need to do is fill out a 30-second form and we'll find up to 3 free, non-binding quotes from installers in our network. We've already vetted them so you don't have to spend tireless days assessing their trustworthiness. Click the button below to get started and quickly receive the best prices your area has to offer.
Comparing Quotes Could Save You Up To 40%:
Fill in the form in just 1 minute
FAQ