New Boiler Costs in 2023: Prices & Installation in the UK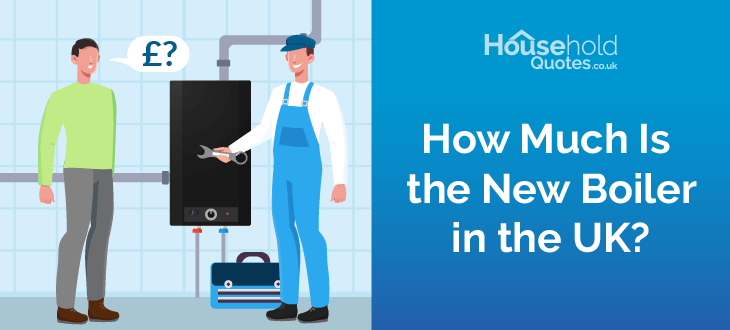 As the chilly winds of the upcoming winter descend upon the UK, it's time to cosy up to the idea of a new boiler. Getting a new boiler in the UK is a solid investment, so some homeowners seek ways to balance both their comfort and financial well-being. 
While the new boiler and installation cost might not equal your average grocery bills, it definitely carries far-reaching benefits for your energy bills. 
In this article, we'll navigate the ever-changing landscape of boiler prices in the UK, boiler replacement cost, and which boiler grants are available for UK homeowners.
The best way to find a bargain among all the boiler prices is to compare boiler quotes from heating experts. However, finding an installer you can trust can become a real pain in the neck with all the googling, calling and vetting. We bet it's not your dream activity for using up your Sunday afternoon.
Thankfully, Household Quotes can do the legwork for you. All you have to do is fill in our 30-second form and we'll connect you with up to 3 vetted heating engineers in your area. Compare their free quotes to find the best solution for your home. It's completely free and non-binding. Click below to begin!
Comparing Quotes Could Save You Up To 40%:
Fill in the form in just 1 minute
How much is a new boiler? Boiler prices in the UK
The new boiler cost in the UK varies widely, spanning from £500 to £3,000, depending on the boiler type and manufacturer. This also depends on your household size, with 3 resident households being the most common in the UK. The best boiler for a 3 bed house will probably cost £1,100 to £2,000.
This installation cost encompasses the labour hours of the engineer and the intricacy of the installation process. Several factors, such as the boiler brand and your geographical location, can influence the final cost of installing a new boiler in your household.
Average Boiler Prices in the UK

| | | |
| --- | --- | --- |
| New boiler type | Price range | Average (with installation) |
| Combi | £500-£3,000 | £2,750 |
| Conventional | £660-£2,750 | £2,955 |
| System | £580-£2,500 | £2,790 |
| Electric | £590-£2,500 | £2,790 |
Depending on the size of your property, you'll need a specific boiler type. Thus, no matter how much you'd prefer a compact combi boiler for your 2000 sq ft house, it just won't be able to heat it!
This means the bigger your property is, the higher your boiler investment will be.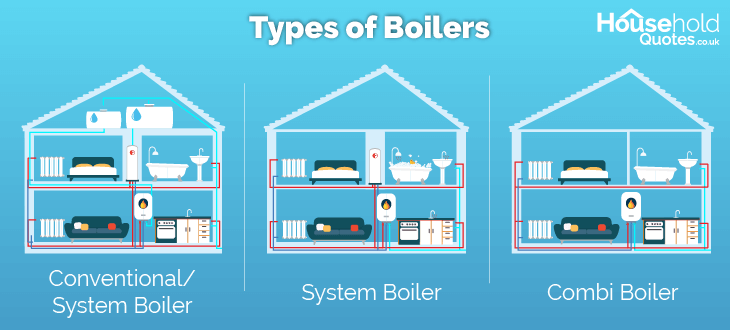 Moreover, as the UK targets to reduce carbon emissions by 2050 within its Net Zero programme, boiler manufacturers are set to introduce a 20% hydrogen blend into the UK mains supply by that time. 
This way, boilers will run on a mixture of hydrogen and natural gas and gradually reduce carbon emissions from heating homes and buildings. Thus, most new boiler installations in the UK will be this type of boiler.
New combi boiler cost
Combi boilers, or combination boilers, are the most popular with UK homeowners. They are energy-efficient, providing both heating and hot water on demand without the need for a separate storage tank.
The average combi boiler cost is as follows:
| New boiler type | Price range | Average, inc. installation |
| --- | --- | --- |
| Combi | £500-£3,000 | £2,750 |
Limited hot water supply. 

Unsuitable for weak mains water pressure. 

Unsuitable for larger homes.
New system boiler cost
System boilers are another favourite, known for their simplicity and ease of installation. They work with a separate hot water cylinder and suit larger households with higher hot water demands.
The manufacturer, model, and fuel play a major role in choosing your system boiler. Yet, the size of your property, your home's energy needs, the efficiency rating, and the warranty length of your new boiler contribute to the system boiler cost too.
| New boiler type | Price range | Average, inc. installation |
| --- | --- | --- |
| System | £580-£2,500 | £2,790 |
Pressurised hot water supply. 

Ideal for larger homes. 

Space-saving design.

Don't need a water tank. 

Compatibility with solar panels.
Delayed hot water availability. 

Heat loss. 

Complex and costly installation. 

Unsuitable for weak mains water pressure.
New conventional boiler cost
A conventional boiler consists of a feed and expansion tank and a cold water cistern in the loft or attic. A hot water storage cylinder is required as well, usually stored in an airing cupboard. The total conventional boiler cost depends on the:
Brand
Model
Warranty
Installation cost
Property size
| New boiler type | Price range | Average, inc. installation |
| --- | --- | --- |
| Conventional | £660-£2,750 | £2,955 |
Suitable for low-pressure areas. 

Multi-outlet hot water delivery. 

Solar panel compatibility.

Cost-effective.
Space requirements. 

Delayed hot water supply. 

Heat loss. 

Installation complexity and cost.
New electric boiler cost
Electric boilers are perfect for smaller-sized homes that have less demand for hot water and limited storage space. 
Electric boiler cost can range from £590 and £2,500 but the running costs, however, are higher as electricity is more expensive than gas. This can lead to higher running costs and energy bills.
| New boiler type | Price range | Average, inc. installation |
| --- | --- | --- |
| Electric | £590-£2,500 | £2,790 |
It's possible to find combi, conventional and system boilers that run on electricity instead of gas or oil. This feature makes electric boilers a favoured choice for homes that are not connected to the gas grid. Furthermore, the top-performing electric boilers boast efficiency ratings nearing 100%, allowing you to maximise your energy usage.
This is why electric boilers are commonly considered an environmentally friendly boiler option provided the electricity fueling the boiler comes from renewable resources. They operate without emitting carbon emissions or harmful gases.
However, it's worth noting that most electricity in the UK is primarily generated from burning natural gas. The escalating cost of natural gas is one of the contributing factors to the relatively high operational expenses associated with electric boilers and electric combi boilers. You can get a deeper look into the topic from our electric boiler vs gas boiler comparison page.
Electric heating may potentially become the only game in town when it comes to newly-built homes. The gas boiler ban for new homes aims to phase them out in favour of electricity after 2025 (although this may be subject to change). Read our page about heat pumps vs gas boilers to learn more.
Not sure which boiler type suits your home? We can help you find your best option! By simply clicking the button below, you can avoid the hassle of wasting hours of your spare time looking for installers. 
Fill in our quick form and get in touch with up to 3 professional installers quickly and easily. Our service is totally free and non-binding. Just click below to begin.
Comparing Quotes Could Save You Up To 40%:
Fill in the form in just 1 minute
Installation costs of a new boiler
The new boiler installation cost in the UK generally falls within the bracket of £1,500 to £2,955. The variability primarily stems from factors like boiler type, complexity of installation, additional materials, or the brand you choose. 
This cost also includes the labour hours of the engineer and factors in the complexity of the installation.
| New boiler cost | Installation cost | Total |
| --- | --- | --- |
| £500-£3,000 | £650-£2,500 | £1,150-£5,500 |
When installing a new boiler, your project may involve the removal of old units and the addition of new components. Additional expenditures to consider may include:
System power flush: £50 to £150
Magnetic filter: £100 to £150
Thermostatic heat controls: £70 to £650
New boiler flue pipe: £50 to £150
Also, the installation price can be affected by the rates of a particular installer or a location where you prefer to see your new boiler.
Local installers can provide the best boiler deals. However, independent searches of trusted installers can take hours if not days. Moreover, that's not a bulletproof way to find a certified company with the proper expertise for the best price.
Fortunately, there's a way to avoid all this stress and save your precious time. Just fill out our quick form and we'll provide you with up to 3 quotes from local Gas Safe registered boiler installers. Compare their prices without having to accept any offers. To start, click the button below for free, no-obligation quotes.
Fill in the form in just 1 minute
What influences installation costs of a new boiler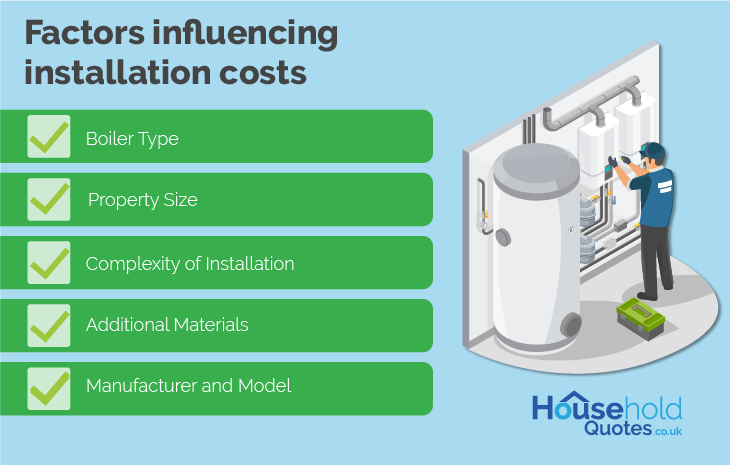 Factors like the specific site conditions, including geographic location, site accessibility, and the intended boiler placement, can exert an impact on the expenses associated with boiler installation. There are other major factors as well:
Variations in boiler type. The expense tied to the boiler itself is contingent upon its fuel source and size. For instance, gas boiler installations typically tally up to around £1,695, whereas oil boilers may range from £1,500 to £3,000 in cost.
Transitioning between boiler types. If you opt to switch from one boiler style to another, like changing from conventional boiler to combi, the expenditure is likely to be higher compared to replacing your current boiler with the same type. This is because your heating engineer may need to invest additional labour to ensure proper setup.
Residence dimensions. The size of your dwelling and the requisite number of radiators and circulation valves can significantly impact installation costs. 
Installation complexity. Installation intricacy, including the number of radiators and circulation valves, also plays a pivotal role in determining installation costs.
Boiler make and model. The choice of boiler make and model can further influence the overall installation expense.
Supplementary expenses. Additional considerations encompass labour and fitting installation costs, permits, and inspection fees. 
Installation permits can entail expenses ranging from £50 to £300, with the higher end typically linked to new construction projects. If inspection fees are required, they can increase the total cost as well.
It's worth noting that labour and material rates exhibit regional disparities throughout the UK, with major urban centres like London often commanding higher labour costs for boiler installations compared to other areas. 
Cost of replacing your old boiler with a new boiler
The expense associated with replacing your old boiler with a new one in the UK can fluctuate based on the boiler type, property size, and installation complexity. 
On average, the boiler replacement cost typically ranges between £1,150 and £5,500. Nevertheless, the boiler installation cost for a new boiler can fluctuate, with a typical range of £1,500 to £2,955. 
Average new boiler cost per boiler manufacturer in the UK
The typical expense associated with replacing a new boiler generally ranges from £1,150 to £5,500. This encompasses the cost of a new boiler, typically falling between £500 and £3,000, along with the average installation cost, which typically ranges from £1,500 to £2,955.
The prices largely depend on particular manufacturers. For example, the Baxi boilers are cheaper than Vaillant boilers:
Boiler Prices Overview

| Brand | Combi boiler prices | Conventional Boiler Prices | System Boiler Prices |
| --- | --- | --- | --- |
| Alpha | £690 – £1,033 | £710 – £810 | £788 – £1246 |
| Baxi | £610 – £1,307 | £695 – £991 | £711 – £1,032 |
| Ideal | £847 – £1,354 | £712 – £2,796 | £874 – £1,352 |
| Worcester Bosch | £730 – £2,475 | £814 – £2,300 | £899 – £3,837 |
| Vaillant | £907 – £1,703 | £792 – £1,533 | £894 – £2,700 |
| Viessmann | £916 – £3,520 | £1,100 – £1,557 | £995 – £1,650 |
Can't decide which brand to choose? An experienced installer can help you find the best deal for your heating project. However, searching for a trusted professional on your own can drag on for days and still result in no luck.
At Household Quotes, we have a network of more than 5000 Gas Safe registered engineers across the UK. If you complete our short form, we can provide you with up to 3 free quotes from trusted heating engineers in your area. You can pick the quote that's best suited to your needs with no obligation to place any orders. 
All you need to do to get started is click the button below.
Comparing Quotes Could Save You Up To 40%:
Fill in the form in just 1 minute
Are there boiler grants that influence boiler costs available now?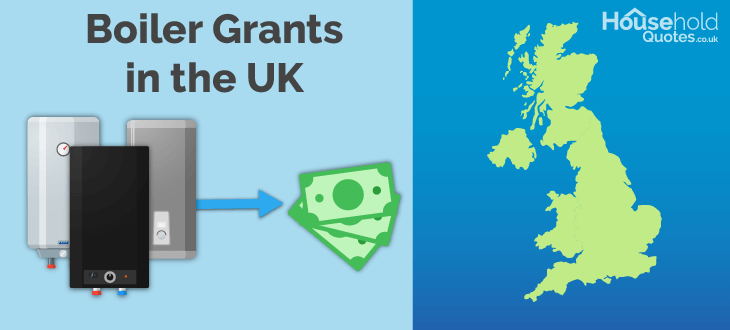 Homeowners and tenants looking to enhance the energy efficiency of their homes and save on costs have the opportunity to benefit from various boiler grants. 
The Energy Company Obligation (ECO) scheme, designed to promote energy efficiency, offers grants to help households cut their heating expenses and boost their home's energy efficiency.
You can apply for this grant under the ECO4 scheme. It's worth noting that this scheme will run up until 31 March 2026.
Exclusively applicable to homeowners or tenants in Northern Ireland with boilers that are at least 15 years old and operating inefficiently, the Boiler Replacement Scheme offers financial support for the installation of a new boiler. This can enhance the home's energy efficiency and lead to reduced energy expenditures.
Consider consulting an experienced boiler installer to find out whether you qualify for any grants.
Advantages of getting a new boiler in the UK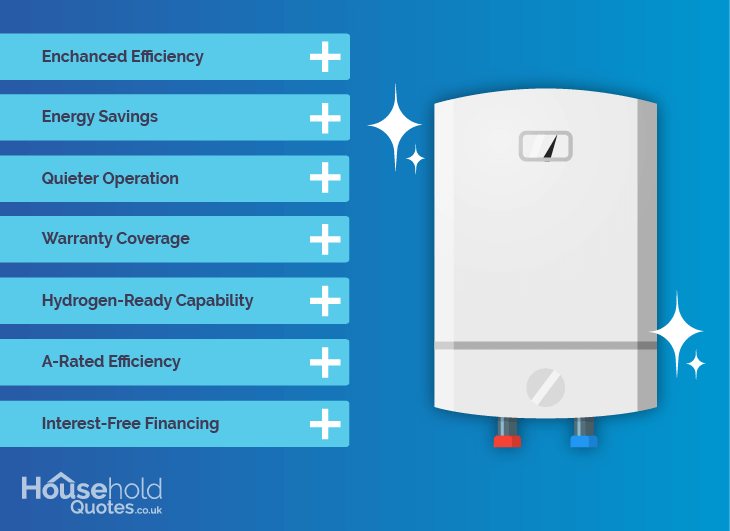 Opting for a new boiler installation can result in enhanced efficiency, reduced energy expenses, and an increased level of comfort in your home. 
Enhanced efficiency. Upgrading to a new boiler can significantly enhance efficiency compared to older models, resulting in potential energy bill savings.
Energy savings. Replacing an outdated, inefficient boiler with a new one can lead to substantial energy cost reductions.
Quieter operation. Newer boiler models generally operate with less noise compared to their older counterparts.
Warranty coverage. Many new boilers come with warranties and guarantees, offering peace of mind and protection against unexpected repair expenses.
Hydrogen-ready capability. New boilers are designed to be hydrogen blend-ready, aligning with the UK's transition to a low-carbon economy.
A-rated efficiency. Numerous new boilers are rated 'A' for efficiency, indicating their high energy efficiency and potential for reducing your carbon footprint.
Interest-free financing. Some companies provide interest-free financing options for new boiler installations, making the upfront cost more manageable.
So, how much does a new boiler cost in the UK? A local heating engineer can walk you through the boiler prices and calculate the cost to fit a new boiler at your home.
However, spending hours of your time independently researching and contacting different installers in your area can become another daunting chore to add to your daily routine.
Alternatively, you can simply fill out our 30-second form, and we'll do the rest. Click the button below. You'll receive up to 3 free quotes from qualified heating engineers in your area which you can objectively compare. It's free and you don't have to accept any of the offers you receive.
Comparing Quotes Could Save You Up To 40%:
Fill in the form in just 1 minute
What is the payback period of a new boiler?
After you have the new boiler and installation cost settled, you might wonder when your investment will break even. In a similar fashion to the boiler running costs, your savings will largely depend on the boiler itself, your energy consumption habits, and current energy prices.
As of October 2023, the new energy price for electricity is set to £0.27/kWh and £0.07/kWh for gas (with daily standing charges of £0.53 and £0.30 respectively).
This way, how much you save with a new boiler depends on its efficiency, your electricity usage, and energy prices. A Gas Safe registered engineer can estimate the payback period by looking into your particular boiler type, electricity consumption, and housing situation.   
Get new boiler deals for your UK household
If you're looking for a new boiler, we highly recommend comparing quotes. This will also give you peace of mind that you're getting the most competitive price. 
Rather than spending hours trying to hunt local installers yourself, let us take care of that for you. Simply complete our online boiler quotes form and you'll have up to 3 installers getting in touch to give you a quote in no time. Compare these quotes with no pressure to place any orders. Click below to get started.
Comparing Quotes Could Save You Up To 40%:
Fill in the form in just 1 minute
FAQ