System Boiler Guide: Prices, Reviews & Advice 2023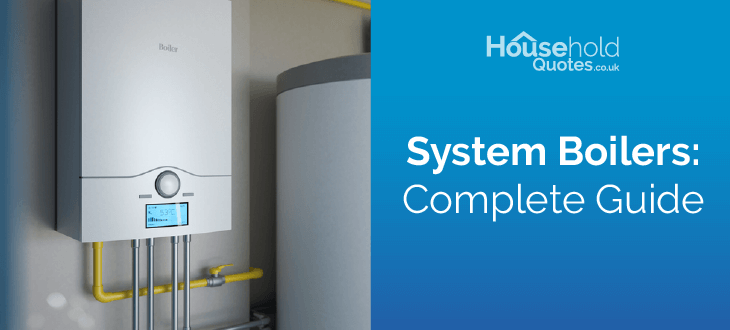 In the world of home heating, system boilers quietly excel in delivering reliable warmth and hot water efficiently. They're ideal for larger homes and properties that use large quantities of water. As well as being more cost-effective to run than conventional boilers, they also take up less space than a conventional boiler, as their heating components are built into the unit and don't require a cold water storage tank.
In this guide, we'll break down what is a system boiler, why they're useful, their pros and cons, average system boiler prices, and how to decide if they're right for your home. Whether you're upgrading your heating system or just curious, let's explore a system boiler explained in detail in our comprehensive heating guide.
Ready to ditch your old boiler and upgrade to a modern and energy-efficient system boiler? It's time to take the next step and get up to 3 personalised boiler quotes from experienced heating professionals in your area. They'll help you skip hours of painstaking research and help you improve your home with the best system boiler.
Simply fill out our easy 1-minute form, and you'll be on your way to a warmer, more efficient home in no time. Don't miss out on the comfort and savings a system boiler in the UK can bring this winter– get up to 3 free, comparison quotes today!
Fill in the form in just 1 minute
What is a system boiler: How does it work?
A system boiler is a popular boiler type in the UK for larger homes because of its ability to provide both central heating and domestic hot water. It's great for larger families because it can provide lots of hot water to taps and showers simultaneously without any loss of comfort, unlike a combi boiler. It's able to do this because it draws cold water from the mains water supply to heat in the system boiler and then stores it in an external system boiler tank.
We've broken down the step-by-step process for how a system boiler works:
The system boiler unit draws cold water from the mains water supply and heats it to your desired temperature using a heat exchanger (electric) or a flame (gas). 
The hot water flows from the system boiler through pipework to either your radiators to heat your home or to your hot water cylinder.
The hot water cylinder will store the water to be used as you need/ You can use this hot water for running the taps for showers and sinks.
The cold water from the radiators and cylinder is returned back to the system boiler via the pipework to be reheated.
We've included a diagram in the next section to help show how a system boiler works.
System boiler diagram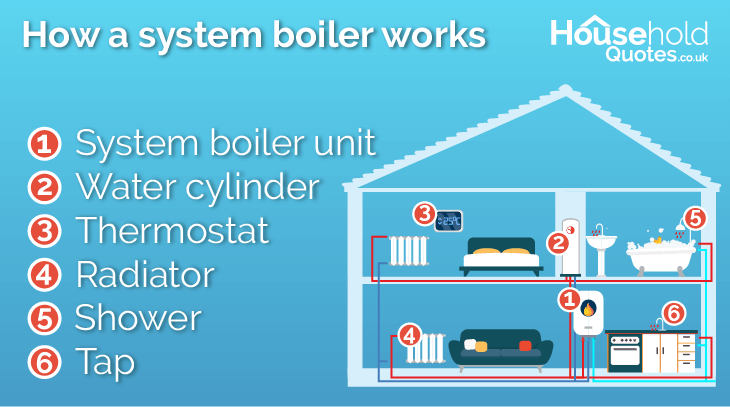 A complete system boiler consists of the following main external components:
Main parts of a system boiler

| Component | Function |
| --- | --- |
| System boiler unit | Main unit that heats water for your central heating system and domestic hot water. |
| Indirect water cylinder | Stores heated water from the boiler to supply to your home. |
| Thermostat | Measures room temperature and signals to the boiler when desired temperature isn't met. |
| Pipework | Circulates water throughout your home to your boiler, radiators, taps, and showers. |
| Radiators and tap | Receives heated water from the boiler or water cylinder. |
Additional components your system boiler setup may consist of include the flue, pressure relief valve, zone valves, drain valve, diverting valve, circulator pump, and a pressure gauge.
Types of system boilers
When it comes to system boilers, you can get different fuel types. In this section, we'll list all of the fuel options you have if you're considering installing a system boiler in the UK.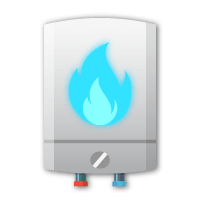 Gas system boiler
Gas is the most popular fuel option for homes in the UK because of the gas grid network. This makes getting gas connected to your home very easy if you have access to the gas grid. While the price of gas may be unpredictable at times and its carbon emissions are high, its supply is fairly reliable.
When it comes to gas boilers vs heat pumps, a gas boiler will usually cost less to run per year, based on the current price of energy. However, this will depend on the efficiency of the gas boiler you're replacing, and the CoP of the new heat pump.
It's worth noting that, while gas is popular, it is being phased out by the UK government due to its unstable nature. A gas boiler ban for newly built homes may be instituted in 2025 (although older homes can still keep theirs).
LPG system boiler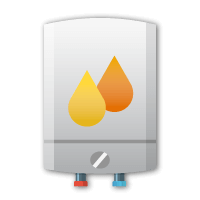 You may recognise LPG because it is also commonly used for cooking, BBQs, vehicles and more. It's a great choice for your home if you're not connected to the gas grid because it emits less carbon emissions than gas/oil boilers while still being able to maintain a similar level of energy efficiency. However, LPG boiler costs put it at a disadvantage as they require an external tank on the property to store the LPG. Hence, it's not recommended to use LPG if you're connected to the gas grid because it's not only more expensive.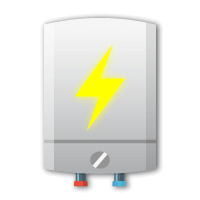 Electric system boiler
If you're keen on lowering your carbon footprint, then a great place to make an impact is by using electricity for your heating system. You reduce the most carbon emissions by using electricity generated from renewable sources. The main drawback is the higher electric boiler costs due to electricity being more expensive than gas. However, when comparing electric boiler vs gas boiler costs, you should also consider that installation is cheaper, they can be linked to renewable sources or solar panels to mitigate running costs, and many homes do not have a gas main.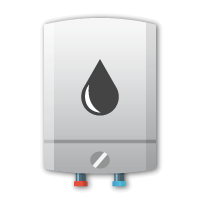 Oil system boiler
Oil is another fuel option that's good if you're located in a home not connected to the gas grid. If you do not already have an oil boiler, then getting an oil system boiler isn't recommended due to the higher oil boiler costs associated with installing an external oil storage tank on your property.
Hydrogen system boiler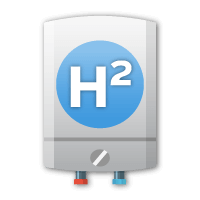 Hydrogen-based heating is part of the UK's plan to decarbonise the heating industry by 2050. As a low-carbon fuel, it has a lot of potential. However, because it's not readily available, it's too early to tell the prospect of this energy transition. Some boiler manufacturers are preparing for the potential transition by producing gas boilers that are "hydrogen ready" to accept a hydrogen gas blend. It is likely that it will be years before hydrogen boilers become a mainstream choice for homeowners.
System boiler prices: How much do they cost in 2023?
If you plan on buying and installing a new system boiler in 2023, then you can expect the total price to range anywhere between £1,100 to £3,200. However, the best system boiler for a 3 bed house (the most common type of home in the UK) does not need to be too powerful. They can be around £1,200 to £1,600 with installation. The exact cost you'll pay depends on the boiler output size you're looking for, the manufacturer, labour cost, and if you're looking for either a budget or high-end boiler model.
Another important factor to consider is if you already have a system boiler. A like-for-like boiler swap will save you money because the installation complexity is lower due to less pipework and tanks being changed. Let's take a look at some of the top manufacturers of system boilers to get a better idea of what price you can expect when it comes to Worcester Bosch boiler costs, Ideal boiler costs, Baxi boiler costs, Viessmann boiler costs, and Vaillant boiler costs. You can compare their power output range and their estimated supply and labour costs.
Average system boiler cost per manufacturer

| System boiler manufacturer | Power output (kWh) | Estimated supply cost | Total estimated cost |
| --- | --- | --- | --- |
| Worcester Bosch | 12.2 to 30kW | £1,000 to £2,700 | £1,300 to £3,200 |
| Ideal | 15 to 30.3kW | £800 to £2,600 | £1,100 to £3,100 |
| Baxi | 24 to 25.9kW | £700 to £1,200 | £1,000 to £1,500 |
| Vaukkabt | 18.5 to 37.6kW | £1,000 to £2,400 | £1,300 to £2,900 |
| Viessmann | 19 to 26kW | £1,000 to £1,500 | £1,300 to £2,000 |
*includes estimated labour costs
As you can see, Worcester Bosch tends to have the most expensive range of boiler models. The higher cost doesn't necessarily mean it's best for your home though. Each manufacturer offers different features and sizes that could suit each home differently.
Next, let's take a look at the price comparisons between different types of boilers: system boilers, combi boilers, and conventional/regular boilers.
Boiler type price comparison

| Type of boiler | Average power supply (kWh) | Estimated supply cost | Total estimated cost (incl. installation) |
| --- | --- | --- | --- |
| Combi boiler | 18 to 35kW | £500 to £3,000 | £800 to £3,500 |
| System boiler | 15 to 65kW | £5,80 to £3,500 | £880 to £4,000 |
| Conventional/regular boiler | 12 to 30kW | £600 to £3,500 | £900 to £4,000 |
While the cost to install a system boiler may be higher than combi boiler prices and other traditional heating systems, you'll save money in the long term by getting the boiler type that best suits your home. In fact, there are a lot of factors that you should first consider that can affect not only the cost of installing a boiler but also how much you benefit in the long run. We've summarised them in the image below.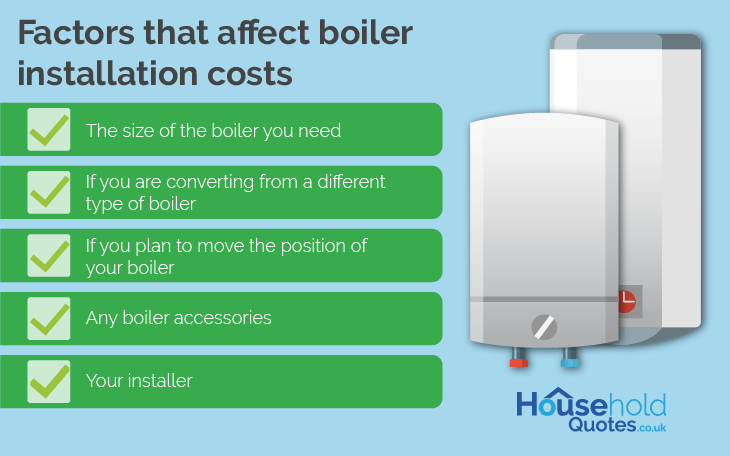 It's hard to get all of these considerations right. The biggest downside would be potentially losing out on hundreds of pounds in energy costs because your boiler isn't optimised for your particular home. There's a lot of information available online for you to use as research, but the easiest way is to get the advice of an experienced local heating installer who can assess your home, make a qualified recommendation, and estimate a price.
Getting in touch with a heating installer can be as easy as answering one 30-second contact form and getting up to 3 quotes from different heating installers that we've vetted as reliable and experienced. Why get more than one quote? Because it's important that you're able to compare the different installers' offers and to make an informed choice. This entire service comes at no cost to you and without any obligation to accept any of the offers.
Just click the button below to start comparing quotes from up to 3 experienced heating installers near you.
Fill in the form in just 1 minute
System boiler: pros & cons
The UK Government's goal to achieve a lower carbon footprint has prompted millions of homeowners across Britain to invest their central heating costs into new systems. This comes ahead of the ban on gas and oil being fitted into new build homes as their source of heat and hot water – this means that technologies like system boilers are attractive to house buyers.
It's important to evaluate the advantages and disadvantages to determine whether a system boiler suits your specific heating requirements. Below, we've listed some of the main advantages and disadvantages associated with installing a system boiler in your home to help you decide if it's the best choice for your home.
Pros and cons of a system boiler

| Advantages | Disadvantages |
| --- | --- |
| Space-saving, freeing up kitchens (located in garages or lofts) | Storage space needs to be large for hot water cylinder |
| Instant access to hot water | Limited hot water amount due to cylinder size |
| Acquires water directly from mains supply | Can be expensive |
| Hot water available to several users simultaneously | Wait time if using a lot of hot water in a short period |
| Easy to install and operate | |
| Compatible with solar panel heating systems | |
| Average lifespan of 10 to 15 years | |
In conclusion, system boilers offer several advantages, including space-saving benefits, instant access to hot water, and compatibility with solar panel heating systems. However, they come with their own set of limitations, such as the need for adequate storage space, potential expense, and the possibility of waiting for hot water to be heated again in case of heavy usage. 
Ultimately, the decision to install a system boiler should be based on a careful consideration of these pros and cons to ensure it aligns with your specific heating needs and preferences. You should also consider the advice of a professional boiler installer.
System boiler comparisons
A system boiler isn't the only type of boiler available. Let's see how a system boiler compares to other boiler types.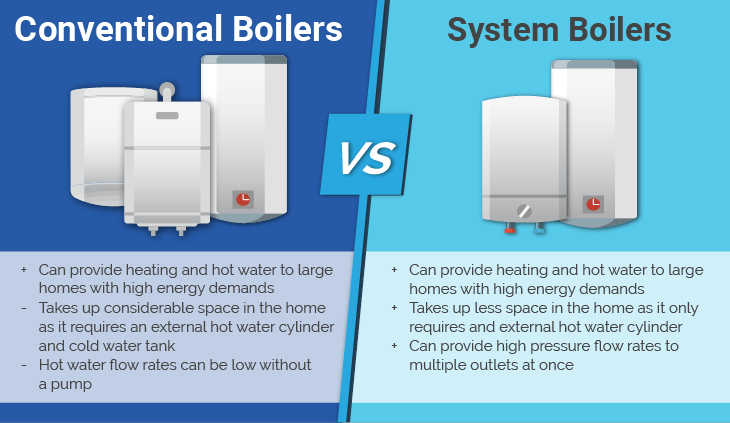 One alternative is the conventional boiler (also known as a regular boiler), which includes a separate hot water cylinder and a feed and expansion tank in the loft. While these boilers can provide a high level of hot water storage, they often require more space and installation effort. That's why they're not recommended for homes that don't already have a regular boiler.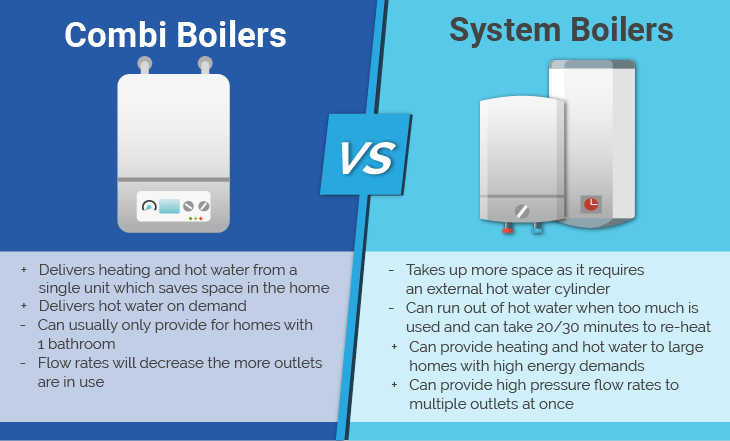 On the other hand, combi boilers are another popular choice. They are known for their compact size and the ability to heat water on demand, making them an excellent choice for smaller homes with limited space.
However, they may not be suitable for larger households with high hot water demand, as they may struggle to supply multiple hot water outlets simultaneously. Changing to a combi boiler is also a relatively more expensive kind of boiler swap compared to any other since it will usually involve having to remove the hot water tank and/or cold water tank, and adjusting the surrounding pipework.
When it comes to selecting the right boiler for your home, the expertise of a professional and experienced boiler installer is invaluable. These professionals have a deep understanding of various boiler types, their features, and how they interact with the unique characteristics of your home. Here's how they can assist you in making the best choice:
A skilled boiler installer will conduct a thorough assessment of your home. They'll take into account factors such as the size of your property, the number of occupants, your hot water needs, and the existing heating infrastructure. With this information, they can recommend a boiler that is perfectly sized and suited to meet your specific requirements. This tailored approach ensures that you invest in a boiler that not only provides efficient heating and hot water but also maximises energy savings.
Household Quotes can further simplify your boiler installation process by providing up to 3 competitive quotes from reputable boiler installers. This service allows you to compare prices and choose the best option that meets your budget while ensuring quality workmanship. With the combined expertise of a professional boiler installer and the convenience of Household Quotes, you can confidently select the boiler that best suits your home, comfort, and financial goals.
Click the button below to start getting free comparison quotes.
Fill in the form in just 1 minute
System boiler hot water cylinders
In order to provide a large quantity of hot water to your home, a system boiler needs a hot water cylinder to store the hot water heated by your system boiler. Not all hot water cylinders are the same though. They not only vary in size, but there are different cylinder types.
The main distinction to note is the difference between a direct and indirect water cylinder. The main difference between the two is how they heat water. In a direct cylinder, water is heated using an immersion heater that is at the bottom of the cylinder. In an indirect cylinder, like the ones used for system boilers, hot water is heated by the boiler and is transferred via a heat exchanger to the indirect cylinder.
What's involved in installing a system boiler?
Installing a system boiler is a significant undertaking that requires careful planning and the professional expertise of a Gas Safe registered engineer. We'll walk you through what you can expect when installing a system boiler.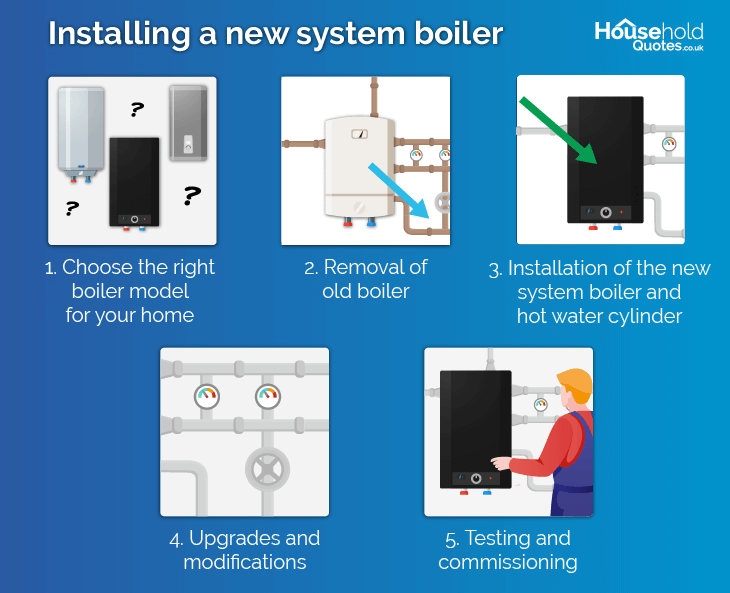 Before the new boiler is installed, your Gas Safe Engineer will confirm the size and output needed for your home and water demands. Once this has been done and agreed upon, your old boiler will be removed.
Next, a system flush is most likely to rid the heating system of years of debris and build-up which can impair the efficiency of your home's heating.
For a home switching its traditional boiler or combi boiler to a system boiler, an unvented cylinder will need to be installed as well so that the boiler can draw water directly from the mains for use in the heating system. If you're moving from a vented system, you'll need to remove the old cold water tank as this will be redundant with your new system.
Your Gas Safe Engineer will need to rework the pipes to supply your new system boiler, while some flue work may also be involved if moving location around the home. If necessary, your boiler will then be cased in, or if small enough, hidden inside a kitchen cabinet to ensure a discreet fitting.
Summary: should I get a system boiler?
If you're thinking of upgrading your heating system and think a system boiler may be the way to go, make sure you take note of our final checklist to ensure everything is thought of both before and during the project.
Choose the right size boiler and power output for your home using an online calculator.
Try to keep the boiler position the same to cut costs, or look into covers/casings to obscure the appliance instead of changing pipework.
Consider different boiler manufacturers and models. Opt for a well-known and reliable brand that offers good warranty coverage.
Think about your future needs. Will your household grow in size or hot water demand? Ensure the boiler can accommodate potential changes.
Bleed radiators or flush the system to get everything working efficiently without the need to replace radiators at the same time.
Make sure to get a written quote and check out the installer's references and past experience before signing with them.
Check local building and safety regulations regarding boiler installations to ensure compliance.
System boilers are a good choice for homeowners who need a reliable and efficient way to heat their home and provide hot water for multiple bathrooms or for people who have a high demand for hot water. However, they are more expensive than other types of boilers, and they require a hot water cylinder.
If you are unsure whether a system boiler is right for you, it is best to consult with a qualified heating engineer. They can assess your needs and recommend the right type of boiler for you.
If you're going off a friend or family member's recommendation, it's important to still check that the installer is competent in their abilities, is qualified to do the job, and is enrolled on the Gas Safe register. Having a boiler installed by someone who isn't is not only dangerous but can invalidate warranties.
Where possible, seek out references from previous jobs to make sure they produce the kind of results you're looking for and see what experience they have in terms of past jobs to ensure they're a good fit for you. This can be especially important if you're switching from one heating system to a new one, as this is a considerable amount of work compared to a straight swap.
Our team at Household Quotes understands how important finding the right installer is and just how difficult and time-consuming that can be. But there is an easy way that doesn't take painstaking hours. 
And that's by using our completely free service that connects you with up to 3 different experienced heating engineers that we've vetted based on their reliability and qualifications. Each will offer you a market-competitive quote that you can compare. There's no obligation to accept any of the quotes you receive. So you reap all the benefits of quote hunting without any drawbacks.
Click the button below to start getting free quotes by first filling out our quick and easy form:
Fill in the form in just 1 minute
Frequently asked questions