Vaillant Boilers in the UK: Prices & Reviews (2023)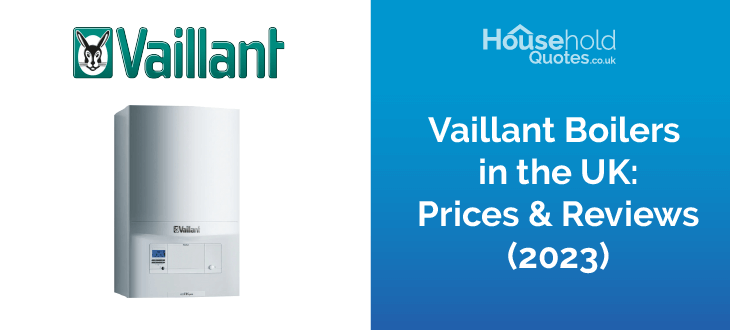 When it comes time to change up your home boiler, it can be difficult to choose but Vaillant boilers are a great option as they can provide high-quality heating for a range of homes. The German heating giant provides quality boilers within a price range of £790 to £3,000 and, while there are cheaper options, Vaillant has a lot to offer.
You may want to upgrade your existing Vaillant boiler for a newer, more efficient model, or you might be looking to switch manufacturers and want to have your first Vaillant boiler installed. Either way, this article will help you to understand:
Vaillant boiler price and installation costs
What affects the cost of Vaillant boilers in the UK
How to save money on new boiler costs
What's involved in fitting a Vaillant boiler
How to find and hire a professional to fit your new boiler
But, if you've already made your mind up about which boiler you want, you'll need one thing above all: an installer you can trust. While this can take days of laborious research that can be fairly difficult if undertaken on your own, there is a better way.
Fill out a 30-second form and we'll provide you with up to 3 free, non-binding quotes from thoroughly vetted professionals in our network. Do away with the headache of hunting down potential installers and let us help you compare their best offers. Click the button below to get started.
Comparing Quotes Could Save You Up To 40%:
Fill in the form in just 1 minute
Vaillant boiler prices
To start things off, let's take a look at how much Vaillant boilers cost as they pertain to each type to give you an idea of the budget.
Vaillant boiler prices supply + fitted
Type of Vaillant Boiler
Power Supply (kW)
Estimated Supply Cost
Estimated Labour Cost
Total Estimated Cost
Combi Boiler
25 to 43kW
£875 to £1,800
£500 to £1,500 per day
£1,375 to £3,300
System Boiler
12 to 65kW
£900 to £2,800
£500 to £1,500 per day
£1,400 to £3,430
Regular or Conventional Boiler
12 to 35kW
£790 to £1,500
£500 to £1,500 per day
£1,290 to £2,930
If you're looking into Vaillant combi boiler costs, you can expect to pay between £875 to £1,800 for power supplies of between 25 to 43kW (kilowatts). Alongside the base price for the unit, you can expect labour fees of between £500 to £1,500 per day, giving a total estimated cost of between £1,350 to £3,300.
Looking next at system boiler prices, the estimated supply cost switches to be between £900 to £2,800 for 12 to 65kW of power supply. The same labour fees of £500 to £1,500 per day will be in place, giving a final estimated cost of between £1,240 to £3,430.
Finally, if you are looking for a regular or conventional heat-only boiler, these are the cheapest of the selections at £790 to £1,430 for supply costs only. Adding on the labour fees of £500 to £1,500 per day, you can total an estimated £1,230 to £2,930 for the supply and installation of your new boiler.
What influences Vaillant boiler costs?
With Vaillant boilers being a more expensive option than your standard boiler, it's good to know what affects their cost, and what you can do to mitigate those fees if you're working to a strict budget. Vaillant boiler prices vary based on the following factors:
The size of the boiler
Our price comparison table above shows how different power supplies can impact the supply cost of your boiler. A combi boiler at the higher end of the power supply range of 43kW models can cost £1,800, while something smaller such as the 25kW model can cost just £850 in comparison.
It's important to understand what size of boiler you need and to not get something too powerful for your home size as it will essentially be wasted money.
The type of boiler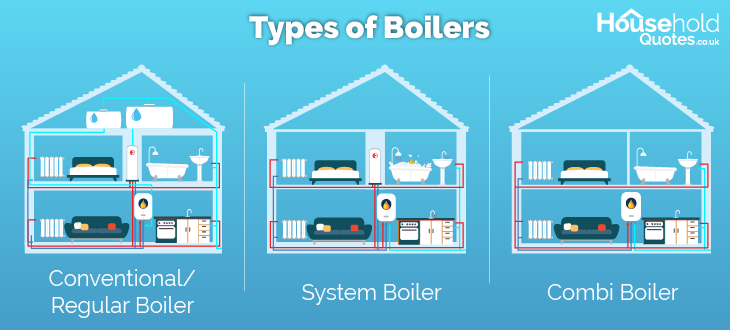 There are three different types of boilers: combi, conventional, and system boilers. Each of these boilers comes at a different price point. The Vaillant boiler installation cost increases if you're switching between different types of boilers. Changing to a combi boiler from a system or conventional boiler tends to be the most expensive typoe of boiler swap.
Combi Boilers
| Combi Boiler Model | Output Range | Price Range |
| --- | --- | --- |
| Vaillant ecoFIT pure 825 Combi Gas Boiler | 25 – 35kW | £907 – £1,100 |
| Vaillant ecoTEC Pro Combi | 24 – 30kW | £1,119 – £1,800 |
| Vaillant ecoTEC Plus Combi | 26 – 40kW | £1,100 – £1,500 |
| Vaillant ecoTEC Exclusive w/ Green iQ System | 35 – 43kW | £1,400 – £1,920 |
Combi boilers are the most popular type of boilers in the UK, with around two-thirds of homes having them, and nearly all new-build homes and flats have them too. Your hot water and central heating are provided by a small, compact central unit that can be hidden from view in a kitchen cupboard, and no hot water tanks or hot water cylinders are required.
It's important that, with a Vaillant combi boiler, your installer gets the maximum flow rate just right so that more than one tap can be used at a time without affecting the pressure of the water being delivered. In the past, many homes have been fitted with a boiler whose maximum flow was less than it needed to be, but the technology behind combi boilers has improved significantly in the last decade so this is not the problem it used to be.
Combi boilers are cheaper to install than other types of boilers because the amount of pipework and related labour costs are a lot less. However, they can be just as or even more expensive depending on whether you need extensive pipework removed. Vaillant combi boiler prices can range from £875 to £1,800 for supply only. Vaillant gas boilers are generally more expensive if they are combis rather than systems.
As part of the Future Homes Standard plan, the UK government may begin phasing out fossil fuel technologies by 2025. So, are gas boilers being phased out in 2025? Only for newly built homes which won't have gas mains. A blanket ban may take place in 2035 but these plans have changed before.
Conventional or Regular (Heat only) Boilers
| Combi Boiler Model | Output Range | Price Range |
| --- | --- | --- |
| Vaillant ecoFIT pure 825 Combi Gas Boiler | 25 – 35kW | £907 – £1,100 |
| Vaillant ecoTEC Pro Combi | 24 – 30kW | £1,119 – £1,800 |
| Vaillant ecoTEC Plus Combi | 26 – 40kW | £1,100 – £1,500 |
| Vaillant ecoTEC Exclusive w/ Green iQ System | 35 – 43kW | £1,400 – £1,920 |
Heat-only (often called conventional) boilers are more suitable for larger properties with two or more bathrooms (family or en suite), with old-fashioned radiators, in low water-pressure areas, and for when a family needs to use a lot more hot water than an average family needs.
Vaillant conventional boilers require both a cold water tank in the loft and a hot water cylinder in the airing cupboard. Installation takes much longer for a conventional boiler and this is generally reflected in the overall price of your replacement work.
Conventional boilers can cost between £790 to £1,500 for supply costs only. Extra expenses such as hot water cylinder costs can be anywhere between £200 to £2,000, so it's best to keep in mind that switching from regular to other types of boilers is more viable than vice versa.
System Boilers
| System Boiler Model | Output Range | Price Range |
| --- | --- | --- |
| Vaillant ecoFIT pure 612 system Gas boiler | 12 – 37kW | £894 – £1,375 |
| Vaillant ecoFIT Pure System | 12 – 30kW | £980 – £1,227 |
| Vaillant ecoTEC Exclusive w/ Green iQ System | 27kW | £1,390 |
| Vaillant ecoTEC Plus 48kW & 64kW System | 48 – 64kW | £2,264 – £2,700 |
Vaillant system boilers also have a hot water cylinder, just like their conventional boilers, but they do not need a cold water storage unit to work. The hot water cylinder in a system boiler installation not only stores and distributes the water – it also contains all the hot water and heat generation parts in it.
If you want to supply hot water at the same pressure to as many taps as you want at once (particularly useful if you have more than one bathroom), you should ask your installer about the pros and cons of a Vaillant system boiler.
System boilers can range from £900 to £2,800 for supply costs only. Vaillant gas-based boilers are cheaper as system models than as combis.
Aside from the 3 main types of boilers, many electric models are also available. To learn more about whether these would be preferable, you can check out our electric boiler vs gas boiler comparison page.
Your Location
Depending on your geographical location, your labour fees can be higher or lower. For those living in capital cities, the cost will be greater than those in more rural towns and villages. Cities can be as expensive as £1,500 for labour versus £500 in smaller locations.
In the end, you might be wondering: "How much are Vaillant boilers?" They could range from £790 to £3,000 excluding labour and £1,300 to £3,500 including labour. The final cost can depend on the factors we've listed previously but also on the installer of your choice, which is why it's important to find one you can trust to give you the best prices.
While this usually takes days of strenuous research, contacting companies, and then making painstaking price comparisons, we can streamline the process so you can sit back and relax.
Our service provides you with up to 3 free, non-binding quotes from installers in your area who have been thoroughly vetted and all you have to do is fill out a 30-second form with some basic information. Click the button below to make sure you're getting the best prices.
Comparing Quotes Could Save You Up To 40%:
Fill in the form in just 1 minute
Vaillant boiler review: pros & cons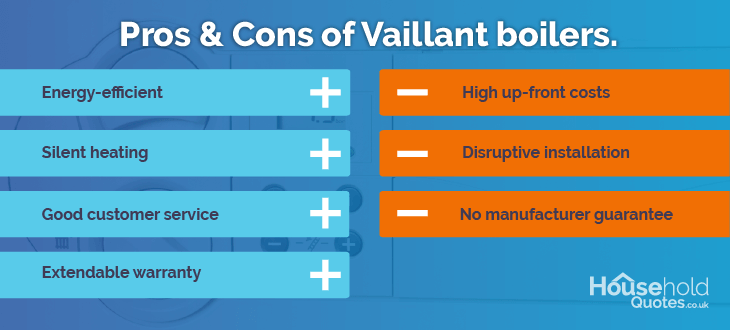 Advantages of Vaillant boilers
Energy-efficient: Vaillant has many boilers that consume less energy and keep your heating bills down. They can reduce your central heating costs and annual energy consumption by about 30%, depending on the model.
Silent: Often lauded for their low-noise operation, they can be very quiet. 29 of their boilers were also awarded the Quiet Mark certification which is awarded to the quietest machines.
Good customer service: Vaillant's customer service processes have been lauded by many consumers.
Extendable warranty: Being able to extend your warranty to 10 years can be a major plus for expensive installations.
Disadvantages of Vaillant boilers
High up-front costs: A cheap heating system is hard to find but Vaillant has some stiff competition when it comes to price. Worcester Bosch boiler costs can be generally lower. If you take on a boiler cover plan, this is another payment to consider that could raise your Vaillant boiler cost.
Disruptive installation: Boiler installations can be disruptive and noisy. This is no different for Vaillant boilers.
No manufacturer guarantee: While the Valiant does come with a warranty, in the event of a boiler breakdown, you may prefer to have a guarantee. Guarantees provide more comprehensive coverage in these cases.
Vaillant boiler customer reviews
Vaillant boilers receive massive acclaim from customers online who tout both their technologies and the installers that they work with. The majority of their reviews have been 5-star with many customers on Trustpilot lauding the quiet operation and quick installation periods. The company is also active on the site, responding to any queries customers may have.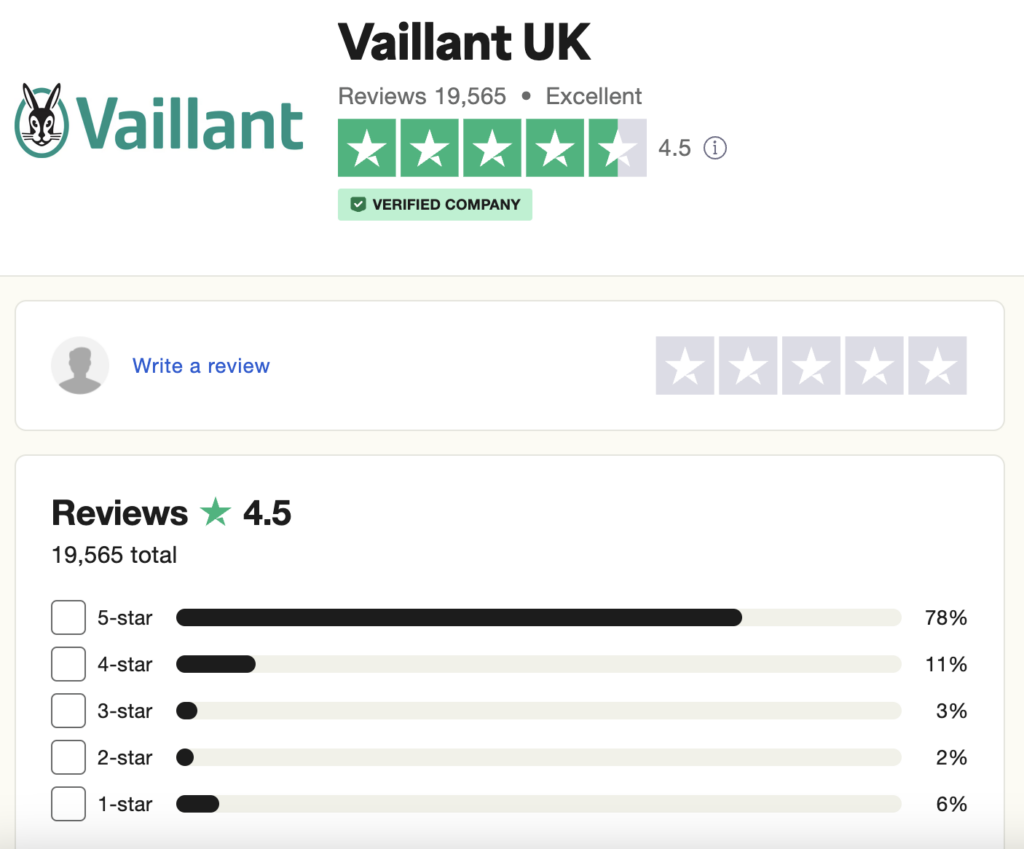 While you can't please everyone, Vaillant has been able to keep a majority of their buyers happy owing to good design and decent customer service. Although they are on the pricier side overall, they receive decent scores in customer satisfaction and have multiple industry awards under their belt.
How do Vaillant boilers compare to other boiler brands?

So, how much is a Vaillant boiler compared to other brands? Other famous brands like Worcester Bosch and Baxi can be more affordable than Vaillant. But, supply costs are not the only factor worth considering. Running costs can be lower on the Vaillant boilers as they sport higher efficiencies than cheaper models.
Similarly, having high-quality parts is also a major plus, as they will last longer and be less prone to breakdown. Vaillant boiler warranty and quality assurance policies are also better than most other brands. The extendable warranty can be a good way to make sure you're home heating system will receive the attention it deserves in the event that something goes wrong.
Vaillant boilers have a stainless steel heat exchanger which is both heat efficient and will last longer. Their boilers are also some of the quietest on the market. They certainly have some great advantages but that's not to say Vaillant blows every brand out of the water.
Viessmann, for example, can compete in both cost and quality, adding some novel features to their technologies. They can even be cheaper while providing similar quality at times. Baxi boilers can be easier to install because of the twin flue system which can stretch 15 metres allowing for placement away from an external wall. Baxi boiler costs are also generally lower.
If such qualities are deal breakers, you may want to consider your choice carefully. It may come down to personal taste or a specific feature in the end but Vaillant has a well-regarded portfolio nonetheless.
Is A Vaillant Boiler Right For Me?
Vaillant boilers are almost silent when in use, and they have a good level of customer service for those wanting help with any issues that may arise. They have good warranties and sport a high efficiency that can keep your bills down.
The disadvantages lie with up-front cost. You could be looking at a few thousand pounds to get a new boiler installed in your home, but you can begin to reap the rewards of this when it performs more effectively than your older model.
In conclusion, if you're in the market for a boiler, Vaillant is a worthy option.
However, no matter what boiler you choose, you're still going to need an installer you can trust. Finding one can be a hassle as it often requires contacting companies, making requests, and comparing the prices you gather all by yourself. Thankfully, there's a far better way.
With our service, all you have to do is fill out a 30-second form and we'll handle the rest. We can quickly and painlessly provide you with up to 3 free, non-binding quotes from trusted installers in your area. Make your job easier by letting us take on the tough task of gathering prices and finding multiple trustworthy professionals for you. Click the button below to get started.
Comparing Quotes Could Save You Up To 40%:
Fill in the form in just 1 minute
Frequently Asked Questions
Comparing Quotes Could Save You Up To 40%:
Fill in the form in just 1 minute