Ideal Boilers in the UK: Prices & Reviews (2023)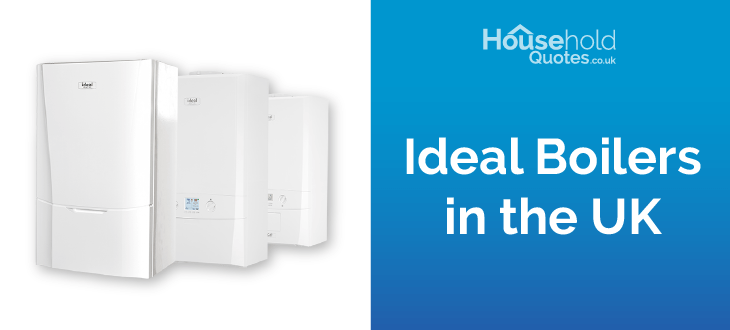 Ideal boilers are a great choice for homeowners looking for affordable replacement boilers with a high energy-efficiency rating. With a history that spans more than 100 years, Ideal has a solid reputation for producing reliable boilers that are easy to install and affordable to buy.
They also offer a wide selection of boilers, including combi, system, and regular, that are suitable for all types of properties throughout the UK. Ideal is a cost-effective home boiler option for any homeowner, standing out among competitors for its competitive price points.
In this guide, we'll be looking into:
How much Ideal boilers cost
What influences the cost of an Ideal boiler
The pros & cons of Ideal boilers
Ideal boiler customer reviews
How Ideal boilers compare to other boiler brands
Whether you're in the market for a brand new boiler or are looking for a replacement for an older boiler model, this article will help you understand the pros and cons of owning an Ideal boiler, and how to tell if it's the right choice for you.
If you're in need of a new boiler installer and you're not sure where to start- you're not alone! Rather than spend days searching and waiting for the best quotes, get your quotes from Household Quotes! We can help you find the best deals from the best installers in your area. 
Simply click the button below and we'll put you in touch with up to 3 local Gas Safe registered engineers. You can then compare their offers to find the best deal. 
Fill in the form in just 1 minute
Ideal boiler prices 
First of all, we're going to start by looking at the prices associated with Ideal boilers. We'll be looking at the three main types of boiler: combi, system, and regular (heat-only).
Ideal boiler prices
Type of Ideal Boiler
Power Supply (kWh)
Estimated Supply Cost
Estimated Labour Cost
Total Estimated Cost
Combi Boiler
24 – 40 kW

£1,065 – £1,620

£300 – £500 per day

£1,365 – £2,120
System Boiler
15 – 32 kW
£1,110 – £1,630
£300 – £500 per day

£1,400 – £2,130
Regular (Heat Only) Boiler
12 – 37 kW
£1,080 – £2,780
£300 – £500 per day

£1,380 – £3,280
Ideal combi boiler prices tend to range between £1,065 to £1,620 for supply costs only. This includes boilers with a power supply between 24 to 40 kW. With additional estimated labour costs of between £300 to £500 per day, depending on your tradesperson's skill level and the complexity of the installation, your total estimated new boiler cost for supply and fitting is between £1,365 to £2,120.
Ideal's system boilers have a power supply ranging from 15 to 32 kW. Ideal system boiler prices range from £1,110 to £1,630, not including installation. Adding on labour charges of £300 to £500 per day, this averages out to £1,380 to £3,280  for both supply and installation.
Finally, we'll look at the regular or conventional heat-only boiler from Ideal. With a power supply of 12 to 37 kW, the supply costs range from £1,080 to £2,780. Once the labour fees are factored in for £300 to £500 per day, you can expect a final finished cost of between £1,380 – £3,280.
To get accurate new boiler installation costs, it's best to compare quotes from some local engineers. You can then save money by choosing the installer that offers the best deal. 
Are you ready to have a new boiler installed? Let Household Quotes help you find the right tradesperson for your boiler replacement. By getting your quotes with us, you can save hours of time from researching the best installers by yourself. 
Click the button below to compare up to 3 hassle-free quotes from tradespeople near you. 
Comparing Quotes Could Save You Up To 40%:

Fill in the form in just 1 minute
What influences the Ideal boiler costs?
As we can see from the price comparison table above, there is a degree of low and high prices for some boiler types depending on their power output. Let's take a closer look and understand what impacts the prices.
The size of the boiler
Before investing in a replacement boiler, it's useful to know which type and size is the best fit for your home to ensure you're paying the fairest central heating price.
If you purchase a boiler that is too powerful, you will waste money on energy bills. On the other hand, if you install a boiler that does not produce a sufficient quantity of heat for your home, you will not feel the benefit of your central heating system.
It is advisable to ask qualified boiler engineers to recommend the number of kiloWatts (kW) you need to heat your home comfortably.
The type of boiler
There are different types of boilers to consider:
Combi boilers heat water and radiators. They are cost-effective to install and can reduce energy bills, being ideal for small homes that are limited in space.
However, households with a combi boiler cannot use two water sources at the same time. For example, if someone is in the shower, running hot water from a tap will make the shower go cold.
A system boiler works in much the same way as a conventional boiler but is more cost-effective. They are best suited to homes that have a high demand for water as you can use multiple water sources without the risk of the shower or bath running cold water – the downside is that water is stored in a second container, so you need space to install a tank, and there is also the chance of running out of warm water.
Regular boilers have a cold water tank that feeds into a hot water cylinder which is heated up when you are using sinks, baths, showers, or radiators. Heat-only boilers work similarly to system boilers, except they give you a constant supply of warm water so there is no risk of running out – this makes them ideal for properties that require a constant supply of water for multiple users.
It's important to remember that the boiler replacement costs are influenced by the type of boiler you install and the type of boiler your replacing. If you get a like-for-like replacement, you can expect to pay less than if you were to replace your regular boiler with a combi, for example.
Boiler model
The model you choose can also have some influence over the final costs you end up paying for your new boiler. Take a look below at the models featured in Ideal's current boiler range. 
As you can see, models with similar output ranges may be priced differently. This is because the model will be equipped with advanced features, or because it has an extended warranty period. 

Ideal's Boiler Range
Model
Price range
Power output
Warranty
Combi boilers
Logic Max Combi Boiler
£1,140 – £1,430

25 – 35kW
10 years
Vogue Max Combi Boiler
£1,380 – £1,590

15 – 40kW
12 years
Vogue Gen2 Combi Boiler
£1,355 -£1,620



26 – 40kW
10 years
Logic+ Combi Boiler
£1,065 – £1,200

24 – 35kW
7 years
System boilers
Logic Max System Boiler

£1,200 – £1,350

15 – 30kW
10 years 
Vogue Max System Boiler

£1,270 – £1,630

15 – 32kW
12 years 
Vogue Gen2 System Boiler

£1,235 – £1,500 



15 – 32kW
10 years
Logic+ System Boiler

£1,110 – £1,260
15 – 30kW
7 years
Conventional boilers

Logic Max Heat Boiler

£1,080 – £1,385



12 – 30kW
10 years
Logic+ Heat

£1,040 – £1,275

12 – 30kW
7 years
Mexico HE
£1,105 – £2,780
14 – 37kW
2 years
Your location
Prices for labour in capital cities are likely to be more expensive than those in villages or towns. London commonly sees prices around 10% to 20% higher than in less populated places.
Fuel type
Gas is generally the cheapest for running costs but can become expensive depending on the region you live in. Ireland, for example, has higher gas prices and many tend to use electricity or alternative fossil fuels. Electricity can be expensive but it may be the only choice for some homes and can be supplemented with solar panels to help ease running costs. To learn more, you can check out our electric boiler vs gas boiler comparison page.
It's also worth considering UK policies that might affect fuel types. The Future Homes Standard may phase out gas boilers in the future starting with new homes, which won't have gas mains for boilers. So, are gas boilers being phased out in 2035? Potentially, yes. However, plans could be delayed as they have been in the past.
If you'd like to learn more about the benefits of switching to a renewable heating system, then check out our gas boiler vs heat pump page.
Ideal boiler review: Pros & cons
Ideal Boilers have a lot to offer in terms of customer satisfaction, cost-competitiveness and premium features, but it's not without some downsides. 
To help you make your decision for your home, let's look at some main advantages and disadvantages of choosing an Ideal boiler.
Advantages of Ideal boilers
Excellent reviews: 4.8 out of 5 rating on Trustpilot from 34,000+ reviews
Ease of use: Features include digital displays and smart home compatibility
Cost-effective: Offers a range of prices to suit different budgets
Excellent warranty: Most boiler products come with 10-12 years warranty offered as standard
Efficiency: Brass system filter improves efficiency and helps reduce running costs
Disadvantages of Ideal boilers
Expensive: Some higher-end models can be expensive
Short warranty: Some products offer warranty periods between 2-7 years
Customer service: Occasional instances of bad customer service have been cited
Ideal boiler customer reviews
Ideal scores exceptionally high on independent review platform, Trustpilot reviews. Of the 34,000+ customer reviews, 90% rate the company with 5-stars.

Great experience from Ideal
My experience right from the beginning of ringing to their customer support line to an engineer coming to fix the problem was seamless. My call to the customer support was answered within few minutes. After explaining what was wrong with my boiler, they arranged for an engineer to come within a working week. It needed a spare part that had to be ordered which was done promptly and arranged another visit very soon after.

September 2023
How do Ideal boilers compare to other boiler brands? 
Curious how Ideal shapes up next to its competition? Below we've compared Ideal boilers with 3 of the market-leading competitors so you can see for yourself. 
Ideal vs Baxi
Baxi is a long-standing player in the UK's heating industry, first established in the 1860s. For a cheap heating option, Baxi offers has some of the most competitively priced boilers on the market, despite its reputation as one of the top-rated boiler manufacturers.

When comparing Ideal and Baxi boilers, Ideal has a wider range of power outputs and generally longer warranties, but they come at a higher price compared to Baxi boiler prices.
Ideal vs Baxi
Price range
Power output
Warranty
Ideal
Baxi
Ideal
Baxi
Ideal
Baxi
Combi
      £1,065 – £1,620
£700 – £1,600
24 – 40 kW
20 – 32kW
7 – 12 years
2 – 10 years
System
£1,110 – £1,630
£1,500 – £1,340


15 – 32 kW
24 – 32kW
7 – 12 years
7 – 10 years
Conventional
£1,080 – £2,780
£900 – £1,390
12 – 37 kW
15 – 30kW
2 – 10 years
5 – 10 years
Ideal vs Vaillant 
Vaillant has been operating across Europe for over 140 years, earning recognition as a pioneer in the industry having created the first gas-fired 'closed system' heater in 1894. Vaillant entered the UK market in the 1970's and has since become one of the most popular heating brands. 

Ideal boilers are generally more budget-friendly compared to Vaillant boiler prices and have a wider range of power outputs for Combi and Regular boilers. However, Vaillant has a higher maximum power output for System boilers. Ideal also offers longer warranties compared to Vaillant boilers. 
Ideal vs Vaillant 
Price range
Power output
Warranty
Ideal
Vaillant 
Ideal
Vaillant
Ideal
Vaillant
Combi
      £1,065 – £1,620
£1,230 – £1,540
24 – 40 kW
26 – 35kW
7 – 12 years
7 – 10 years
System
£1,110 – £1,630
£1,250 – £1,620
15 – 32 kW
15 – 31kW
7 – 12 years
5 – 10 years
Conventional
£1,080 – £2,780
£1,010 – £1,940

12 – 37 kW
12 – 35kW
2 – 10 years
5 – 10 years
Ideal vs Worcester Bosch
With over 50 years of experience manufacturing heating solutions in the UK, Worcester Bosch has become a market leader in domestic boilers. Bosch offers an extensive range of boiler products and has a team of over 1800 based in the UK alone. 

In summary, compared to Worcester Bosch boiler prices, Ideal boilers are generally more budget-friendly then. Ideal also has a higher maximum power output for combi and regular boilers but slightly lower for System boilers. Ideal does, however, offer longer warranties compared to Worcester Bosch boilers. 
Ideal vs Worcester Bosch
Price range
Power output
Warranty
Ideal
Worcester Bosch
Ideal
Worcester Bosch
Ideal
Worcester Bosch
Combi
      £1,065 – £1,620
£900 – £3,300
24 – 40 kW
20 – 30kW
7 – 12 years
6 – 12 years
System
£1,110 – £1,630
£1,200 – £1,940

15 – 32 kW
12 – 33kW
7 – 12 years
2 – 12 years
Conventional
£1,080 – £2,780
£1,050 – £2,960
12 – 37 kW
12 – 41kW
2 – 10 years
7 – 12 years
Is an Ideal boiler the right choice for my home?
Ideal is a cost-effective, trusted brand when it comes to boilers. Warranty is offered as standard, which helps if and when something goes wrong with your new boiler.
In the same breath, some customer reviews cite the warranty being problematic, and sometimes not working as presumed. The prices can also be high for some high-tech models, but this is the case across the board of boilers, regardless of the brand.
There are a few simple ways to trim your costs when getting a new boiler – and number one is choosing the right size of boiler for your home. Picking a higher output than you need will only result in you having higher monthly or annual energy bills, and will mean you end up wasting energy that you don't need to use.
Conversely, choosing a too-small boiler can have the opposite effect, leading to you running out of hot water as the boiler simply can't keep up with the demand of the household. In all circumstances, ask your engineer to calculate what size is right for your home and the demand for hot water to ensure this is right from the get-go.
You can also opt to simply choose the most affordable boiler from the selection from Ideal. If you know you want a combi boiler, choosing the entry-level model will still give you adequate heating, it just might have fewer bells and whistles than the higher-up models.
To be extra sure of your choice, you can also consult a heating engineer for their professional opinion as to the best boiler type and size for your home. Finding some reputable installers in your area is not always easy. In fact, some people could spend days researching companies and waiting for a response. 
Save yourself all this time and effort by using Household Quotes. We've made the process of connecting with local tradespeople quick and easy. 
All you have to do is fill in our short form, then we'll connect you with the top-rated installers in your area. They can then assess your needs and offer you a tailored quote. With up to 3 free quotes to compare, you're in the best position to find a good deal and save money on installation costs. 
Get started today, and click the button below. 
Fill in the form in just 1 minute
Frequently asked questions