How Much Does Every Country Spend On Decorating Their Home Each Year?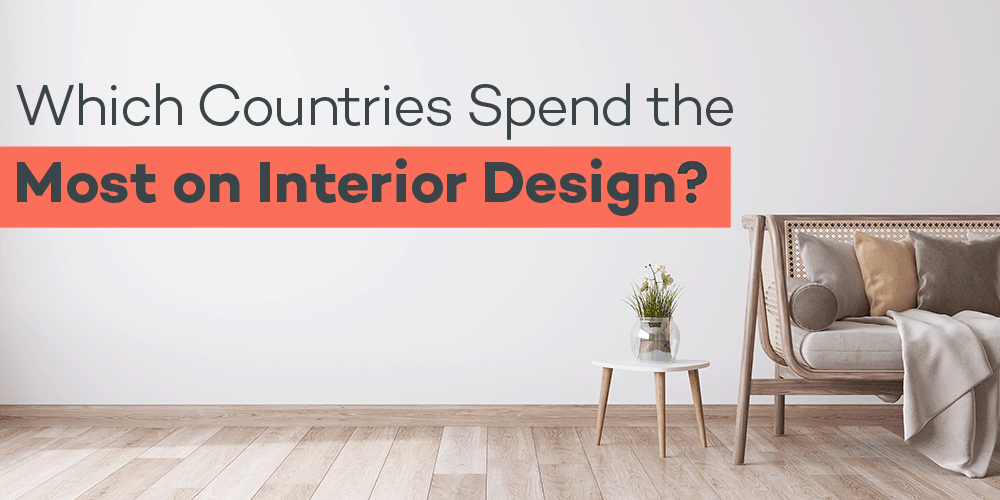 You've seen a lot of those four walls lately. The place you call home. Perhaps you've even started working – or job-searching – from your kitchen, living room, or study. But how much are you prepared to spend to make it look just right?
Maybe more than ever. Everybody is decorating. American furniture giants Wayfair saw their stock soar by 754% in the first two months of lockdown. And with professional interior designers and contractors barred from crossing the threshold, homeowners around the world have taken home improvements into their own hands.
But every culture has its own interior styles – and home décor spending varies wildly from country to country. Household Quotes discovered which countries around the world spend the most and least on interior design, in absolute terms and relative to local wages.
Key Findings
The Swiss are the world's biggest spenders, paying $1,158.71 per capita for interior design each year.
India spends the most on interiors relative to local wages: 102.24% of the average monthly paycheque.
Malawi spends the least on home décor, both in absolute terms ($0.93 per year) and relative to average paycheque (3.07%).
The average Brit spends $453.98 (£321.71) on interiors, the equivalent of 15.2% of one monthly paycheque in the UK.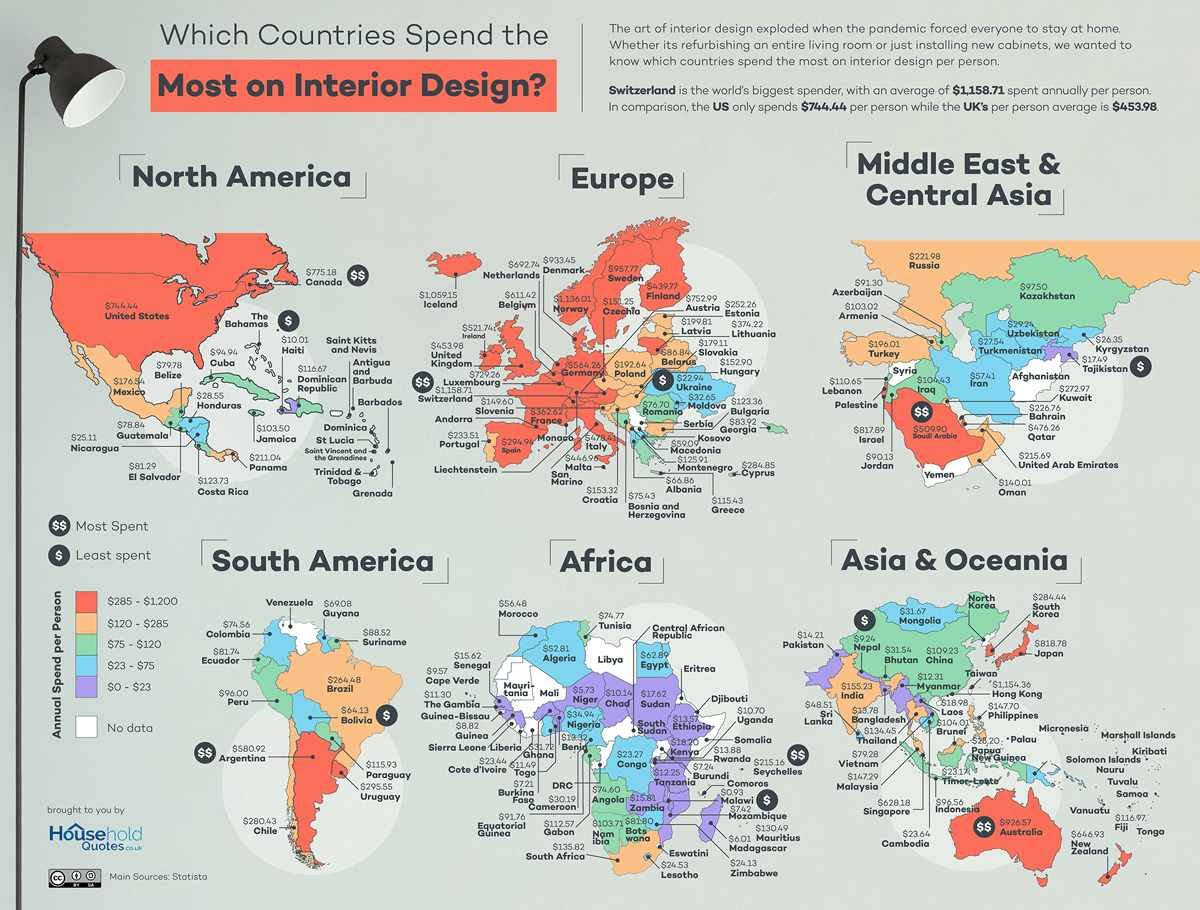 The Countries That Blow Their Wages on Interiors
First, let's get an overview of who's spending the most and least on interior design relative to average income. Then we'll look at spend-per-capita in absolute terms in the continent maps below.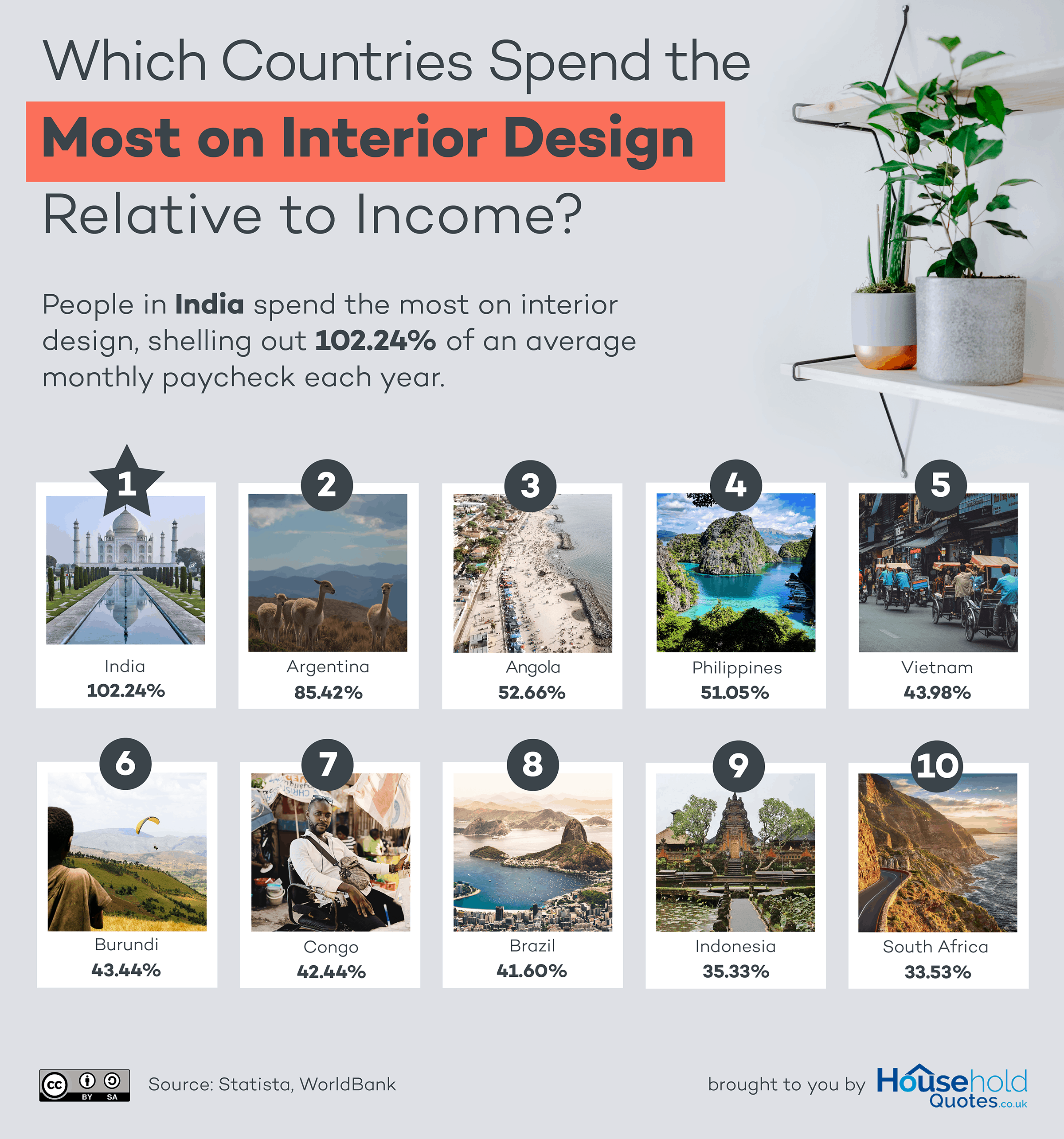 Indians spend an entire month's pay on interiors each year, and then some. This figure is skewed by extreme economic equality in India, but still – it shows India's passion for homemaking. And the uncertainty brought about by the health crisis could cause wealthy homeowners to rethink how they spend: "Aesthetics will become more pragmatic with a keen and heightened sense of luxury," predicts top Indian designer Shobhan Kothari. "Improvements in design in the interiors, as well as architecture to promote well-being, will be encouraged."
Argentina is the second-biggest spender, compared to average wages – and a significant way above third-placed Angola. Interior design culture in Argentina blends passion and rural tradition with a strong European flavour. With imagination like this, it's no wonder Argentines take pride in decorating their homes.
The Countries That Budget the Least for Interior Design
The majority of homes in Malawi are still hand-made with sticks and mud and have thatched or corrugated iron rooves. This 'vernacular architecture' is usually furnished with homemade crafts using locally available materials. So, even taking the low average wage into account, Malawians spend very little on home décor: $0.93 or 3.07% of one month's pay per year.
But the ten countries that spend the least on interior design relative to wages are a mixed bunch. From Malawi to Greece to the super-rich economies of UAE and Brunei, what many of these countries have in common is a warm climate that makes the indoors less of a concern.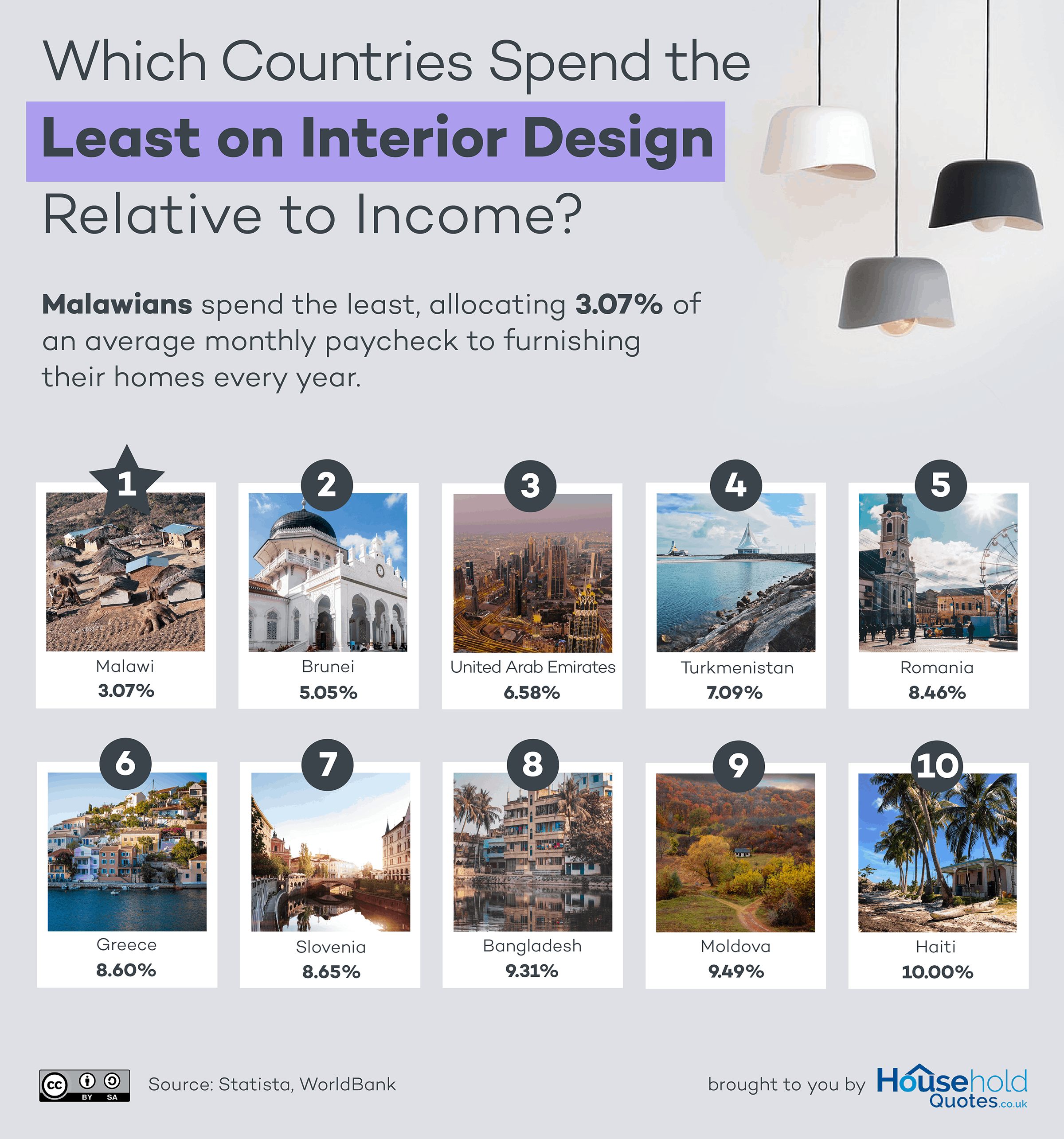 Western Europeans Splurge on Interiors
The biggest spenders in Europe are mostly from the west of the continent. Switzerland, Norway, and Iceland each spend four-figure sums on interiors each year. Meanwhile, the home décor spend in eight eastern and central countries (including Serbia, Moldova, and Ukraine) is in the double figures.
The UK is the 13th biggest spender, with the average Brit shelling out $453.98 (£321.71) each year to do up their home. The biggest wodge of this ($139.17, or 4.66% of one monthly paycheque) goes towards living and dining room improvements. However, spending varies across the union: one study found that Londoners spend ten times more on decorating than Scots.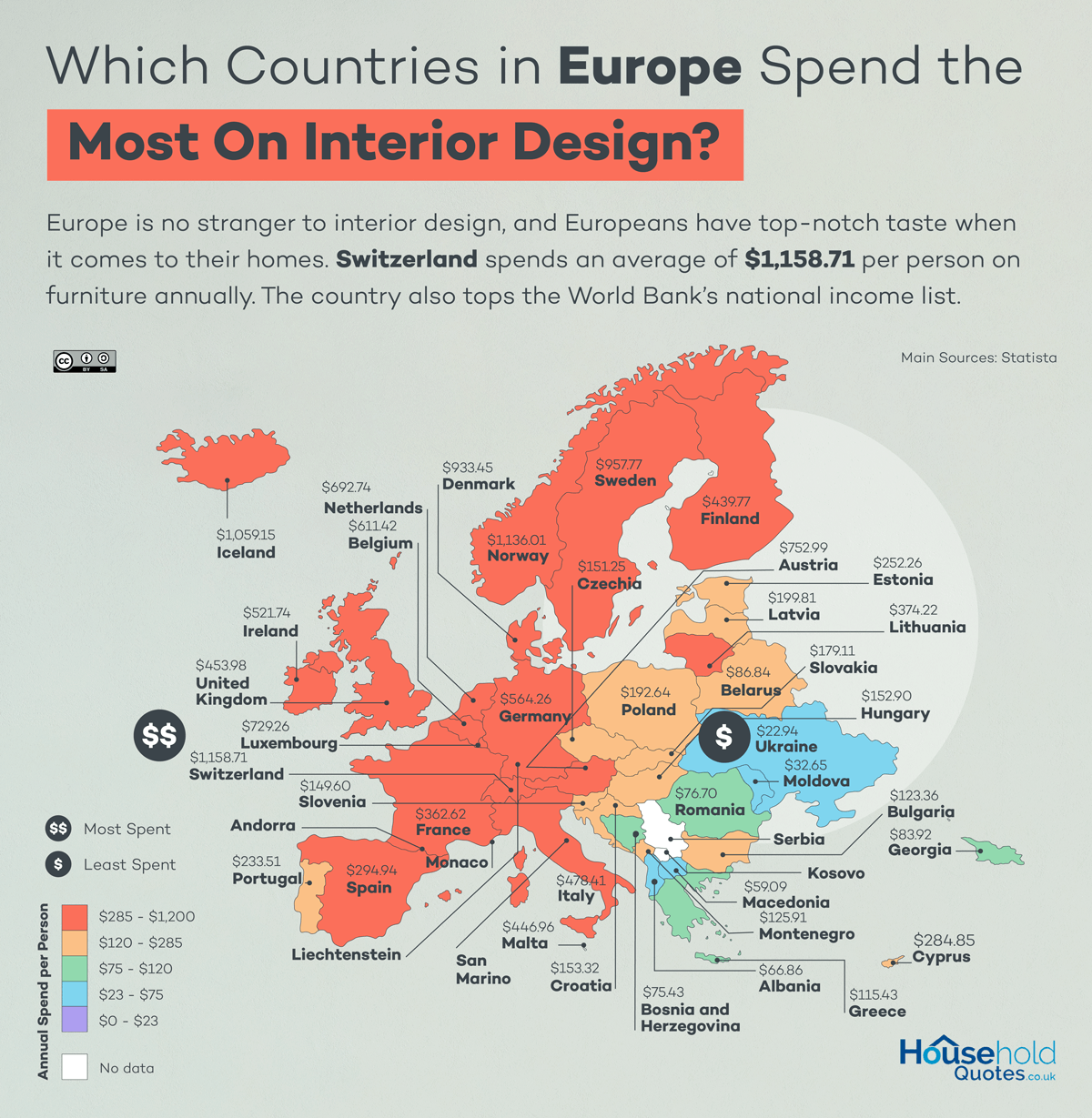 North America: Mexicans Spend A Chunk of the Pay Cheque on Decorating
Canadians and Americans spend roughly the same on interior design each year – over $500 more than any other country in North America. However, Canadians earn less than Americans, meaning Canadians spend a higher proportion (24.59% vs 16.11%) of a monthly paycheque on home décor annually.
Mexicans are the biggest spenders relative to income. The average Mexican spends $176.54 or 27.34% of a monthly paycheque on decorating. Mexican home décor favours wooden furnishings and tiling rather than carpet (due to the climate). If your home feels cold and colourless after the long winter, take a leaf from the Mexican interiors handbook.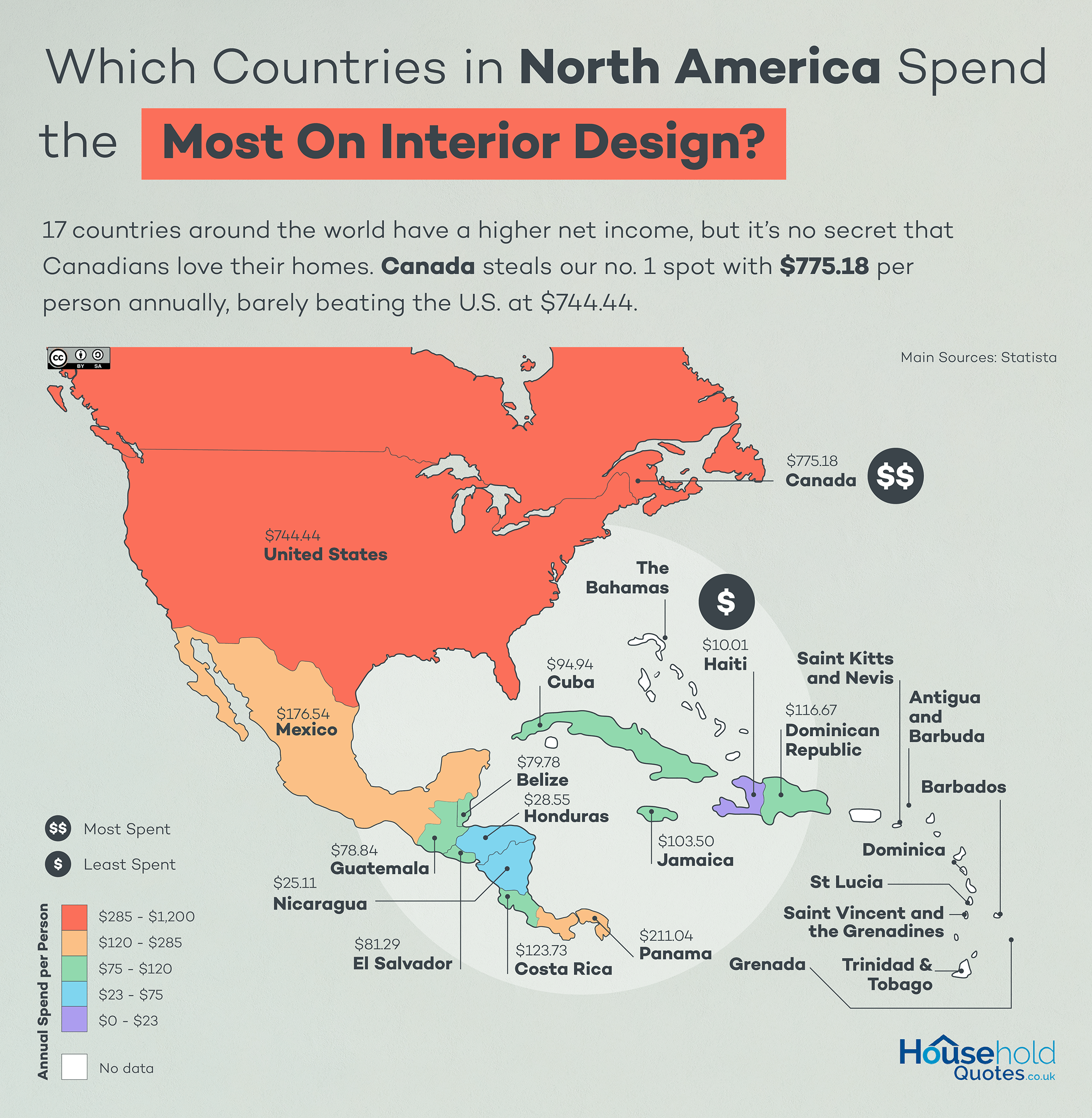 Argentina and Brazil are South America's Biggest Home Décor Spenders
As mentioned above, Argentina is head and shoulders above much of the world when it comes to home décor investment. In South America, only four other countries (Uruguay, Chile, Brazil, and Paraguay) have a three-figure annual spend. And the highest of these only achieve around half of what Argentines spend on interior design each year.
However, Brazil still spends very competitively when local wages are considered. The average annual spend on interiors in Brazil is $264.48, or 41.60% of one month's pay. Brazilians love colour and are resourceful at making and upcycling homewares. The kitchen is a point of focus in many Brazilian homes – although a hammock is also a must-buy.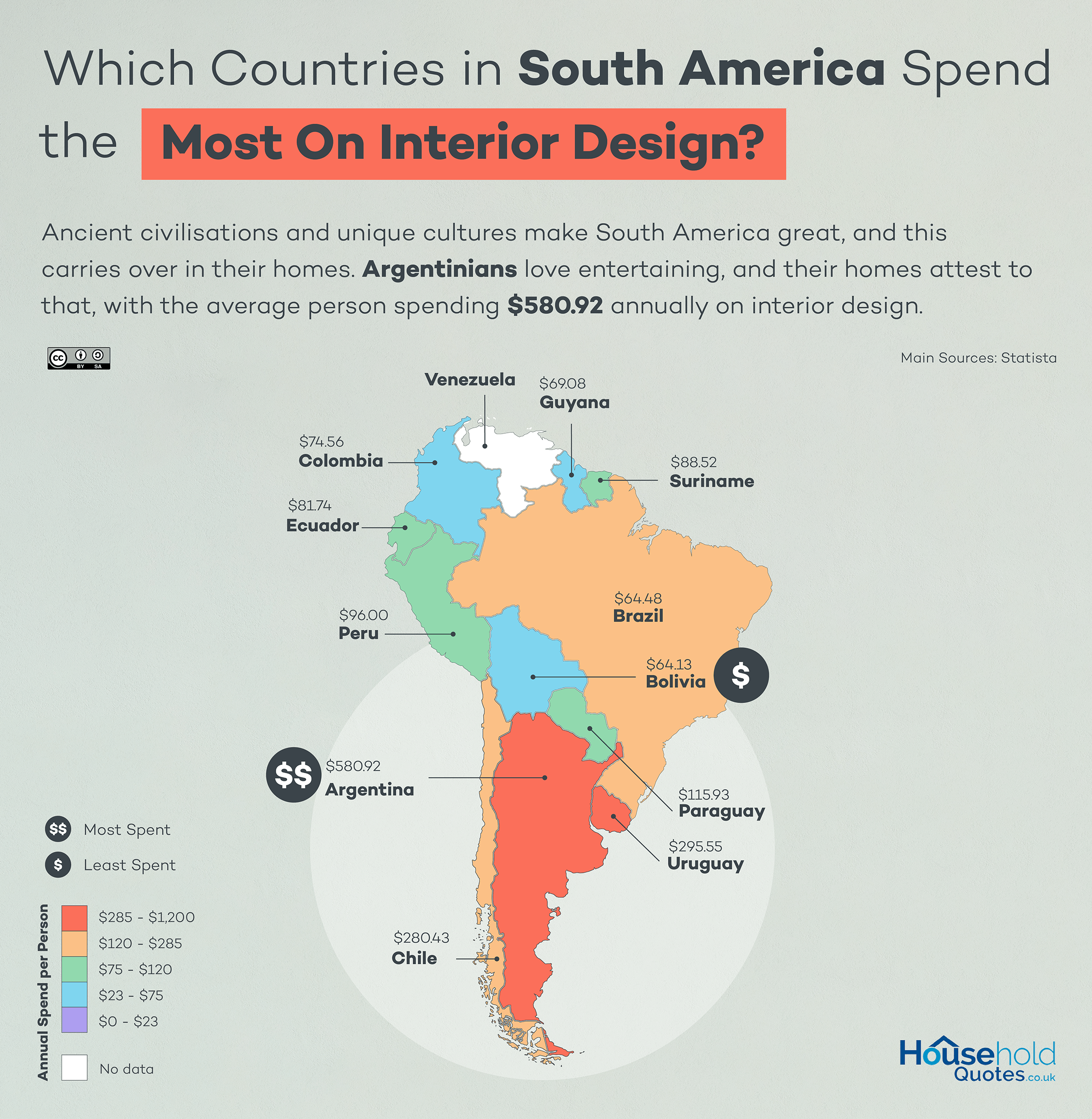 Middle East & Central Asia Have Low Interior Design Spend
Israelis have the biggest annual spend in this region, by a significant leap. The average Israeli spends $817.89 (just over a quarter of one month's pay) on interior design each year. In general, however, there is a low average spend in this region when you consider the wealth that can be found here.
That doesn't mean the region wants for designers. In fact, the Middle East is a hotbed for design innovation, with up-and-coming interior designers learning to maximize local resources (like sand!) and repurpose used materials – creating work that is both one-off and cutting-edge for customers with high expectations.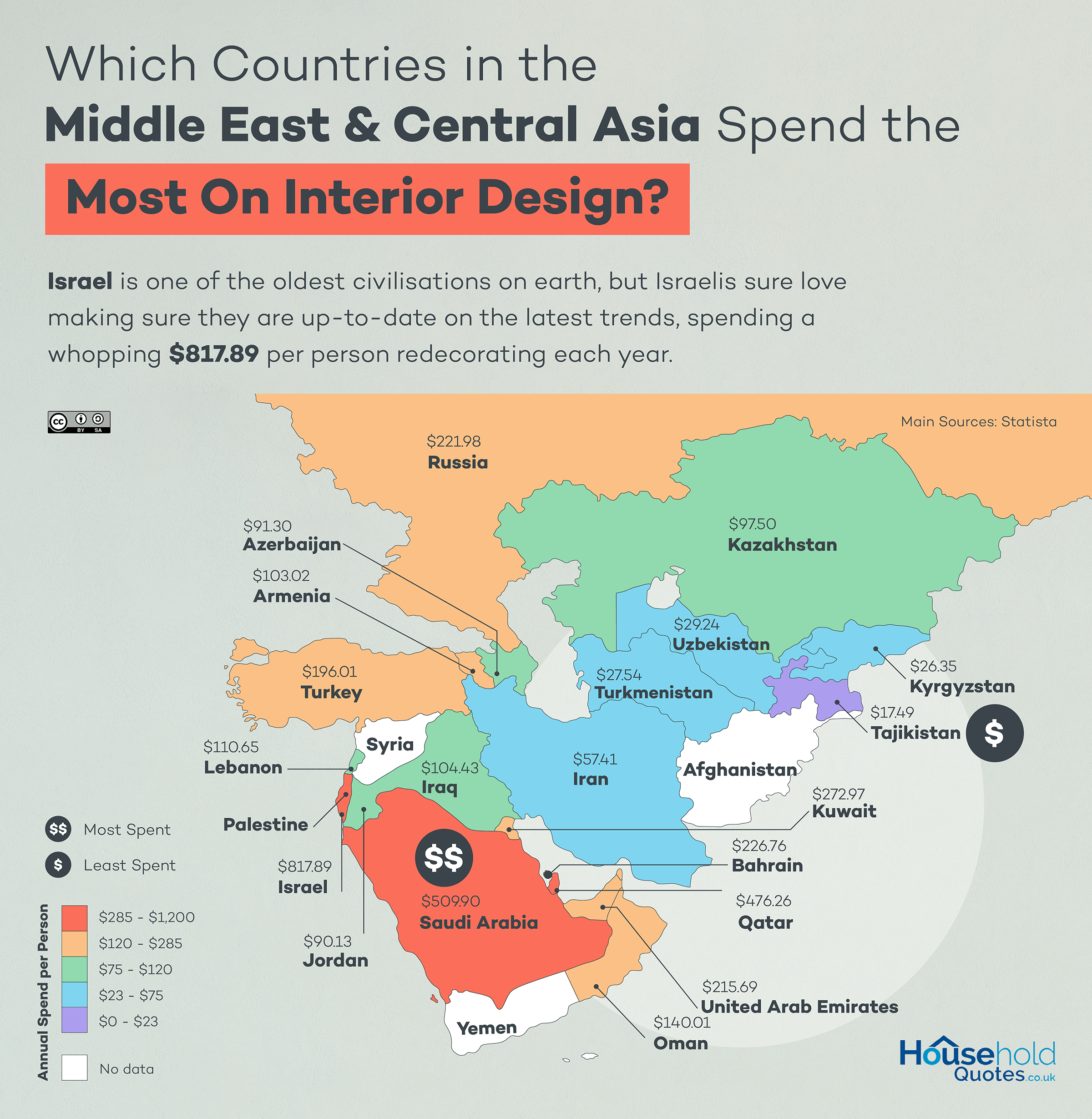 Asia: India and Hong Kong Among World's Biggest Interior Design Spenders
India is the biggest spender compared to income, but Hong Kong is the world's number two big-spender per capita outside of Europe. The average resident of Hong Kong spends $1,154.36 per year on renovations, which equates to 32.60% of one monthly paycheque.
Space is at a premium in Hong Kong, but residents enjoy the 12th highest salaries in our study. This means that many professionals can afford to pay for professional interior designers or invest in bespoke space-saving furniture and partitions.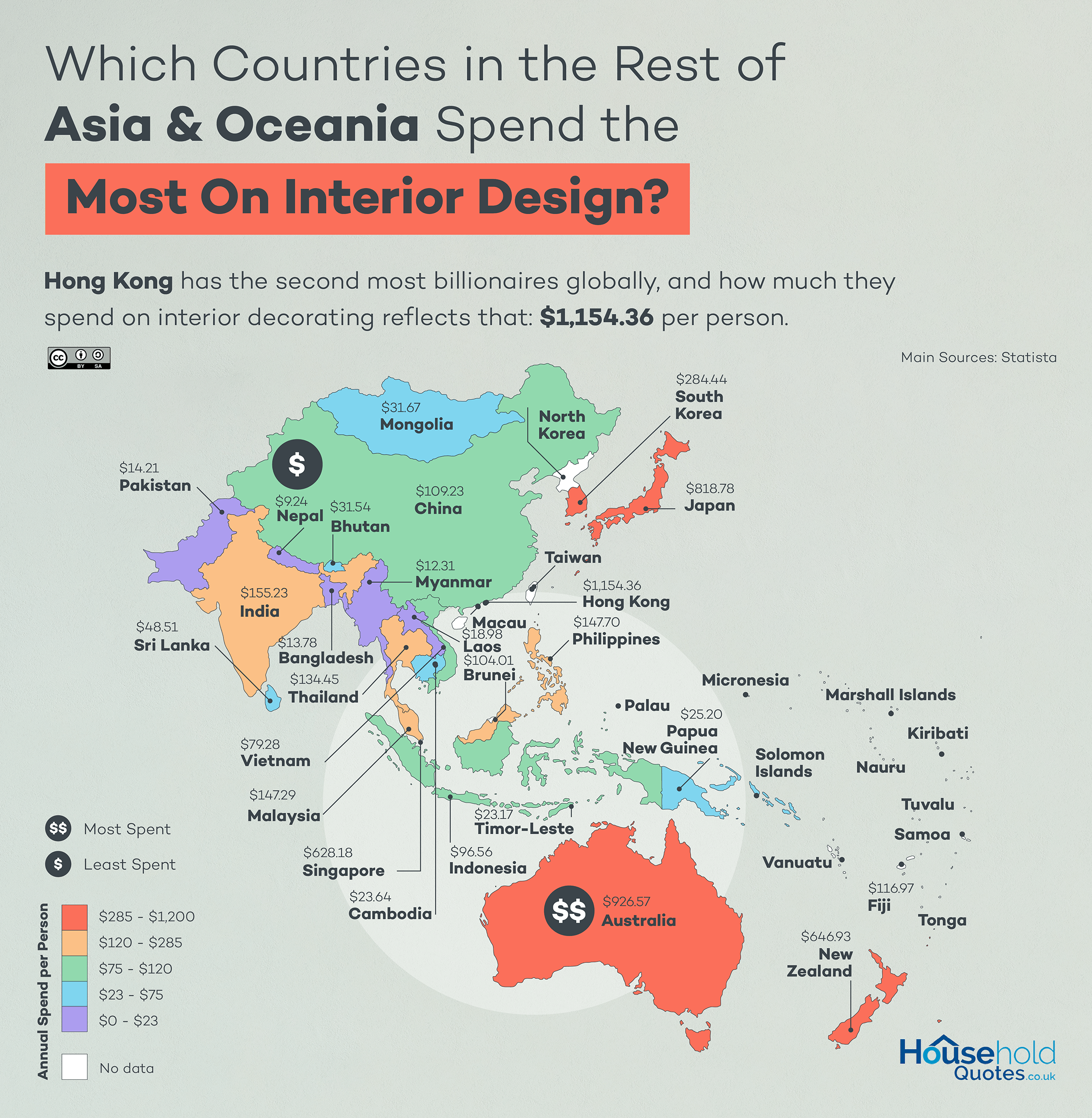 The Seychelles Spends More Per Capita on Décor than Any African Country
The majority of Africa has at most a two-figure spend on interior design. Seychelles spends the most and is among five African countries with a three-figure spend. However, Angolans spend the highest proportion of their wage: $74.60 or 52.66% of one paycheque. Angola is riddled with poverty and poorly designed/constructed developments, and the interiors spend is swelled by the presence of wealthy expats benefitting from the oil economy.
In South Africa, residents spend an average of one-third of a monthly paycheque on decorating. South Africa is a diverse country, and home design is unified by lifestyle rather than a particular aesthetic. South African design prioritizes light and colour and softens the line between interior and exterior through the use of windows, glass doors, indoor plants, and rattan furniture.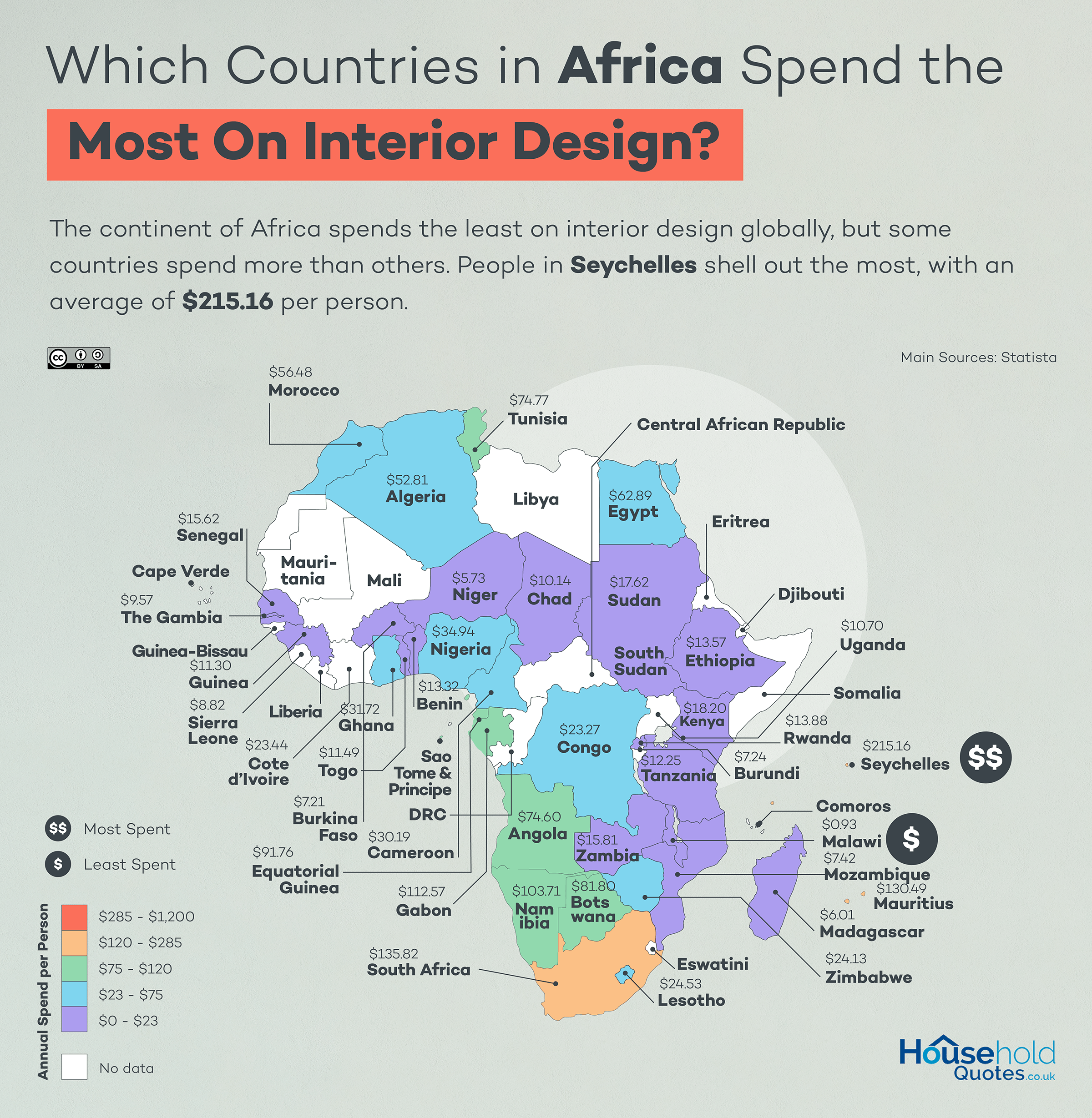 See Our Interior Design Data in Full
Designing an interior you'll love is not just about splashing money. It takes inspiration and resourcefulness – as well as knowing what features to splash on and when to tighten your belt.
After all, people in every part of the world have home décor that makes them happy. Why not start by scouring Instagram for new design trends popping up in unusual places?
SOURCES
Statista. (2021).Statista Consumer Markets. statista.com
World Bank. (2021). Adjusted Net National Income per Capita. worldbank.com