Air Conditioning Installation Costs: 2023 Money Saving Guide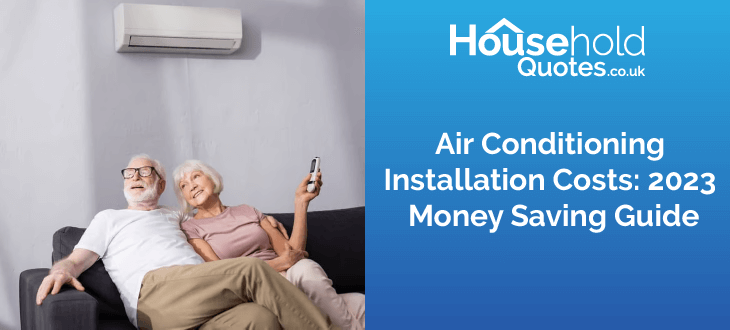 With UK summers turning hotter, some may find that the heat isn't always comfortable – especially when your property has been building and retaining heat day on day. .
Air conditioning could be the solution. With a cooling unit in place, you'll be able to feel more at ease and less drained of energy as a direct result of lowering your indoor temperature, making hot spells much more manageable.
In this guide, we'll be looking at:
How much air conditioning costs
What affects the cost of air conditioning units
How to save money on air conditioning units
How to know which air conditioning unit is right for you
How to find and hire a professional
If you want to know the best ways to lower your indoor temperature without breaking the bank, keep reading.
How Much Does Air Conditioning Cost?
Let's start with costs to give you an idea of the required budget. As you'd expect, the cost of air conditioning units can vary depending on the type of system you choose and the number of units you need.
The table below gives an estimate of the costs of installing different air conditioning systems, and how long installation should take.
| Type of Air Conditioner | Estimated Cost | Estimated Installation Time |
| --- | --- | --- |
| Evaporative Air Cooler | £90 to £500 per unit | N/A |
| Portable Air Conditioner | £30 to £500 per unit | N/A |
| Window-mounted Air Conditioner | £300 to £1,500+ per unit | One day |
| Floor-mounted Air Conditioner | £600 to £1,450+ per unit | One day |
| Single- or Multi-split System | £1,000 to £1,600+ per unit | One to seven days |
| Ducted or Ceiling Cassettes | £2,500 to £4,000+ per unit | Three to ten days |
| MVHR System | £7,000 to £8,500+ per home | Five to seven days |
An evaporative air cooler brings in air from the outside, with the system filtering out allergens like dust and pollen while cooling the hot air to give you cool, clean air indoors.
These systems use water evaporation which doesn't use much electricity to function. There's also no refrigerant in an evaporative air cooler, so it is much better for the environment.
These can cost between £250 and £500 per unit and can be fitted in a day.
Portable air conditioners are a unit on wheels that you can move around from room to room, helping to give you flexibility if you want to spot cool rooms that you're using during the day or night.
The unit has a hose that is attached to one end of the unit, with the other end of the hose being threaded outside through a window. It's good to note that cheaper portable air conditioning units may be noisy with fewer useful features like a timer.
These air conditioning units are by far the cheapest option, being between £50 to £600 per unit, depending on the features and functionality. The installation time is as brief as plugging something into the socket.
Window-mounted air conditioning units fit into your window space. They are ideal if you don't have space on the walls and you don't want floor-standing units or a portable unit with a hose.
These can range from £500 to £1,300 per unit, and take around one day to fit.
Floor-mounted units look a bit like storage heaters, but they can be used for heating or cooling.
These air conditioners must be installed next to a wall. The installer will drill a hole in the wall so that the pipes can vent warm air outside, making them unsuitable for those in rented accommodation and unable to make cosmetic changes to the house.
With the price rising again slightly, these units can cost between £600 to £1,450 per unit, taking one day to fit and install.
Let's look at single- or multi-split systems next. The split system is the most common of all air conditioning types, consisting of a unit attached to a wall on the inside and another larger outdoor unit.
There's no ductwork needed, so this type of system can be installed with minimal disruption. You can control each individual air conditioning unit separately which means you can have different temperatures in each room.
Unlike a single-split system that requires you to have one indoor unit and one outdoor unit for each room you want to cool, a multi-split system allows you to connect up to four indoor units to one unit outside.
If you want to maximise the number of rooms with air conditioning but don't have much outside space, a multi-split system could be a good solution.
These units can range from £1,000 to £1,600 per unit, taking between one to seven days to install depending on the complexity.
Next up, we'll look at ducted or ceiling cassettes. Ceiling-mounted cassettes are perfect for small spaces or where you don't want a unit taking up space in your room. The engineer will mount the air conditioning into the ceiling, where it looks like a small grille. The air blows out horizontally so it will reach every corner of a room.
Ducted air conditioning, in comparison, heats several rooms from one outside unit but you can't control the temperature of each room separately. The ducts send cold (or hot) air to all the rooms simultaneously and at the same temperature.
Cheaper air coolers will, in most cases, have a small water capacity which means you need to be around to refill the tank. These units can cost between £2,500 to £4,000, taking between three to ten days to fit.
Mechanical Ventilation Heat Recovery (MHVR) systems take the old, stale air out of your home and replace it with fresh air from outside. The system will cause the temperature to drop but it doesn't have the same cooling effect as a conventional air conditioning unit.
These are by far the most expensive option when it comes to air conditioning units, costing between £7,000 to £8,500 per unit, and requiring between five to seven days to fit.
If you want a cooling system that uses renewable energy, then an air-to-air pump is a great solution. These pumps can be floor- or wall-mounted and look like conventional air conditioning units.
A heat pump powers the system, which uses less electricity than a conventional air conditioning unit. It's also environmentally friendly because the pump doesn't release any harmful gases into the atmosphere.
Later in this article, we'll be looking more closely at what system could be right for you. But, if you are under any doubt, an air conditioning engineer can advise you on what system you need, as well as give you a quote for installation.
Are you ready to get started on your home air conditioning project? HouseholdQuotes can help you find the right installer.
Click the button below to compare quotes from multiple tradespeople near you, and potentially save money on your project:
Comparing Quotes Could Save You Up To 40%:
Fill in the form in just 1 minute
What Affects the Cost of Air Conditioning?
Now that we know the base price of air conditioning units, let's take a closer look at the reasons your project could end up more expensive than expected.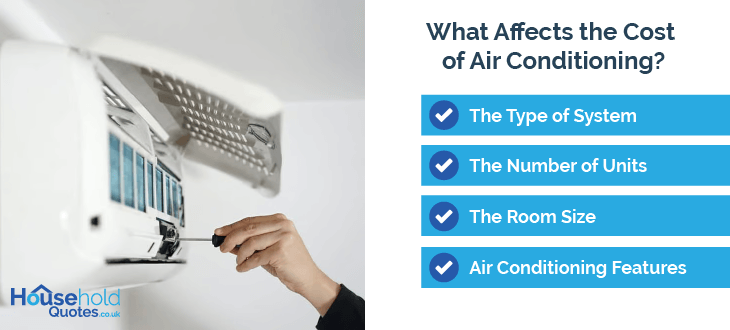 The Type of System
Portable systems are the least expensive, but as a trade-off, you have to connect a hose to the outside and these systems are usually noisier than more expensive, built-in units.
If you only want to cool one or two rooms, a split system is a popular option. Multi-split systems, ducted systems, and ceiling-mounted cassettes are the most expensive because they require more labour time to install, so if you have a smaller budget, it's worthwhile considering the cheaper alternatives.
The Number of Units
It goes without saying – the higher the number of units, the higher your project's fee will be. This is especially true for built-in units as there will be significantly more work involved with threading pipes and wires, as well as making good once the work is done, than those simply plugging in a portable unit.
The Room Size
To cool effectively, you need to purchase an air conditioning system that's strong enough for the size of your room. If you end up buying something that isn't as strong as your size needs, you will end up spending more money in the long run as you'll need to supplement the machine with additional units.
Cooling power is measured in British Thermal Units (BTUs). BTUs are the amount of energy the unit uses to cool and heat.
If you have a small room, you can get by with an air conditioner with a lower BTU than if you have a large room to cool – and, as you'd expect, units with lower BTU values are usually cheaper. However, it's better to purchase a slightly more powerful unit than you need because an air conditioner that's constantly running at maximum capacity uses more energy.
When in doubt, consult an air conditioning installer who can advise on the right system and unit for your space.
Air Conditioning Features
Depending on the manufacturer, air conditioning systems can have different features, capable of bumping up the price.
Many air conditioners will give you both cooling and heating. You probably won't be able to heat your entire home efficiently unless you have a multi-split system, an air-to-air system, or an MVHR system.
Still, using the heat setting on your air conditioner can be a helpful backup. If you feel chilly whilst working in your home office, but you don't want to turn the heating on in the entire house, you could use an air conditioning unit to provide heating for that one room.
Some units have a dehumidifier mode which is helpful if you want to reduce the moisture in the air. This can be especially beneficial during the damp, wet British winters.
Fan speeds affect how quickly the room will cool down. If you choose the highest fan setting, the indoor unit will be noisier than if you leave it on the lowest setting, but the room will cool down faster.
Sleep mode means the motor runs slowly during the night, so it makes less noise. High-end air conditioning units are almost silent, but most units make at least some noise.
Before purchasing any air conditioning system, be sure to check the decibel rating of the indoor and outdoor units, especially if you plan to install it in a bedroom.
A timer will allow you to time when you want the air conditioning to turn on or off. This feature is particularly helpful at bedtime when you can time the system to shut down in the early hours of the morning.
Some air conditioning systems have an app or central display, which you can use with your smartphone. The app gives you additional control because you can turn the air conditioner on before you get home, so you're cool as soon as you walk indoors.
Installing an air conditioning system involves running both gas pipes and water pipes, and can also include adding ducts or cassettes. You should anticipate higher labour costs if you want multiple units, as these require more pipes, ducts, or cassettes to function.
You should also expect higher labour costs if you retrofit an air conditioning system into an existing home. This is because your installer may need to drill holes, lift floorboards, and cut channels inside walls to accommodate the necessary pipes.
If you plan to retrofit your home to include air conditioning, you should also budget for the cost of plastering and decorating, and potentially replacing your old carpet or floorboards. It's especially important to remember that air-con uses fluorinated gas for cooling, so only an F-Gas-certified or REFCOM-registered engineer can fit the system.
How Can I Save Money on Air Conditioning?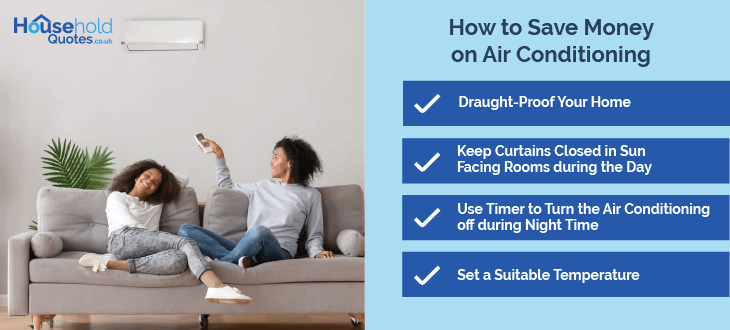 Comparing quotes is a great way to potentially reduce the cost of your air conditioning. HouseholdQuotes can help you get quotes from multiple installers near you, so that you can find someone that suits your budget.
Click the button below to get started:
Comparing Quotes Could Save You Up To 40%:
Fill in the form in just 1 minute
Thankfully, there's a range of ways you can keep costs down for air conditioning.
Firstly, you should look at having adequate draught-proofing installed to keep the cool air in and the warm air out. If you have an older home, a professional can do the job for you.
The costs are likely to be in the region of £200 to draught-proof gaps in your windows and doors.
If you decide to go down the DIY route, take care not to block ventilation grilles, air bricks, or trickle vents on your windows.
You should also try to keep blinds, curtains, and shutters closed. This is especially important for rooms that face the direction of the sun as they'll heat up far quicker than northerly-facing rooms.
If your air conditioning unit features a timer, you can use this to turn the air conditioning on and off to save on costs. For example, you can turn on the air conditioning before you go to bed and set the timer to turn off in the early hours when the temperature drops.
It's also a good idea to set a suitable temperature. While many air conditioning manufacturers tell you to leave your air conditioning on when you are out, it can be a good idea to set the temperature slightly higher while you're out to help to use less energy, or simply have the unit turned off while you're away from home for extended periods.
How Much Does It Cost to Run an Air Conditioning System?
The running costs depend on the type of unit you have, its energy efficiency, and its age. See the table below for the approximate costs of a new system:
| Room | BTU | Kilowatts | Cost per Hour | Running Time | Daily Cost | Weekly Cost |
| --- | --- | --- | --- | --- | --- | --- |
| Lounge | 12,000 | 3.52Kw | £1.19 | Eight hours | £9.52 | £66.64 |
| Kitchen | 8,000 | 2.34Kw | £0.79 | Four hours | £3.18 | £22.27 |
| Main Bedroom | 10,000 | 2.93Kw | £0.99 | Eight hours | £7.96 | £55.78 |
| Second Bedroom | 8,000 | 2.34Kw | £0.79 | Eight hours | £6.36 | £44.55 |
| Home Office | 6,000 | 1.76Kw | £0.58 | Eight hours | £4.78 | £33.51 |
| 6-unit Multi-split | 42,000 | 12Kw | £4.08 | Eight hours | £32.64 | £228.48 |
Prices are based on the current price of electricity at the time of writing (34p per kWh). Your actual running costs will depend on the type of aircon unit you own, its output, and the tariff you pay.
If you want to run a portable air conditioning unit expect to pay in the region of 44p an hour. They are useful if you want to move them into different rooms, but they are not especially energy-efficient.
Air coolers on the other hand don't lower the temperature as much as an air conditioning unit, but they cost much less to run. You can pay as little as 1p an hour.
As you can see, the cost depends on the power of the unit and how long you use the air conditioning each day. The efficiency of your units depends on their age and whether or not you maintain them with annual service by a qualified engineer.
How Do I Know Which Air Conditioning Unit is Right For Me?
With so many units available, it can be hard to know which one is best for you. While there are some simple answers – portable units are best for those in rented accommodation – the other fitted units are more of a grey area.
Type of Unit
Advantages
Disadvantages
Portable
No installation necessary
You can move it from room to room
Take it with you if you move
You can hide it away when not in use
Not efficient for large rooms
Can be noisy
Expensive to run
The hose needs to go out of a door or window
You need to empty the water tank regularly
Installed
High efficiency
Silent or low noise
Cools and heats
Timer settings
Durable
Can be wall or floor mounted
Not particularly environmentally friendly
Need to pay installation costs
Need somewhere to put outside unit
MVHR
Excellent filtration leading to enhanced air quality
Lowers condensation and humidity
Cheap to run
Must install the whole system at once so you need to have between £6,000 and £7,000
Air to air
Very efficient
A heat pump is environmentally friendly
Cools and heats
Must be well maintained to remain efficient
What's Involved in Fitting an Air Conditioning Unit?
The engineer or tradesperson from the company will come and see where you want the unit or units installed. They will calculate the size you need and talk to you about the type of system you want and the place to locate the units.
The location will determine the amount of pipe or ductwork that needs doing. You'll then get a quote with a plan and the price for your choice.
The F-Gas certified engineer and the electrician will then install the system. The system will have its first test and the engineer will show you exactly how to use it.
If you had a retrofit installation plasters, painters, and carpet fitters will fix any disruption to your home.
What Are the Advantages and Disadvantages of Air Conditioning?
Let's take a closer look at the key advantages and disadvantages of air conditioning units:
| Advantages | Disadvantages |
| --- | --- |
| Keeps you comfortable when temperatures are high | Not environmentally-friendly |
| Helps to reduce the risk of dehydration | Can cause higher electricity bills |
| Air quality can be improved, removing pollen, dust and mould spores | Some units can be noisy |
| Can be used as a heating unit in most cases | Portable options are the only option for those in rented accomodations |
The main advantages focus on reaching a comfortable indoor temperature when the outdoors is significantly higher while reducing the risk of dehydration. It can also reduce pollen, dust, and mould spores, which can help allergy and asthma sufferers.
Many air conditioning units also incorporate a heating unit. You can use this function during the winter to heat a small room or as backup heat in larger areas.
Looking at the disadvantages, you should consider that some units can be noisy, so check decibel ratings before buying and installing, and make sure to remember that they will likely cause higher electricity bills.
At the moment, air conditioning units are not completely environmentally friendly.
How Do I Find and Hire Someone to Install and Maintain Air Conditioning?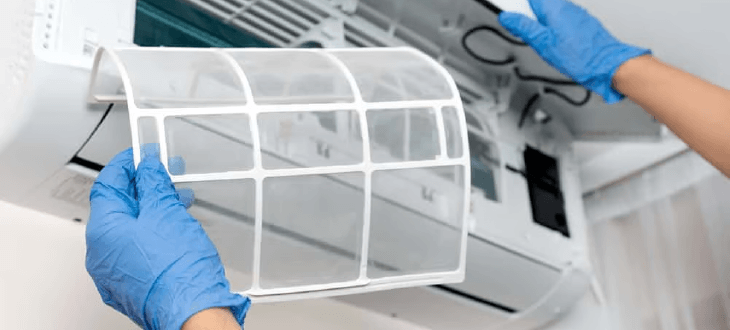 Finding the right air conditioner fitter can be challenging. At HouseholdQuotes, we can connect you to installers in your area.
Click the button below to tell us more about your project, and we'll help you find someone quickly and easily:
Comparing Quotes Could Save You Up To 40%:
Fill in the form in just 1 minute
It's also a good idea to ask friends, colleagues, and family if they have any recommendations. If a neighbour's recently had air conditioning installed ask them who carried out the installation, as they may be able to give you a handy recommendation.
Ensuring the Professional Is the Right Fit
First of all, you should make sure your installers are F-Gas certified or registered with REFCOM because otherwise, they won't be legally qualified to install your system. It's a good idea to get a feel for their previous work, so take a look at any case studies or customer references to understand their work quality and ethic.
As a formality, you should ask to see their insurance certification – all tradesmen should have public liability insurance. It's also a good idea to ask whether or not they provide a maintenance contract and if so, how much it costs.
Final Checklist
With any project, you want to make sure you're getting the best deal possible – here's our final checklist to make sure you've taken everything into consideration before going ahead with your air conditioning installation.
Consider if you want air conditioning throughout your home, or in just one or two rooms? This can help to determine the type of unit you need
Research the different systems available. There's plenty of information on the internet and many large manufacturers have chat systems if you need to ask questions
A professional air conditioning engineer can also advise you about the system that will best suit your needs for your budget and the design of your home
Make sure the installer gives you a written quote that makes it clear what is and isn't included
You should also ask if the quote includes removing and disposing of any rubbish
Finally, ask your installer about guarantees and warranties on parts and/or labour
Use HouseholdQuotes to find local air conditioning installers and potentially save money on your air conditioning project.
Comparing Quotes Could Save You Up To 40%:
Fill in the form in just 1 minute
Frequently Asked Questions
Ready to install air conditioning? We can help!
Click the button below to get quotes from local engineers who can help you get the job done:
Comparing Quotes Could Save You Up To 40%:
Fill in the form in just 1 minute