Home Genealogy Guide for 2023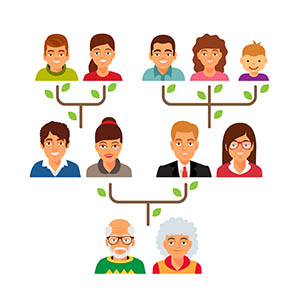 These days it seems you can't be alive on planet earth and not have met someone who happens to be doing an 'indepth search' on their ancestors, or in other words embarking on a spot of what is officially referred to as Genealogy. This crusade to find out more about where we came from, how we got here and, in doing so, possibly learn a lot more about our own personality and beliefs etc, has been growing phenomenally in popularity over the years here in America.
And if you don't quite believe that fact then just ask ABC News. Their statistics revealed Genealogy to be the second most popular online website category to be visited in 2013 (this is a family article so we won't mention the first). Meanwhile, celebrated University of Michigan anthropologist Beverly Strassmann acknowledges that Genealogy appears to be "America's second-most popular hobby."
The fascination for tracing our ancestors is believed to date back to author Alex Haley's book Roots, published in 1976 and made famous globally after it was adapted for TV. The author described himself as being 'addicted' to Genealogy, having studied it for 12 years and until his death still searching for scraps of ongoing evidence. Even US president Barack Obama became enamored with the past time, publishing his autobiography and family history 'Dreams From My Father.'
That's all very well, but how do you even go about starting to look? Well, read the following and find out:
Where people get their information from
Without a doubt, the biggest resource for people tracking down their ancestral history has to be the internet. There are a number of online websites specializing in Genealogy databases and receiving around 108 million visits a year, according to statistics from Genealogy In Time magazine.
Based on Alexa rankings, the most popular Genealogy site in America is Ancestry.com with an astounding 38,890 visitors a day, followed by MyHeritage.com with 11,870 visitors and thirdly FindAGrave with 11,310 people dropping in daily.
There are paper records too, of course. The Baptist churches encouraged its members to research their fathers back before the publication of Roots. Libraries store archived records and there are lists of federal agencies with interesting records. And that's just for starters.
Why do individuals embark on it?
According to the anthropologist Strassmann mentioned in our introduction, it's all down to evolution and the fact we can't help caring about family (both immediate and cousins, great aunts etc). And if someone cares about you and looks out for you then you're more likely to survive. It makes sense!
Of course, there is also a sense of satisfaction and pleasure gained from discovery. You may, for instance, be the only person for hundreds of years to uncover a particular piece of family history and which would otherwise probably have gone undiscovered for another few centuries. At the same time you're discovering a little more about American culture at a given period. This video from the National Genealogy Society reveals professional Genealogists and amateur searchers revealing what they get from the subject.
How to start your Genealogy quest
First decide what type of Genealogy you're about to embark on. For instance, is it your family history as a whole you're looking to recreate, or are you on the pursuit of one particular family line? Next:
Quiz your family. Grandparents, in particular, often have the key to unlock certain doors from the past. So do great aunts, uncles and elderly distant cousins. Start visiting them and listening to their reminiscences. Try and get as many details as possible about nicknames, addresses, ages, and dates around births, marriages and deaths (as these should all be recorded).
Snoop around your parental home. Asking for permission first is easier! Look at old photos and birth certificates, also school report cards, letters and diaries if possible. There may even be an old family tree started by some distant relative who, for some reason, abandoned his or her genealogical search.
Draw a basic family tree. Regardless of whether you're looking for just one individual ancestral line or many, it still helps to have this 'family map' to refer to. It can be online or hard copy; just add things to it as you go along and try to keep it tidy for easy reference.
Look for a particular story of interest. This could be a relative's student years at college, military service or serving the community as an elected member of the council. If, during your search you come across what appears to be an even more interesting story on another family member, try to stay loyal to the first otherwise your search may not be as thorough as it could have been.
Review the US Census. This is reasonably extensive since the first US Census was taken as far back as 1790 when George Washington was the President. However, do approach it with caution since the records for Delaware, Georgia, New Jersey, and Virginia were lost and up to one third of the original data was destroyed. This involved records originating from
Connecticut, Maine, Maryland, Massachusetts, New Hampshire, New York, North Carolina, Pennsylvania, Rhode Island, South Carolina, and Vermont.
Do, however, refer to this official record – and the others following –  to try and trace family since it contains names, ages, birth places, occupations, addresses and immigration details.
Network with other genealogists. Joining FB groups and online forums can help you pick up valuable tips for your own search. They could also prove encouraging when you hit what you consider to be a brick wall and your passion for the pastime starts to fade. There may even be a Family History Society which physically meets up near where you live.
Have you caught the ancestry searching bug yet? If so, we don't blame you. Meanwhile, here's some further resources that can help with your hunt or just remind you of why again you want to pursue this often frustrating – but ultimately – rewarding past time. Enjoy!
Further Reading
http://time.com/133811/how-genealogy-became-almost-as-popular-as-porn/ – How Alex Haley's book Roots sparked a national obsession with Genealogy
http:/www.genealogy.com/articles/research/12_alexh.html – The father of Genealogy Alex Haley's story of what he gets from the past time and how it shaped his own ideas about relationships
http://www.fgs.org/cstm_societyHall.php – A list of genealogy clubs in America
http://www.findmypast.com/content/20-family-history-resources – 20 top Genealogy resources
http://www.dar.org/national-society/genealogy/start-what-you-know – Applying for access to the archives held by the Daughters of the American Revolution