The Cost of Moving or Relocating a Boiler: 2023 Savings Guide
A boiler is one of the most important appliances in your home, but it's also one of the most dangerous if not handled correctly. You might find you need or want to move your boiler to another location – this is not something you should ever consider doing by yourself. 
Not only is it hazardous to touch this piece of equipment or attempt to move it, but it's actually against the law. It will also invalidate your home insurance if anything were to be damaged or go wrong as a result of this being moved by anyone other than a qualified gas engineer.
We'll take a look at:
How much it costs to move your boiler
What affects the cost of moving your boiler
How to save money when moving your boiler
How to find the right professional for the job and more
Let's get started with how much it costs to move your boiler.
How Much Does It Cost to Move or Relocate a Boiler?
As you can see from the table below, the costs to move or relocate your boiler vary from £75 to £2,650.
| Job or Item | Estimated Cost | Time Required |
| --- | --- | --- |
| Moving Existing Boiler | £500 to £950 | 2 days |
| Replacing Boiler and Relocation | From £2,650 | 2 days |
| Pipework and Fittings | £400 to £600 | - |
| Flue Pipe Extension (per metre) | £75 to £125 | - |
| New Boiler Controls | £100 to £650 | - |
| Magnetic Filter | £150 to £225 | - |
To move your existing boiler is quite an expensive job due to the labour involved and typically costs between £500 to £950.
If you need to replace your boiler and also wish to relocate it, you will likely be looking at costs from £2,650 and up.
To replace the pipework and fittings for your boiler costs between £400 to £600 depending on the exact nature of the work.
A flue pipe extension (per metre) costs between £75 to £125 and to have new boiler controls fitted costs between £100 to £650.
A new magnetic filter is likely to cost between £150 to £225.
Are you ready to move your boiler? HouseholdQuotes can help you find the right heating engineer. 
Click the button below to compare quotes from multiple tradespeople near you, and potentially save money on moving your boiler:
Comparing Quotes Could Save You Up To 40%:
Fill in the form in just 1 minute
What Affects the Cost of Moving or Relocating a Boiler? 
There are a number of factors that affect the costs of moving or relocating a boiler. We take a closer look at these factors in the below sections so you know what to keep in mind before hiring anyone for this type of work.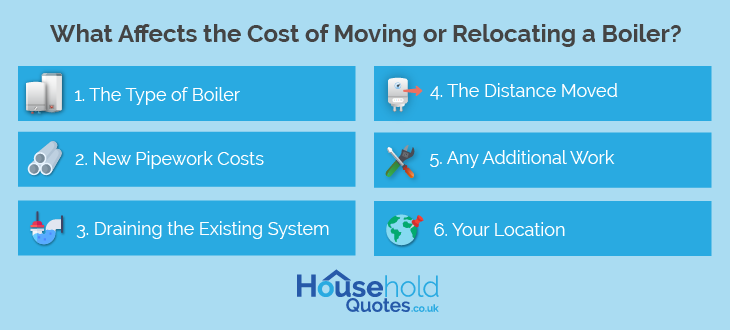 The Type of Boiler
The type of boiler you move is one of the biggest factors that will impact the cost of this job since some boilers are easier to move than others.
For example, combi boilers are the easiest to move since they're less reliant on water tanks.
However, even though the initial price may be cheaper, you'll still have to factor in the costs to move the flue and pipework, and you may need to hire a painter or decorator after the job is finished.
New Pipework Costs
Depending on where the boiler is moving to, new pipework will need installed, which will increase the price you pay. Here are some of the main things that will fall under this.
Flue
To make sure that your boiler flue pipe can safely reach outside, an extension pipe needs to be fitted. This can cost anywhere from £75 to £125 per metre.
Pipework
Connecting the boiler to existing pipework and the condensing pipe so that everything works safely and correctly is likely to cost between £400 to £600.
Gas Connections
Moving a boiler typically means that gas connections require rerouting, or in some cases set up from scratch (this is usually the case if the boiler is moving to a room where no existing gas connections exist) – in a garage, for example. This isn't a cheap job, and generally costs between £45 to £85 per metre.
Magnetic Filters
These help keep your water pipes clean by extracting debris that could cause blockages. Installing or rerouting these pipes costs between £120 to £225.
Draining the Existing System 
This is an expensive, but often worthwhile job that involves draining your existing heating system and flushing it out to remove any sludge and debris so that your heating system and boiler will perform better.
The Distance Moved
Depending on how far your boiler is moving, you'll notice that the price you pay is impacted. For example, moving a conventional boiler from upstairs to downstairs is one of the most expensive jobs as most water tanks are kept upstairs, so there's generally a lot of extra work involved with this, such as pipework.
It's also important to keep in mind that different tradespeople will have different costs associated with their labour – costs are dependent on the situation instead of being one price fits all, so it's important to take your time and shop around for quotes before having any work carried out.
Any Additional Work
Moving a boiler is a job that usually results in work such as pipes being ripped out and rerouted, so you'll generally find that you need additional work done afterwards to get your home back to a presentable standard.
Here are some jobs you may need:
Plastering and Skimming
A plasterer will repair any broken plaster that's sustained damage during the removal or relocation of your boiler, though depending on how bad the damage is, the costs will vary significantly between £200 to £750.
Rendering 
If your external walls sustained damage or needed to be cut when moving your boiler, you'll need to carry out some rendering to keep them in good condition and fill any cracks or holes. Depending on how much work is required, rendering costs anywhere between £2,500 to £8,000.
Painting and Decorating 
If moving or relocating your boiler has caused damage to the paint, wallpaper, or even flooring, this will need fixing. Painting and decorating is work you can do yourself if you want to save money.
However, if you'd prefer to hire a professional painter and decorator, the costs will vary between £1,400 to £6,100, depending on the size of your house and the required level of work.
Scaffolding 
In cases where you move your boiler from the first floor to the ground floor, or vice vera, scaffolding is sometimes needed on the outside of your house. The average costs for this are between £300 to £1,100.
Smart Thermostat Installation 
A smart thermostat is used to ensure that you're only using the amount of heat needed to warm your home, and they're also a great way of keeping track of your usage and controlling your home heating system.
Ease of Access
How easy it is to access your boiler is one of the main cost factors, since it will take longer and potentially require specialist equipment if your boiler is in a location that isn't easy to reach. In some cases this may also require the help of another tradesperson or labourer which is also likely to increase your costs.
Your Location
Your location is another factor that impacts the cost of moving or relocating a boiler. If you live in a larger city like London or Edinburgh where living costs are generally higher, you'll usually pay more for many professional services.
How Can I Save Money on Moving or Relocating a Boiler?
Comparing quotes is a great way to potentially reduce the cost of moving or relocating your boiler. HouseholdQuotes can help you get quotes from multiple tradespeople near you, so that you can find one that suits your budget. 
Click the button below to get started: 
Comparing Quotes Could Save You Up To 40%:
Fill in the form in just 1 minute
One of the best ways you can save money on this type of project is to plan and set a budget before the work begins – make no mistake, moving your boiler is an expensive job, so make sure you can afford it before hiring anyone.
You should also consider if it's cost-effective to replace your boiler at the same time as moving it – particularly if your boiler is no longer under warranty or is faulty. This may drastically increase your initial costs, but it could save you money in the long-term as you'll have dealt with two birds with one stone.
Finally, consider how far you plan to move your boiler and if this is really necessary. If you're concerned your budget may not stretch and your moving your boiler purely for aesthetic reasons, then it may be best to wait until you can more comfortably afford to have your boiler moved.
What's Involved in Moving or Relocating a Boiler?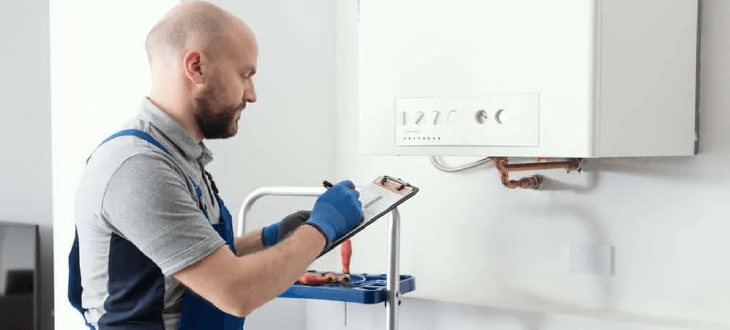 Once you've had an inspection from a gas engineer and determined the type of boiler you have and if it's eligible for relocation, they'll provide a quote and arrange a day and time to start the work.
Before they arrive, they will ask a series of questions about your boiler, such as the preferred location and reasons for moving.
On the day, they will arrive and ensure that the full gas supply is switched off at the mains. This will usually remain for the duration of the removal until the boiler has been safely installed and fitted at the new location, including any pipework that needs to be installed or rerouted.
Finally, once the boiler has been safely installed in the new location, they will switch the gas on and perform a few checks to ensure that there's no leakage of the gas.
They will also ask you to contact them if you start to smell gas and provide you with an out-of-hours emergency number, as well as advice on what to do if you start smelling gas anywhere in your home.
Is Moving a Boiler the Best Choice for My Home?
If you're unsure whether moving your boiler is a good idea or not, here are some of the main pros and cons to consider.
| Advantages | Disadvantages |
| --- | --- |
| You'll free up needed space | Is expensive |
| Potentially more energy-efficient | Not an easy job |
| Boost water performance | Can result in damage to surrounding area |
As you can see from the table above, there are certainly benefits to consider moving your boiler, especially if you need to free up space, boost the performance of your water system, or make your home more energy efficient.
On the other hand, this isn't a job you should take lightly. It's often very expensive, is a rather complicated procedure, and can result in damage to your pipes, paintwork, and even the external walls of your home.
How Do I Find and Hire a Gas Safe Engineer? 
Finding the right heating engineer can be challenging. At HouseholdQuotes, we can connect you toexperts in your area. 
Click the button below to tell us more about your boiler relocation needs, and we'll help you find someone quickly and easily:
Comparing Quotes Could Save You Up To 40%:
Fill in the form in just 1 minute
Another great way to find a reputable gas safe engineer in your area is to seek recommendations from family, friends, neighbours, or work colleagues.
Alternatively, consult the Gas Safe register to find recommended and accredited professionals.
Ensuring the Professional Is the Right Fit
When it comes to having work carried out in your home, especially anything to do with the gas supply, it's important that the person you hire has the correct knowledge, experience and skills to complete the job safely.
In this following section, we're going to give you some of our top recommendations to ensure that the person you hire is the right fit for you.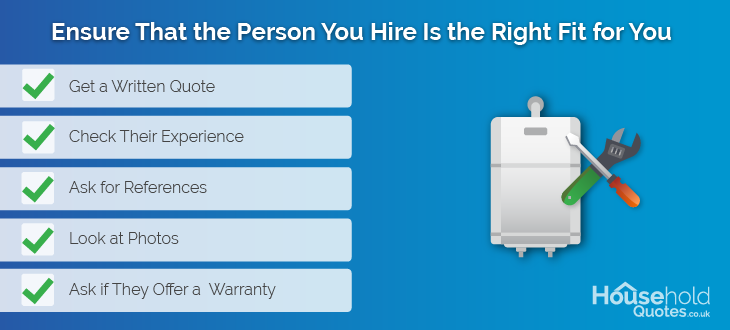 Get a Written Quote
It's crucial to get all quotes in writing when seeking out contractors to move your boiler, as this will prevent any ambiguity on price.
It's also a good idea to have these in writing so that you can compare them in your own time without feeling any pressure to agree to any work on the spot.
Check Their Experience
When it comes to working with and moving boilers, experience is crucial, so you must check that your chosen professional has the right experience. A good way of doing this is by looking at their website or social media pages.
Ask for References
If you're not completely sure how experienced a professional is, then asking for references and testimonials from previous customers is always a good way to see what kind of work they've carried out in the past and how happy people were with it.
Look at Photos
Photos are a great way to get an idea of the kind of work a professional can do before you commit to working with them. You'll generally find photos on their website or social media pages.
Verify They Have Insurance
Insurance is a must for any contractor, especially if working with a boiler, so don't take any chances by assuming that they have insurance.
Although most professionals will list this on their website, it's not always the case, so certainly don't be afraid to ask if you're not sure. It's not worth the risk – both from a safety, and a legal point of view.
Ask if They Offer a Warranty
Some professionals will offer a warranty on the work they carry out when moving or relocating your boiler, but not all offer this. If a warranty or guarantee is something that's important to you, it's worth asking about.
Final Checklist
If you plan to move your boiler to a different part of your home, then here's our final checklist of things to keep in mind:
Moving a boiler is an expensive job, so you should only consider hiring for the work if it's necessary and will help you in terms of accessibility
The costs for this work will vary between £75 to £2,650
It's against the law and extremely dangerous to attempt to move your own boiler – you must hire a professional to carry out the work
When looking for the right professional, you should take your time and compare different quotes, but also do your homework and check their previous experience, ask for testimonials, get your quotes in writing, and verify the professional is insured
Use HouseholdQuotes to find an engineer and potentially save money on your boiler relocation.
Comparing Quotes Could Save You Up To 40%:
Fill in the form in just 1 minute
Frequently Asked Questions
Ready to relocate your boiler? We can help! 
Click the button below to get quotes from local engineers who can help you get the job done:
Comparing Quotes Could Save You Up To 40%:
Fill in the form in just 1 minute