Loft Conversion or Extension Costs: 2023 Money Saving Guide
If you've run out of floor space in your property and are longing for another room or two, often the best option is to build upwards, into the roof. This can be tricky, with a myriad of questions and possibilities which can make it hard to know where to even start when planning a job of this scale.
In this article, we'll be covering:
How much a loft conversion costs
What affects the price of a loft conversion
How to save money when converting your loft
What a loft conversion involves
How to find and hire a builder to carry out your loft conversion
If you want a loft conversion, but haven't a clue where to start, keep reading to find out everything you need to know and the prices and timescales involved in each aspect.
How Much Does a Loft Conversion Cost?
A loft conversion typically costs between £21,000 to £44,000, but you could easily pay up to £63,000 if you want a particularly large extension.
Let's first take a look at the estimated cost of a loft conversion by type and time required.
| Conversion Type | Estimated Cost | Time Required |
| --- | --- | --- |
| Roof Light or Velux Conversion | £20,000 to £49,000 | 4 to 7 weeks |
| Dormer Conversion | £30,000 to £69,000 | 6 to 9 weeks |
| Hip-to-Gable | £40,000 to £70,000 | 6 to 9 weeks |
| Mansard | £45,000 to £75,000 | 8 to 11 weeks |
| Bungalow Roof Extension | £35,000 to £60,000 | 10 to 12 weeks |
| Shell Loft Extension | £12,500 to £30,000 | 8 to 10 weeks |
| Pre-fab/Modular Extension | £50,000 | 4 weeks (not including road closure permit times) |
For a conversion including a roof light or Velux window, you can expect to pay between £20,000 to £49,000, with a time duration of between four to seven weeks.
Velux windows can range in size from 55 x 70 cm to 134 x 160 cm and this will dramatically impact your cost – a smaller Velux window alone can cost £610 to £1,260 whilst a larger window can cost from £760 to £1,520.
A Dormer conversion will cost a little more, coming in at between £30,000 to £69,000, and taking slightly longer at between six to nine weeks.
A Dormer conversion is a box-like structure that projects from the existing roofline of the house and is known to increase the value of the property.
For a hip-to-gable arrangement, this will be between £40,000 to £70,000, taking six to nine weeks to complete. This is where the sloping side of the roof is converted to a gable wall to maximise floor space and is a popular choice of conversion.
Finally, the grandest option comes from the Mansard option which can cost anywhere between £45,000 to £75,000, and take up to 11 weeks depending on the size. This is usually built on the rear of the property and the slope of the face softens the outside appearance. 
The estimated cost of roof light and dormer conversions by the number of windows/dormers and size.
Looking at other types of extensions, you can consider a bungalow roof extension to cost between £35,000 to £60,000, while a dormer for your bungalow will cost roughly the same.
A shell loft extension is where the main structural work is carried out, but the internal finishing is left to the homeowner. This can be a great way to save a substantial chunk of money, helping those on smaller budgets, if you are willing to wait a little longer to finish off the job completely.
Shell extensions can range from £12,500 to £30,000.
There are also modular or pre-fab loft conversions, which are pre-made structures that are built off-site and then brought in as a complete unit to then be attached to your home.
Contrary to what you might think, this actually has a longer lead time than a traditional loft conversion, as you will likely need road closure permits to get the loft brought to you, which can take weeks – if not months – to obtain.
They are usually more expensive, too, as with a modular conversion your existing roof will need to be replaced, which is different to a traditional extension. Modular or pre-fab loft extensions can cost upwards of £50,000, making them a premium option for homeowners.
The budget option when it comes to a loft conversion is typically to go for a Dormer or consider adding a Velux window. If you're after a more substantial conversion and have the budget for it, a Mansard tends to increase the floor space nicely and have a softened and conjoined outside appearance.
| Number of Windows or Dormers | Size of Loft Conversion | Total Estimated Cost |
| --- | --- | --- |
| 2 roof lights | 5 metres x 4 metres | £20,000 to £24,000 |
| 2 roof lights | 5 metres x 6 metres | £24,000 to £28,000 |
| 2 roof lights | 8 metres x 12 metres | £40,000 to £45,000 |
| 4 roof lights | 5 metres x 4 metres | £22,000 to £26,000 |
| 4 roof lights | 5 metres x 6 metres | £26,000 to £30,000 |
| 4 roof lights | 8 metres x 12 metres | £44,000 to £49,000 |
| 1 dormer + 1 roof light | 5 metres x 4 metres | £30,000 to £34,000 |
| 1 dormer + 1 roof light | 5 metres x 6 metres | £39,000 to £44,000 |
| 1 dormer + 1 roof light | 8 metres x 12 metres | £55,000 to £62,000 |
| 2 dormers + 2 roof lights | 5 metres x 6 metres | £43,000 to £48,000 |
| 2 dormers + 2 roof lights | 8 metres x 12 metres | £62,000 to £69,000 |
For two roof lights, and a loft conversion size of five metres by four metres, you can expect a cost of between £20,000 to £24,000.
For a slightly larger space of five to six metres, this price will rise to £24,000 to £28,000, and for an eight by 12-metre space, this will cap at £40,000 to £45,000.
Four roof lights and a conversion space of five by four metres will set you back by £22,000 to £26,000, while the same amount of lights in a space of five by six metres will be between £26,000 to £30,000.
For a larger space of eight by 12 metres, this will become £44,000 to £49,000.
Moving onto Dormers, for a five by four-metre space with one roof light, you can expect to be charged between £30,000 to £34,000, while a five by six-metre space will cost you between £39,000 to £44,000.
For the larger space of eight by 12 metres, this cost will settle at between £55,000 to £62,000.
If you want to have two Dormers and two roof lights, you can expect to pay between £43,000 to £48,000 for a five by six-metre space, while an eight by 12-metre space will be between £62,000 to £69,000.
Are you ready to get started on your loft renovation? HouseholdQuotes can help you find the right extension specialist.
Click the button below to compare quotes from multiple tradespeople near you, and potentially save money on your project:
Comparing Quotes Could Save You Up To 40%:
What Affects the Cost of a Loft Conversion?
The biggest factor affecting the cost of a lost conversion is simply the scope of your expectations – a larger space will command a higher fee, and vice versa. You will also need to determine whether the space is suitable, your type of roof and if you're going to need to seek out planning permission for the adjustments.
The Conversion Size
Simply put, the larger the conversion you want, the more money it'll cost you. Instead of doing a budget job that isn't as big as you'd like in the first place, it's more cost-effective in the long run to save up that bit longer to get the entire job done properly the first time round to remove the need for rebuilds further down the line.
The Conversion Style
There are a few styles to choose from when it comes to loft conversions, all with different prices to help you decide.
Velux is usually the most affordable option, involving affixing one or two windows to the roof to introduce light. This can cost between £20,000 to £49,000.
This is a great way of introducing light into your new loft conversion, while giving you access to fresh air – you can even have temperature-controlled Velux windows to operate automatically for you to handle the room's climate control by itself.
Dormer conversions are a very commonly used loft conversion, consisting of a flat-roofed extension that typically has a window – it's common to have two of these on one roof, however, side Dormers and L-shaped Dormers (an extension added to the rear of the Dormer) are also available.
In the case of the latter, it could result in up to four new rooms. The cost for Dormer conversions ranges from £31,000 to £58,000 for a standard Dormer and £40,000 to £60,000 for an L-shaped Dormer.
Dormer extensions are great if you want to maximise your headroom in your loft conversion, as with other options – such as Velux – you will likely encounter a slanted roof, which will reduce your room's height.
Hip to Gable extensions are when either one or both of the end sloping parts of the roof are replaced with a gable wall, which will cost between £40,000 to £70,000. This is another great choice for homeowners wanting to maximise their headroom in a loft conversion.
Finally, Mansard extensions are the most expensive. This involves replacing one side of the roof with a straight wall and flat roof, with both sides being extended, resulting in a whole new storey.
The renovation is major and would involve planning permission, and cost between £45,000 to £75,000. It is a great option for those with more budget who want something a little more aesthetically-pleasing than the traditional dormer, as it gives a better external appearance.
The Roofing Material
Understandably, the material you choose for your roof will affect the price you pay. To read up on different roof types and their associated costs, see our dedicated page on it here.
The Windows and Glazing
Much like the roof material, the type of window or glazing you choose will impact the price you pay.
Choosing between double and triple-glazed, or different types of window frames and materials can bump up or reduce costs – for full information, see our dedicated page on new window costs.
The Purpose of the Room
Before building, you must have an idea of what the space will be used for as it'll directly impact the planning and price you pay.
If you want a bathroom, extra thought needs to be considered to ensure piping can get to where you need it, as well as having a boiler sufficient to heat that extra space.
If you want the space as an extra bedroom or home office, you'll at least need electrical outputs, so it's another job to get an electrician involved to send cabling to the right locations.
Obtaining a Party Wall Agreement
Regrettably not as exciting as it sounds, the Party Wall Agreement can cost up to an additional £1,000 on top of your project fee.
You must let your neighbours know about any work you are to carry out on your home before it gets started. The party wall stands on the land of two or more owners and forms part of a building.
Hiring a Structural Engineer and Architect
You may want the help of either a structural engineer or architect – or both! – for your loft conversion project.
If you're looking at having an extension, demolition or conversion carried out in some area of your home, you'll likely need to hire a structural engineer to do some calculations on the type of support your house is going to need. Structural engineers can be paid hourly or on a project basis, with costs being between £100 and £200 per hour, while a loft conversion plan including VAT (includes site visit, calculations and drawings) can be between £750 and £2,200.
Architects can draw up plans for your projects and give you advice about making the most of light and space – they also know all about your local authority's planning laws, so they will be able to advise you who you need to contact and what you should do. Architects usually operate on a fixed rate basis, with drawings for conversion planning permission usually being between £2,000 to £4,000.
Finishing Costs
Once your initial build is complete, you'll need to finish the space – this includes enlisting the help of an electrician, adding heating, potentially plumbing, flooring, plastering, and not forgetting painting and decorating.
Electricians charge between £250 to £320 as a day rate, but can also be hired on a project basis if you have a number of jobs to complete around your home.
Plumbers will cost you between £300 to £400 per day, helping you to get a bathroom or water supply into your loft conversion if desired.
Plastering a small room will be between £600 to £700, which will be an essential step when looking at a brand new space in your home.
In general, painters and decorators tend to charge between £160 and £240 per day.
It's good to note that some loft conversion companies offer a full service that includes finishing, but if you're choosing a shell conversion then you'll need to sort out the finishing yourself later on, so it's something to bear in mind when it comes to budget.
If You Require Scaffolding
Depending on the extent of your conversion, you'll most likely need scaffolding for labourers to reach the heights necessary to undertake the work.
Your property may also need additional structural support while the work is being completed, so this is usually an inescapable feature of conversion work.
Rubbish Removal and Skip Hire
There will be a lot of masonry debris, along with your existing roof to get rid of while the job is happening. This will likely require the assistance of a skip hire – which can quickly become expensive if it's at your property longer than anticipated, or filled with restricted items accidentally.
If you're planning on hiring a skip, see our dedicated page instead.
How Can I Save Money When Converting My Loft?
Comparing quotes is a great way to potentially reduce the cost of your loft conversion. HouseholdQuotes can help you get quotes from multiple conversion specialists near you, so that you can find someone that suits your budget.
Click the button below to get started:
Comparing Quotes Could Save You Up To 40%:
Converting your loft is one of the more expensive home renovations, but there are some ways to cut costs down.
Part of what escalates costs quickly is the urgency for which you need materials and tools. By purchasing savvily you can be sure to get hold of the items you need at preferable prices to you and not have your hand forced by your labourer's deadlines.
By making purchases during sales or percentage off days, you can save a considerable amount of money instead of buying items at full price. All you have to put up with is having a few fittings laying around your home before they're ready to be used!
It's not the most glamorous option but if you're up to the challenge, removing the debris and rubbish accumulated from the job yourself can be a way to cut down on excess rubbish removal costs – and in some instances, a skip hire.
Liaise with your contractors to see what's possible, and propose what you'd be happy to do up front so they know what your intentions are.
With a lot of upheavals comes a lot of new space to paint, lay carpets and generally finish to make it look neat again.
Instead of hiring the help of a painter or decorator, if you're up to it, it's a great idea to do this final step yourself. This way, you're just paying for the cost of materials and not for the labour costs of anyone else.
Especially if you're on a road where you have no available parking at your property and have to pay for a parking permit to let the trader park outside, you'll be thankful to chop this expense out of your projections by finishing up and making good yourself.
Is a Loft Conversion the Best Choice for Me?
Loft conversions take not only money, but time. This can cause severe disruption to your household and may require a lot of planning to organise.
As undertaking a loft conversion is such a big home development project, we've compiled this list of advantages and disadvantages to help you decide whether or not contracting a loft conversion is the right decision for you and your home.
| Advantages | Disadvantages |
| --- | --- |
| It will provide you with more storage or living space | It's an expensive and time-consuming project |
| It can potentially add value to your property | Your property may not be suitable for it |
| It won't tamper with or overshadow your neighbour's land | You will need to make sure the conversion complies with Building Regs |
| You won't lose any space in your garden to have it installed | |
The main advantage of a loft conversion is it will provide you with more storage or living space. You can use your imagination to ensure that your loft conversion best suits your needs and fill the space however appeals to you.
It's also common for loft conversions to potentially add value to your property, as it provides more floor space and can be a highly sought-after feature.
It also has benefits when it comes to the installation process itself. You can rest assured that a loft conversion won't tamper with or overshadow your neighbour's land, and you also won't find yourself giving up any garden space as you might with a conservatory or glass extension.
A potential disadvantage of loft conversions are how expensive they can be and how time-consuming they can be to complete, as well as causing severe disruption to the home during the process – this may mean you'll need to find somewhere else to live for the duration of the project.
You will need to make sure the conversion complies with Building Regs which might mean that you find out your property isn't suitable for a loft conversion at all, which can be a big disappointment if it was a dream project.
What Does a Loft Conversion Involve?
A loft conversion is one of the more complex home renovation jobs out there. Many labourers are involved in the process, all with different jobs and purposes.
The scaffolding is the first job, and once this is in place all the required materials will be brought onto the site in preparation.
The roof will then be opened and if there is a change taking place with the roof structure this will be tackled first, with extra supports added as needed. Any skylights or Velux windows will be installed, and if you're undertaking a Dormer conversion it will be constructed at this point.
The external work will then be finished with any tiles replaced or repaired and roof insulation fitted. If interior work needs to be undertaken, such as plumbing and electrics, this will take place at this point.
Towards the end of the job, the doors will be hung and any skirting will be added.
How Do I Find and Hire a Builder?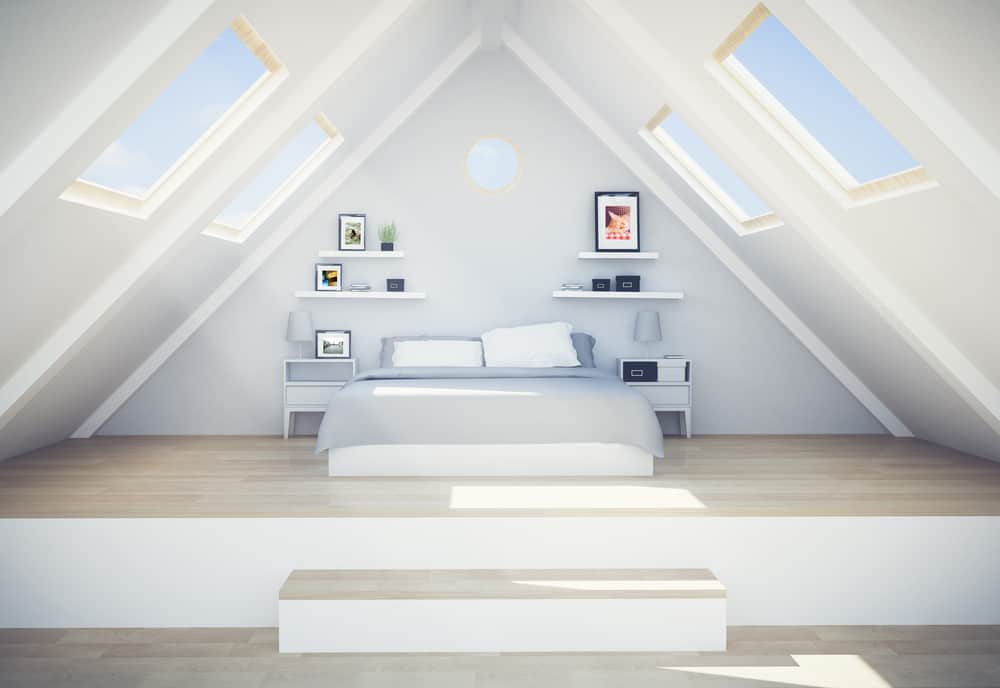 Finding the right builder can be challenging. At HouseholdQuotes, we can connect you to conversion specialists in your area.
Click the button below to tell us more about your project, and we'll help you find someone quickly and easily:
Comparing Quotes Could Save You Up To 40%:
The best way to find a builder for your loft conversion is first to look around you – has someone on your street recently had their loft done, and you like the look of it?
Asking to see the space and, if they're willing, sharing the name of their contractor can be a great way to find someone reputable to work for you. Not only can you see the proof of their work in the flesh, but you'll have a recent, up-to-date review of their work from someone you already know – and they're unlikely to recommend someone that's no good.
Ensuring the Professional is the Right Fit
As with all home renovations, getting a quote in written format is one of the first major steps in ensuring you get a reputable contractor.
No matter how nice someone may be to your face, whatever you agree verbally is just that – verbal. There's no way of refuting what someone did or didn't agree to in those circumstances, so it's always best to get anything written down to serve as a reference point for both parties.
If the contractor isn't coming from a word-of-mouth recommendation, it's best to find out their experience and see some proof of their previous work to make sure they're a good match for what you're looking for. When it comes to electricians, it's best to make sure that the contractor is qualified and listed on the government's Registered Competent Person Scheme, and that they're able to give you a BS7671 test certificate once they've finished allowing you to pass Building Regulations.
If your friend has recently had a conversion done by a particular trader, asking to see it in person can be a great way to get a tangible feel for the space and if their work is what you're looking for.
Whenever this isn't possible, asking the trader for photos or videos of their work is the next best thing, as you can see the proof of their work in reality (and not just what they've written about themselves on their website).
Finally, all contractors worth their salt will carry sufficient insurance to cover themselves and you and your home while they work. Asking to see proof of this isn't a step too far – and if the trader refuses or bucks at you asking, it's best to step away from that deal, as they could be rogue traders with little care for the outcome for you.
Final Checklist
If your existing floor plan is just too small for your family, extending into the roof is a great way to free up some potentially underutilised space in your home.
Here's our final checklist to make sure you've considered all you need to before you get started on this project:
Scope out what's right for you: get someone in to take a look at your loft space and make sure there's enough clearance for a conversion in the first place to save a lot of time (and potential heartache)
What type is best for you? You may be swayed by your building layout but if you have free reign to choose, you can go between a Velux, Dormer, Hip to Gable or Mansard conversion, each with its associated costs and conditions
What do you want the room for? A bedroom, bathroom, or study? These conditions will need to be known before work starts to make sure sufficient cabling or pipework can reach the room
Look forward to relaxing in your newly-created extra space!
Use HouseholdQuotes to find local builders and potentially save money on your loft conversion project.
Comparing Quotes Could Save You Up To 40%:
Frequently Asked Questions
Ready to start your project? We can help!
Click the button below to get quotes from local tradespeople who can help you get the job done:
Comparing Quotes Could Save You Up To 40%: