How Much Does a New Roof Cost? How to Save in 2023
A roof is unmistakably one of the most important parts of any property. Unfortunately, they're also the one area of a building most susceptible to damage from the elements.
You must maintain your roof as repairs and re-roofing costs can be expensive, time-consuming – and most of all, stressful.
In this article, we'll cover:
How much it costs to repair or replace a roof
What affects the cost of a new roof
How you can save money on a replacement roof
What's involved in replacing a roof
How to know if you need to repair or replace your roof
How to find and hire a roofer
Whether you've got a few loose tiles, or you suspect a bigger problem is at bay, keep reading to find out how to tackle your roofing problems head-on, and save money while doing so.
How Much Does It Cost to Replace an Entire Roof?
When it comes to full roof replacements, the costs usually depend on the style of roof and whether or not your home is semi-detached or detached or requires bespoke services in the case of gabled roofs.
| Roofing Job | Estimated Cost | Time Required |
| --- | --- | --- |
| Gable Roof | £7,000 to £15,500 | 2 to 5 days |
| Hip Roof | £8,000 to £17,000 | 3 to 5 days |
| Mansard Roof | £15,000 to £45,000 | 5 to 6+ days |
Replacing a gable roof will cost between £7,000 to £15,500 and take between two to five days to complete.
Looking next at a hip roof, the estimated cost will be between £8,000 to £17,000, taking between three to five days to complete.
Finally, a Mansard roof replacement will cost between £15,000 to £45,000, taking between five to six plus days to complete.
Are you ready to get started on your roof project? HouseholdQuotes can help you find the right roofer.
Click the button below to compare quotes from multiple tradespeople near you, and potentially save money on your project:
Comparing Quotes Could Save You Up To 40%:
How Much Does It Cost to Repair a Roof?
First of all, let's take a look at the costs associated with roof repairs. Some of the most common jobs are listed below, with their estimated costs and time required:
| Roofing Job | Estimated Cost | Time Required |
| --- | --- | --- |
| Replacing One Tile | £70 to £200 | 1 day |
| Replacing Ten Broken or Missing Tiles | £200 to £300 | 1 day |
| Replacing Six Ridge Tiles | £135 to £250 | 1 day |
| Repair One Roof Valley | £350 | Half a day |
| Repair Two Roof Valleys | £450 | 1 day |
| Repair One Metre of Flashing | £250 | 1 day |
| Add Joists | £1,000 to £2,000 | 1 to 3 days |
| Replace Soffits and Fascias | £1,300 to £3,100 | 1 to 5 days |
| Gutter cleaning | £60 to £540 | 1 day |
Replacing one roof tile is estimated to cost between £70 and £200 and should take one day to complete.
Replacing ten broken or missing tiles is estimated to cost between £200 and £300 and should take one day to complete.
If you have up to six ridge tiles replaced, you can expect costs of between £135 to £250. Replacing tiles is a great way to complete preventative work to keep the overall health of your roof in check over time.
To repair one roof valley is estimated to cost £350 and take half a day to complete, whereas repairing two roof valleys is estimated to cost £450 and take a day to complete.
Repairing one metre of flashing is estimated to cost £250 and take one day to complete.
Adding additional joists is a more expensive job, estimated to cost between £1,000 to £3,000 and take between one to three days to complete.
Replacing soffits and fascias is estimated to cost between £1,300 to £3,100 and can take between one and five days to complete.
Looking at gutter cleaning next, depending on the size of your home the time required for the job, as well as the price, can differ. Typically, you'll be expected to pay between £60 to £540 for one day of work, depending on the type of home you have.
What Affects the Cost of a New Roof?
Several factors will impact the final cost of a new roof. We take a closer look at these factors below so that you know what to keep in mind when creating a budget for your roofing project.
The Roof Size
The larger the roof, the higher the cost of repair or replacement. This also stands for the height of your property, as taller buildings will need more scaffolding to support roofers while they work, which will bump up your access costs considerably.
The Roof Shape and Style
As shown in the table above, different shapes and styles of roof will have different costs attached to them. If you're considering working to a smaller budget, it's worth taking time to consider what style of roof would best fit both your needs and your budgetary requirements.
Tiled Roofs
Tiled roofs are by far the most common. It's important to note that there are several variants in terms of size and quality which is reflected in the price you'll pay for roof tiles.
For instance, slate is the most expensive and most durable type of tile available and can last a lot longer than cheaper variants like clay or cement.
If you only require one or two tiles replacing on your roof to prevent water from leaking in, you can expect to pay between £100 to £200 to make everything watertight again.
Flat Roofs
Garages, extensions, certain sheds and other outbuildings typically have flat roofs. Flat roofs are generally cheaper to replace or repair but are more susceptible to damage, particularly water build-up.
The cost of a flat roof replacement varies depending on which materials you decide to use for the job. Felt typically costs around £50 per square metre, whereas more high-end materials such as fibreglass usually come in at just under £100.
Depending on your location, labour costs typically cost around £150 to £250 per day per worker. If you factor in the number of hours worked, a typical flat roof garage would cost between £1,000 to £2,000.
Repair costs vary depending on the extent of any damage. Smaller jobs such as patching flat roofs including sheds and garages or repairing blisters can usually be done for around £300. If you find you're constantly having minor repairs carried out, it may be more cost-effective to consider a full roof replacement.
Your Choice of Roofing Material
There are plenty of materials to choose from when considering what's right for your roof. The most common choices are:
Clay Tiles
Durable and most widely seen, clay tiles are a popular choice. They are among some of the more expensive options and aren't easy to fit, requiring professional assistance.
Concrete or Cement Tiles
Concrete tiles are touted for their versatility, durability and fire-resistance qualities; but they are heavy, easy to break while fitting and aren't the best in terms of weather resistance as they can be susceptible to weathering over time.
Metal Tiles
Metal tiles are a great option to help you save on maintenance costs over the years, said to last for around 50 years. Being energy efficient, they help to keep heat inside your home, which can help to reduce your heating bills.
Slate Tiles
A sure-fire way of improving your home's value, slate tiles are loved for their appearance and hard-wearing qualities. Being fire and water-resistant, they're an obvious choice, but come in at a higher price point than other tiles.
Felt Shingles
Affordable in price, felt shingles are a great way of re-roofing on a budget, although they aren't the most durable of materials, and will be prone to damages over the years.
Cedar Shingles
Cedar shingles contain natural preservatives which help to ward off the effects of the elements, making them a great roofing material. Naturally insulating, cedar can also help to improve the heat efficiency of your home, reducing the cost of your heating bills.
Fibreglass
Fibreglass roofs are growing in popularity due to their durability and lifespan of over 25 years if properly cared for. Although high in price, repairs are simple and seemingly unnoticeable, as well as being incredibly resistant to damage over the years.
Any Structural Changes
Your roof replacement may require structural changes, such as in the case of an old roof being pitched too low and needing to be re-established to prevent further damage from the elements. This will require scaffolding and extra skip hire, as well as more precautions to ensure everything is being completed within building regulations, which can add to the time it'll take your contractors to complete, as well as the price you'll have to pay to have it done.
Ease of Access
Depending on the layout of your property, a roofing contractor may require scaffolding to be erected which can cost up to £1,000 on a large family house.
If Your Guttering Needs to be Replaced
Guttering, soffits, battens, fixes and facias may also need to be replaced when completing work on your roof, which will usually be billed separately but are a cost to watch out for when trying to keep things as cheap as possible.
Waste Removal
Some roofing contractors may factor in waste disposal services into your quote, but any roof replacement job will require old materials to be disposed of. Typically, hiring a skip will add £200 to your bill.
How Can I Save Money on a Replacement Roof?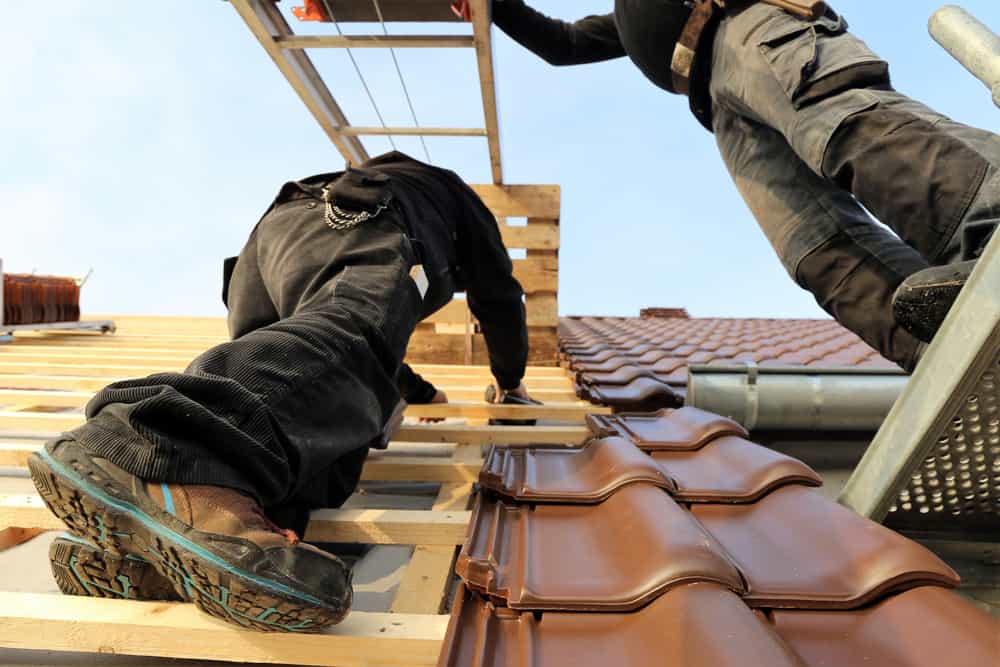 Comparing quotes is a great way to potentially reduce the cost of roofers. HouseholdQuotes can help you get quotes from multiple roofers near you, so that you can find someone that suits your budget.
Click the button below to get started:
Comparing Quotes Could Save You Up To 40%:
Nobody wants to spend more on the upkeep of their home than necessary, and a roof replacement is no exception. Thankfully, there are many ways to keep costs down when it comes to purchasing a new roof, or making substantial repairs to your existing one.
First and foremost, hiring a reputable contractor to carry out your roofing is essential. By avoiding the cowboy traders, your contractor will be able to accurately access the scope of the project and efficiently fulfil the job.
Although a professional's prices will be higher than that of a rogue trader, it means no corners will be cut during the job which would inevitably lead to repairs being made further down the line, which have the potential to skyrocket your overall project costs.
As we've mentioned already, ensuring good routine maintenance is carried out on your property's roof is a surefire way to keep extensive repair costs at bay. By scoping out potential issues early on, contractors can mitigate problems before they take root, which is why regular gutter cleaning is essential to your roof's overall health.
Reputable traders should also be able to recommend the best materials for the job, which can help when trimming down costs. Sometimes, it's possible to use second-hand tiles providing they're in good condition, which will save you spending a premium on brand new materials.
Hiring a contractor who is tried and tested is also key in terms of improving the chances you'll get someone who will complete the job in a timely and cost-effective manner. Asking a friend or family member for a referral could help save a lot of time, effort, and money when finding quotes to replace your roof.
Is Repairing My Roof the Best Choice for My Home?
It can be tricky to distinguish if you need to replace your roof or if you can get away with a rew replacement tiles here and there. Let's take a look at our key points below to help you understand the right decision for you.
| Roof Repair Advantages | Roof Replacement Advantages |
| --- | --- |
| Less expensive than an entire roof replacement | A new roof is attractive to house buyers |
| Good option for those with minimal issues, or single broken tiles or shingles | Complete replacement lasts longer than spot repairs |
| Can be completed in a quick turnaround time period | Any dampness issues can be corrected |
| Less expensive than an entire roof replacement | Can help to save money on multiple repairs over the years |
The main advantage of having an entire roof replacement is that you will likely save money in the long run as you won't have to make top up repairs over the years. You can also find and isolate any damp issues hiding beneath your old roof, helping to stabilise your home.
The advantages of roof repair is that it is understandably far cheaper than a full replacement, and can be great if you have just one or two broken or missing tiles. However, this won't be sufficient if lots of areas are damaged, and an entire replacement would be encouraged in those situations.
What's Involved In Replacing a Roof?
A typical three-bedroomed house with average-sized concrete tiles takes approximately four days to be fully repaired. Extra time should be set aside if your house requires roof rafters, roofline boards, and guttering to be replaced along the tiles.
The shape and size of your roof also have a bearing on how long the job can take as well as the size of the team working on your roof replacement or restoration.
Your roofer will first inspect the roof and determine what needs fixing – be that a total replacement or just a subtle touch-up to include the existing tiles. If it's the latter, smaller areas will be tackled and similar tiles will be replaced to make the roof watertight and aesthetically pleasing again.
If your roof needs to be entirely replaced, your roofer will first carry out an inspection of the current condition of your roof, determining what materials are needed to match the existing tiles. The old and damaged roof shingles will be taken away, and your roof decking will then be prepared.
Where necessary, new vents will be installed, and the roof flashing and starter shingles will then be added. Finally, the replacement shingles will be added, and the roof completed.
How Do I Find and Hire a Roofer?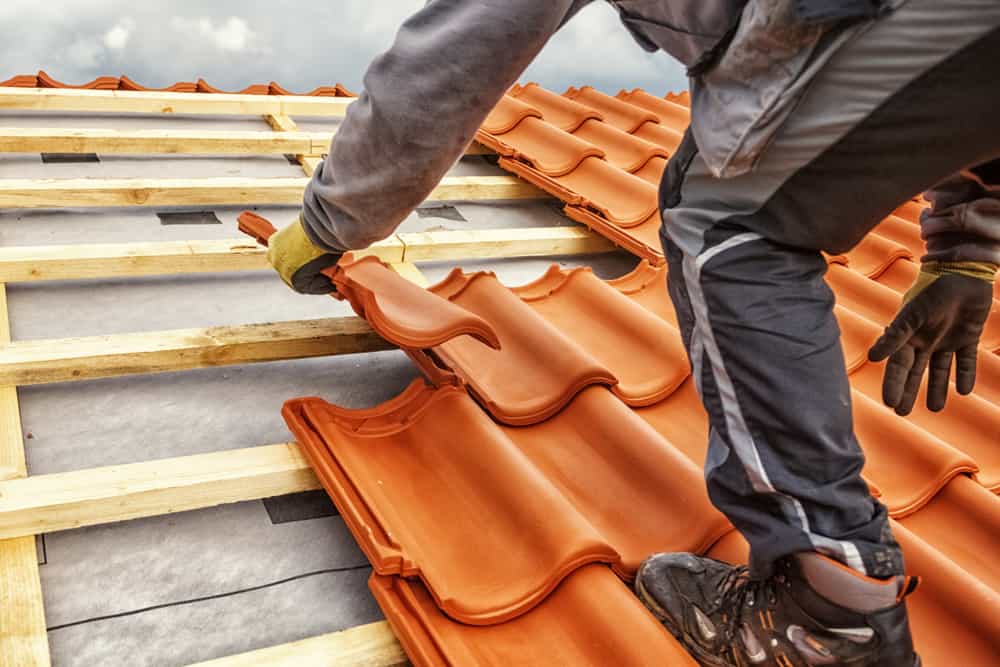 Finding the right roofer can be challenging. At HouseholdQuotes, we can connect you to roofers in your area.
Click the button below to tell us more about your project, and we'll help you find someone quickly and easily:
Comparing Quotes Could Save You Up To 40%:
Choosing a reputable roofing contractor to replace or repair your roof is vital. You can use an online directory such as the National Federation of Roofing Contractors Limited (NFRC) to find approved roofing professionals in your area, to help you escape the grips of any rogue traders.
Any tradesperson who is accredited by the organisation is required to meet certain high safety and skill standards, which will help to ensure that your money is well-placed when booking them in for a job.
Depending on the age and condition of your roof, it may also be worth hiring a professional expert to inspect your roof every six months or so. The cost of roof repairs caught in good time can be significantly lower than the cost of replacing an entire roof, so it will benefit you from doing this speculative work.
If a friend, neighbour or family member has recently had their roof replaced or repaired, ask if they'd recommend their contractor. This is a great way of getting a trusted professional and allows you to sidestep any potentially fraudulent reviews for traders.
Ensuring the Professional Is the Right Fit
As with any household project, obtaining a written quote is the first requirement you should seek to fulfil. Within this, find out if rubbish removal is included in your quote to save you from the hassle and unexpected expenses further down the line when your project has started.
If you have a flat roof, your repair or replacement needs will be different to those with a gabled roof. As such, your contractor requirements will be different, so it's best to seek out those with relevant experience in your style of roof to ensure a good match in skill.
Asking for references will let you hear from people who have worked with the contractors in the past, and are happy to vouch for their services. This is especially important if your quote is coming from someone who isn't a friend or family recommendation, as you will largely be going off the contractor's word, and not much else.
Finally, ensuring the contractor has relevant insurance will help you to avoid cowboy traders who could leave you culpable for any physical damages during the roofing project. Sourcing traders through the National Federation of Roofing Contractors Limited (NFRC) will help you to mitigate this, as well as ensure their work ethic and practices.
Final Checklist
A roof replacement is an investment in your property and it helps you to properly protect your home for upwards of 20 years.
Here is our final checklist to make sure you know what to look for when finding a contractor to work on your roof:
Carry out a visual check – do you have blocked gutters or watermarks inside your home? These can be tell-tale signs that something is wrong with your roof
Enlist the help of a roofing specialist to carry out a survey to find any potential problems, and provide you with a list of options for repair through to replacement
Find out if there are preventative measures you can take to ensure the longevity of your roof, such as regular gutter cleaning.
Use HouseholdQuotes to find local roofers and potentially save money on your roof project.
Comparing Quotes Could Save You Up To 40%:
Frequently Asked Questions
Ready to start your project? We can help!
Click the button below to get quotes from local tradespeople who can help you get the job done:
Comparing Quotes Could Save You Up To 40%: