Save Money on a New Kitchen Renovation: 2023 Cost Guide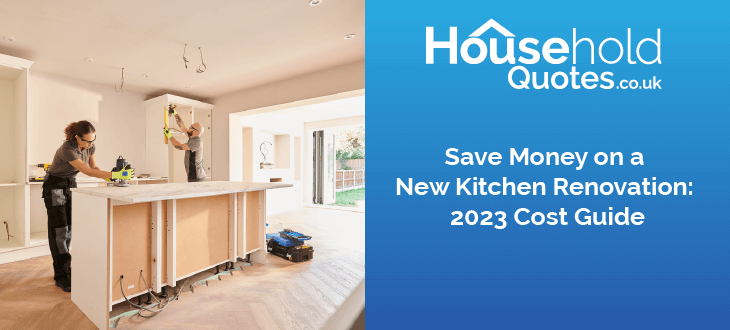 If you're thinking of installing a new kitchen, you're probably already reeling at the potential expense. Fitted kitchen prices can be staggeringly high, and even a budget project can cost thousands of pounds.
Whilst there are many elements that can inflate the overall cost of your new kitchen, there are many ways to save money along the way with some savvy spending tips and insider knowledge.
In this article, we look at:
How much a new kitchen costs;
What affects the cost of renovating a kitchen;
How to save money on a new kitchen;
What's involved in replacing a kitchen;
How to find and hire a professional kitchen fitter; and,
Answers to your frequently asked questions.
If you're tired of the sight of your chipped and scratched kitchen units and your outdated kitchen worktops and tiles, keep reading to find out how to upgrade your cooking space without breaking the bank.
How Much Does a New Kitchen Cost?
The cost of renovating a kitchen varies considerably depending on a few factors, including the size of your kitchen, how many kitchen units you want, and the finishes and appliances you choose.
Kitchen units are among the biggest expenses in any kitchen renovation. The table below shows the estimated cost of buying new units for small, medium, and large kitchens and what you can expect to pay if you've got a tight budget, a mid-range budget, or if you want a bespoke kitchen:
| Kitchen Size | Number of Kitchen Units | Renovation Budget | Total Estimated Cost | Time Required |
| --- | --- | --- | --- | --- |
| Small (9 sqm) | 8 | Budget | £1,500 to £3,500 | 3 to 4 days |
| Small (9 sqm) | 8 | Mid-range | £4,000 to £7,500 | 3 to 4 days |
| Small (9 sqm) | 8 | Bespoke | £8,000 to £10,000+ | 4 to 5 days |
| Medium (15 sqm) | 12 | Budget | £2,250 to £5,250 | 4 to 5 days |
| Medium (15 sqm) | 12 | Mid-range | £6,000 to £11,250 | 4 to 5 days |
| Medium (15 sqm) | 12 | Bespoke | £10,000 to £20,000+ | 5 to 6 days |
| Large (20 sqm) | 16 | Budget | £3,000 to £7,000 | 5 to 6 days |
| Large (20 sqm) | 16 | Mid-range | £8,000 to £15,000 | 5 to 6 days |
| Large (20 sqm) | 16 | Bespoke | £20,000 to £60,000+ | 5 to 7 days |
Please note: these estimates include the cost of new kitchen units and labour. However, our estimates exclude the cost of any new worktops, appliances, tiles, or other finishings that you may choose.
If you have a small, cozy kitchen measuring approximately 9 square metres, a new kitchen could cost anywhere from £1,500 to more than £10,000.
If your budget is tight, flat-pack kitchen units are the most affordable choice. The cost of a small flat-pack kitchen starts with 8 units at around £1,500 and can increase up to £3,500. These kitchens are normally made entirely of MDF—an affordable material that's easy to paint and resistant to warping.
For homeowners with a mid-range budget, you can expect to pay anywhere from £4,000 to £7,500 for new kitchen units from a typical high street retailer. For that cost, your new units will likely be made of MDF. Towards the higher end of that price range, you may be able to combine MDF carcasses with solid wood doors.
Even if your kitchen is small, you can still make it special. The cost of replacing your existing kitchen with a bespoke design ranges from £8,000 to £10,000 and above. Bespoke kitchens normally feature solid wood carcasses with wooden or glazed doors. Similarly, you may have the option of choosing luxury touches such as solid oak drawers.
For more spacious kitchens measuring approximately 15 square metres, a kitchen renovation could cost you approximately £2,250 to £20,000 or more.
If you want to replace your medium-sized kitchen whilst keeping costs low, you can still get a brand-new kitchen for approximately £2,250 to £5,250. For that price, you can get up to 12 kitchen units made of MDF, which is a great choice for anyone looking to refresh their kitchen on a budget.
For anyone with a more flexible budget, you may be able to get the kitchen of your dreams for between £6,000 and £11,250. Depending on your exact budget, your new kitchen could be made of MDF or a combination of MDF carcasses and solid wood doors.
The cost of creating a bespoke medium-sized kitchen varies from roughly £10,000 to £20,000 or more. For that price, you can expect solid wood kitchen units that are designed according to your personal tastes and fitted to the exact size of your kitchen to maximise the use of space.
Finally, if you're planning to renovate your large kitchen measuring upwards of 20 square metres, you could spend anywhere from £3,000 to more than £60,000 depending on your budget.
For budget-conscious homeowners with large kitchens, a set of 16 flat-pack MDF kitchen units costs between £3,000 and £7,000.
If you're happy to source your new kitchen from a high street retailer, you should expect to pay between £8,000 and £15,000 for your fitted units.
Finally, if you can afford to splash out on a bespoke kitchen with at least 16 units, you should budget anywhere from £20,000 to £60,000 or more. The cost will vary depending on the quality of the units you choose and the quality and intricacy of the craftsmanship.
Generally, professional kitchen fitters work in teams of two and can fit a small kitchen in just 3 to 4 days. If your kitchen is larger or includes bespoke finishes, you should allow 4 to 5 days to complete your new kitchen. Finally, large kitchen renovations can take between 5 and 6 days to complete, or possibly up to 7 days if your fitters are working to a bespoke design.
Are you ready to update your kitchen? HouseholdQuotes can help you find the right kitchen fitter.
Click the button below to compare quotes from multiple tradespeople near you, and potentially save money on your project:
Comparing Quotes Could Save You Up To 40%:
What Affects the Cost of a New Kitchen?
The list is practically endless when it comes to the things that can affect the cost of a new kitchen – with a few hidden costs that you might not necessarily expect, too. Let's take a look at them.
The Size of Your Kitchen
Understandably, the larger your kitchen, the higher the price you can expect to pay to have it renovated. In larger spaces, it's even more important to remember the cost-saving tactics – which we'll cover in our next section.
The Number and Quality of Kitchen Units You Need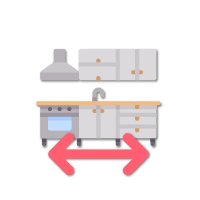 Most kitchen units nowadays – unless top-of-the-line or bespoke – are built using MDF for the carcass. Budget kitchen unit doors are also made from MDF, but mid-range and higher-end doors have either an MDF door frame with a solid wood panel, or are made entirely of solid wood.
Whether or not you choose MDF for solid wood will determine the price you can expect to pay for your kitchen renovation. Especially for larger kitchens with more surface area, higher-quality materials can see your project fees skyrocket as there is so much space to cover.
For eight MDF kitchen units, you can expect to pay £900 to £2,000, with an average cost of £1,400 for supply-only. While mid-range MDF cabinetry costs between £1,500 to £5,400, with an average cost of £3,100 for eight units.
Your Choice of Worktop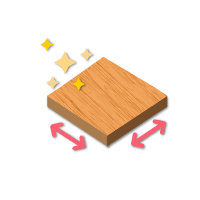 There's no one-size-fits-all worktop – you can choose from laminate, solid wood, solid surface, stone, concrete, glass, or even stainless steel.
Prices will differ depending on the type you choose, with composite worktops and glass worktops being substantially more than laminate or some types of stainless steel.
The Worktop Length and Design
Consider whether or not you'll want cut-outs for sinks, tap holes, and hobs in your worktops, as well as extras such as drainer grooves, integrated stainless steel hot rods to rest hot pans, bespoke features such as edge profiling and curved worktop corners.
Lighting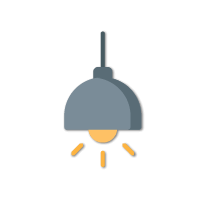 You may already have traditional pendant lights or downlights but may want to consider whether you want to upgrade your kitchen design by adding under-cabinet lighting or LED strip lighting above the kitchen units.
Appliances
You will likely need a range of appliances and these will all come with their own individual costs. Some examples of common appliances are:
Fridge or fridge-freezer – A budget freestanding fridge freezer of around 58 centimetres will cost £200 to £450, with an electric cooker and cooker hood (both of 60 centimetres) costing between £200 and £500, and £90 to £300 respectively.
Cooker – An electric cooker of 60 centimetres will cost between £200 to £500 each for a budget style, while mid-range will be between £500 to £1,000.
Extractor hood – These typically cost between £90 to £600, spanning from budget to mid-range.
Washer/dryer and Dishwasher – A budget dishwasher costs between £200 to £600, and the washer/dryer between £300 to £550.
Kitchen Fitting Costs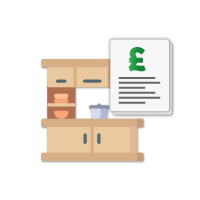 Kitchen fitting companies charge between £120 to 200 a day for fitting, but this depends on the size of your kitchen, the number of units, and whether you'd like the company to do any necessary plumbing/electrical/gas work, or whether you intend to hire your own contractors for those jobs.
Other things to consider when managing your kitchen renovation budget are:
Worktop upstands and splashbacks – For a mid-range worktop and upstand, you could opt for solid prime oak wood. This is £200 to £310 per three metres, and £35 to £50 for the same size respectively.
Sink and taps – An under-mount sink is more expensive than an overmount, and in stainless steel it can be bought for between £180 to £250, then finished with a chrome monobloc tap for £160 to £290.
Doorknobs and drawer pulls – For example, budget door knobs can be chosen to keep costs down, such as nickel-effect handles which are between £2 to £15 each. For a more high-end finish, you could change these for satin nickel door knobs and handles, equating to £10 to £30 each.
Choice of flooring and underfloor heating
Electrical work (lighting, extra sockets for worktop appliances, sockets and isolator switches for a new electric cooker/fridge/freezer)
Plumbing work (for taps but also waste line for a dishwasher or washing machine)
Tiling (either for floors or walls)
Whether you need a gas engineer to fit a gas line for your cooker
Plastering, painting, and decorating
Removing your old kitchen units and disposing of any rubbish from the renovation.
How Can I Save Money on a New Kitchen?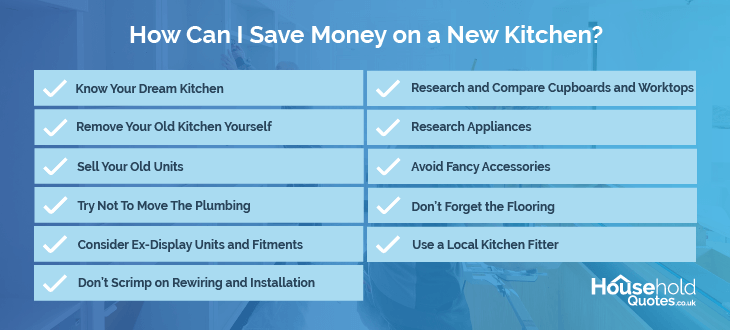 Comparing quotes is a great way to potentially reduce the cost of your kitchen re-fit. HouseholdQuotes can help you get quotes from multiple kitchen fitters near you, so that you can find someone that suits your budget.
Click the button below to get started:
Comparing Quotes Could Save You Up To 40%:
It's easy to see how a new kitchen can seem like an unattainable goal, with costs spiralling out of control easily. But there are ways to save money on a new kitchen, and we'll explain them now.
One of the most important things to do if you're trying to save money on your kitchen is to set a budget before you even start looking. This means you don't have the chance to fall in love with expensive gadgets or costly cabinets – instead, you can instantly dismiss them as unaffordable.
Knowing how much you can afford will help you make rational choices. It also means that if you discover something expensive you just can't live without, you can try and cut costs in other areas.
Know Your Dream Kitchen
Though it's important not to do too much kitchen shopping before you've determined your budget, it is a good idea to know what you'd like.
Many designers offer a freebie service where they'll come and measure your kitchen and draw you up a design – however, sometimes these consultants charge a fee upwards of £50. Having a few ideas of your own, such as wanting an island, allows you to avoid unnecessary consultancy expenses.
Remove Your Old Kitchen Yourself
A spot of DIY is always a good way to save money, and taking out the old components of your kitchen could even make you money. If you're up for a project, you can take out all the old cabinets and sell them; you'd be surprised who will pay £20 or more for a few old cupboards.
Though you shouldn't touch gas appliances without a professional, you could also get rid of electrical appliances. You might be able to sell these, or some repair companies will be eager to have these for free; no bad thing when disposal fees can cost over £150.
Alternatively, you can hire professional companies to remove your old units. These companies work carefully, but typically charge £300 to £500, which may not be very economical depending on how much you get for your second-hand kitchen units.
Sell Your Old Units
If you want to sell your kitchen units through a specialist company, make sure you ask how much they charge in commission and whether there's a minimum fee to sell. For example, some companies say they charge X% commission, but the minimum commission fee is £1,000.
If you want to try selling your kitchen, online marketplaces like Gumtree charge the lowest fees.
Try Not To Move The Plumbing
Where possible, try not to rejig your kitchen so much that it requires extra plumbing or pipework to be fitted.
In the case of your kitchen sink, the cost of moving it will be far greater than if you can stand to have a replacement one fitted into the existing space where all the pipes are geared towards.
This is also true of moving the entire kitchen to a different room on your property. This will require additional gas, electricity and plumbing to be installed and re-routed, which will bump up your costs considerably when compared to what you can expect to pay if you're just having a standard re-fit.
It's not impossible, but it will cost more money, so it's something to avoid if you're trying to save.
Consider Ex-Display Units and Fitments
Many companies now buy and sell second-hand or ex-display kitchens, which can save you thousands.
If you buy a second-hand or ex-display kitchen, make sure you see the units in person before you purchase so you can be sure of the quality – also, make sure you measure very carefully so you know the units will fit, as you likely won't be able to return the products like you would if they were standard store stock.
Don't Scrimp on Rewiring and Installation
The kitchen can be a dangerous place with all those wires, so it's essential to get a qualified electrician in to do any re-wiring. This could cost between £300 and £900 depending on the size of the job and the number of appliances you have.
In addition, since 2008 all electricians have to ensure your kitchen has a residual current device (RCD). If you don't have one, you'll have to have one installed which will push up rewiring costs.
There are still a few opportunities to save money, however. For example, some electrical ovens come with a plug, so you don't have to pay installation costs.
Research and Compare Cupboards and Worktops
When it comes to keeping kitchen costs down, research is essential. In general, the more straightforward a product is, the cheaper it will be.
For instance, a standard wall unit won't be as expensive as a rounded corner cabinet or one with a glass inlay. You should expect to pay around £3,250 to £5,250 for a range of good quality units to fit an average-sized kitchen.
Like units, worktops can vary considerably in price, too. For example, fitted laminate worktops for an average-sized kitchen may cost £2,000 to £3,000.
Wood, granite and marble, meanwhile, can easily head over the £4,000 mark. If you decide to choose wood, negotiate with fitters to stain and seal it yourself as this will save in labour costs.
Research Appliances
One of the most expensive outlays for a new kitchen is the appliances. This is where shopping around can really help.
First, think about the appliances you need, how you'll use them and if you really need that huge, American-style double fridge freezer, for example. Some retailers offer cash-back on specific products, so it's well worthwhile heading online and looking for deals.
Avoid Fancy Accessories
Adding a fancy tap, an elaborate doorknob or having all your drawers soft-close will bust your budget almost instantly.
You should always be on the lookout for hidden extras. For example, you might think handleless cabinets would be less expensive when, in fact, they cost a lot more than having a simple but stylish handle.
Don't Forget the Flooring
One area that's often forgotten, yet can spiral out of control regarding cost, is the floor.
If you're trying to save money, consider laminate or vinyl.
Though the idea might sound horrifying, modern products have come a long way from the plastic-looking floors of the past and are very realistic and emulate wood or tiles extremely well.
At just a few hundred pounds for your average kitchen, they're far cheaper than other flooring options and can be a great way of keeping costs low while still getting the look and style you want.
Use a Local Kitchen Fitter
Finally, it's a good idea to use a local fitter instead of the ones offered by your kitchen supplier as they will usually be cheaper.
How Do I Know If a Kitchen Renovation Is Right For Me?
With such high costs associated with kitchen renovations, it can seem daunting to get started, let alone to know if it's the right decision for you. Let's take a look at the key advantages and disadvantages of having the job done.
| Advantages | Disadvantages |
| --- | --- |
| Improved functionality due to a changed layout | The upheaval and mess while the project is ongoing |
| Better safety from re-wiring or plumbing where required | The costs associated with the project |
| Updated appearance and value-adding to your home's selling price | Can be unncessary in some cases where painting or re-covering worktops can be a viable option |
| Creates a new, inviting space for you to enjoy | In some cases, choosing unique and bold pieces may detract buyers from being interested in your home |
The main advantages are both functional and aesthetic – updating the visual of your home will improve your enjoyment of it, while adding value to your home. Updating the functionality with newer appliances (or working ones!), as well as re-wiring or piping if necessary can improve safety.
The downsides are the upheaval the project creates, as well as the obvious cost implications. In some cases, covering old kitchen units will suffice for an upgrade, meaning you can achieve the look you want for less.
What's Involved in Replacing a Kitchen?
The first job in any kitchen renovation will involve removing the old fitted kitchen to make way for the updated version.
If you're moving into a property and are planning on taking the old suite out, you can ask the owners if they'd consider removing it before you get in to save you the hassle when you get there. This can also be a haggling point if you're selling your property and want to get a little bit more for it, as removing the old suit and disposing of it can help the buyers out.
You can be in a position to sell the old kitchen suite on resale websites, so it's worth taking your time and some care while taking out the old set as it'll improve the price you'll be able to command for the purchase of it.
Plans will be drawn up for the prospective new fitting, including where cabinets will be and any appliances. At this point, it's good to know whether or not gas, water or electrical points will need to be changed as this can affect the timeline of the project, as well as the predicted fee for completion.
If you're engaging with a kitchen stylist or architect, they'll produce drawings for you to then take to your contractor to have them turn into a reality.
Depending on what's being added or fitted, you may need to enlist the help of a gas professional to settle in your new hob or oven, as this is something you shouldn't tackle yourself due to the high risks. Similarly, you shouldn't take on any of the electrical wirings yourself and should leave that to the professionals.
If you need any new pipework laying for additional plumbing or waste pipes, your plumber will take care of this for you while the fitting is taking place.
Once the cabinets are fitted and any fixtures or appliances are in place, the ground will need to be finished off to whatever specification you have decided on, as well as re-plastering of walls where required.
Flooring will be added, as well as any free-standing items like a floating unit, and you can finalise the space with some finishing touches to make it your own.
How Do I Find and Hire a Professional Kitchen Fitter?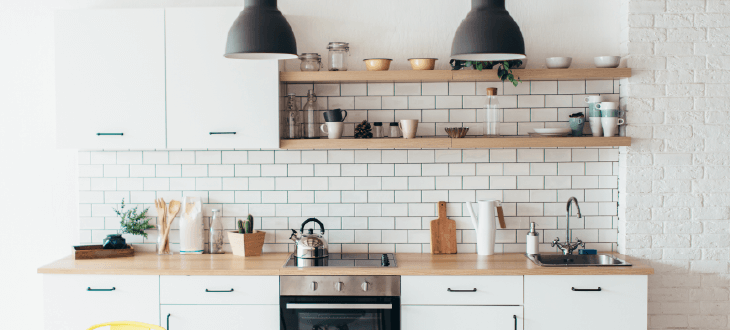 Finding the right kitchen fitter can be challenging. At HouseholdQuotes, we can connect you to kitchen fitters in your area.
Click the button below to tell us more about your project, and we'll help you find someone quickly and easily:
Comparing Quotes Could Save You Up To 40%:
Have your friends, family or neighbours had work done recently in their kitchen? Asking for their contractor's details can be a great way of securing the name of someone reputable and trustworthy, as your friends (hopefully!) won't want to share their details with you if they turned out to be no good for them.
If no one has had work done recently, then turning to an online search is a great option as you can quickly and easily search for a contractor in your area capable of fitting your kitchen professionally.
This cuts a lot of time out of your search which would have otherwise been spent hopping back and forth from web pages and tabs to compare traders to one another.
Ensuring the Professional Is the Right Fit
As with all our renovation articles, we always suggest you get hold of a written quote as soon as possible when talking with your potential contractors.
The home renovation industry is sadly rife with rogue and cowboy traders, who are out to get your money and give you nothing back in return – other than empty pockets and wasted time. By obtaining a written quote, and later a written and signed proposal, you can be sure that what they offer you on day one is what you receive when work begins, with agreed timeframes and costs outlined so nothing can catch you out once work begins.
When researching your contractors, it's a good idea to look at their experience and any relevant videos or photos of their past work to figure out if they are a good fit for you. If you have a particularly tricky space with tight corners or exceptionally high ceilings, you want to make sure the contractor can finish the job to the standard you require – if they have this type of work already in their repertoire, it'll give you a sense of trust when booking them.
Reading up on their references can also shine a light on their credibility – as it's incredibly easy to write something about yourself on your own website, but it's a lot harder to get individuals to do that for you on your behalf.
Finally, checking that your trader has the appropriate insurance to cover themselves and you while working is essential. You don't want to be left liable for any damages they may cause throughout the work, so find this out in the first instance to avoid any surprises.
Final Checklist
If you want to take the plunge and change up your kitchen for something entirely new, having it re-fitted can be the best option. Whether or not you're changing the entire space, or just switching up a few appliances, here's our final checklist to make sure you make the right choices along the way:
Define your budget, and let your choices be led by this during your project
Can you afford an entire re-fit, or would it be best to just make some cosmetic changes in the first instance, such as changing the worktops, painting the walls and switching in a few tonal accessories?
Consider what would make the most impact on your day-to-day life and movements in the kitchen. Do you want a bigger sink, or would a larger hob be more beneficial? If you can't afford everything at once, pick out smaller projects to gradually chip away at
Remove your old kitchen suite carefully, and look to resell it on a second-hand website to help recoup some of the expenditure of the kitchen re-fit
Ensure you get a written quote before any work begins to you know exactly what is included in your terms and conditions
Where possible, try not to move plumbing or gas appliances as this will require extra plumbing or gas work to be carried out which will incur higher fees
Finally, make sure you're happy with your quote before settling on it and make sure your contractor has insurance to cover the work they'll be doing in your home.
Use HouseholdQuotes to find local kitchen fitters and potentially save money on your kitchen remodelling.
Comparing Quotes Could Save You Up To 40%:
Frequently Asked Questions
Ready to start your project? We can help!
Click the button below to get quotes from local tradespeople who can help you get the job done:
Comparing Quotes Could Save You Up To 40%: