Benefits And Grants Available For People Living With Cancer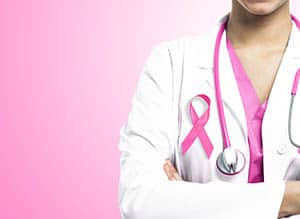 Receiving a cancer diagnosis can prove devastating for an individual and those close to them. So it's no surprise that money isn't exactly an immediate consideration either at the time of diagnosis or for some months afterwards while treatment is ongoing.
However, inevitably time marches on and in by far the majority of cases the individual is unable to work. Sometimes they may require a special diet which can prove expensive. Often they will require additional heating due to an inability to tolerate the cold. Add to this all those trips to and from the hospital for treatment and you can see how easily expenses can build up. Inevitably, that sum can result in a total which can seem overwhelming and, in the worst-case scenario, result in ongoing debt.
In this article we've outlined the major benefits and grants individuals with cancer can consider applying for and just how to go about doing that. We have also included grants from charities specifically aimed at helping children with a diagnosis of cancer.
As you would imagine, form filling comes as standard in a grant or benefit application process. Fortunately, there is no shortage of willing charity organisations such as the Citizen's Advice Bureau to provide help in this instance. They can help either via one-to-one advice counselling in person or via phone – whichever is easiest.
State-related benefits
Manoeuvring your way around the minefield that is the government benefits system isn't easy at the best of times. So it's a good idea to contact an organisation or individual who can specifically help with this (see contact details later in this article).
A good first point of call is always the hospital social worker you'll be put in touch with after your diagnosis. There may also be a welfare rights advisor at the hospital who can also help point you in the right direction.
Employment and sickness pay
When it comes to employment most individuals with cancer who are in a job can receive Statutory Sick Pay from their employer by letting them know via doctor's note that they'll be off sick and informing them verbally or by letter (depending on the company's policy).
Under the law, this lasts for a maximum of 28 weeks and works out at £88.45 a week. To qualify an employee must have been off work for at least four days in a row. This is only paid from the fourth day off work (unless the employee has been off work already for another period of illness within the previous eight weeks). Some companies may also have their own contractual sick pay scheme with a higher rate of sickness pay and which may also be available from the first day of sickness.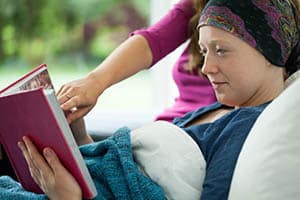 After SSP runs out you may be entitled to Employment and Support Allowance (ESA). This is a complicated application process, which is why the cancer charity Marie Curie recommends getting the help of a Benefits Advisor to help you navigate it (either via the Citizens Advice Bureau, a local government Welfare Rights officer, NHS advisor or via a cancer charity).
There are two types of ESA – contribution-based (if you have enough National Insurance contributions) and income-related ESA (if you're on a low income and you and a partner have savings of less than £16,000). Eligibility for the Allowance has been listed by the government here.
There is a standard award that is paid for the first 13 weeks of a claim. This is referred to as the assessment period. During this time you will probably have to attend a Work Capability Assessment.
The Assessment determines whether you are capable or not of working and involves filling in a questionnaire as well as a face-to-face meeting. At which point you will be put into one of two groups – Work Related Activity Group or Support Group. The support group is for people who are currently too unwell to work at all. The rate for this group is £109.30 per week. The WRAG group is for people who may be able to do some kind of work if the conditions are suitable for their disability. The WRAG rate is £102.15 per week.
If you are placed in the WRAG group, you may be required to attend work focused interviews.
Another important thing to note is that you can only claim contribution-based ESA for up to one year, if you are in the WRAG, although you may then go on to receive income-related ESA if you are eligible.
If you are in the support group, the one year time limit does not apply.
Personal Independence Payment (PIP) is the new scheme which replaced the Disability Living Allowance in 2013 (although only for adults). It is in two parts – Daily Living and Mobility. The Daily Living part pays £55.10 a week at the standard rate and £82.30 at the enhanced rate. It's for help with personal care, taking medicines and money decisions. The Mobility part pays £21.80 a week at the standard rate and £57.45 at an enhanced rate and is for help with moving around. The government's eligibility criteria is summarised here.
Universal Credit is a new benefit that aims to completely merge 6 benefits into one. It is currently being rolled out and should replace Income-based Jobseeker's Allowance, Income-related Employment and Support Allowance, Income Support, Housing Benefit, Child Tax Credit and Working Tax Credit.
Universal Credit Rollout. This scheme has currently been rolled out to new single benefits claimants but won't be rolled out fully to everyone until 2022 by which time all existing benefits claimants will also have been moved over. The following link to the roll-out timetable shows whether your area is eligible.
Housing Benefit is available to those on a low income. How much financial help is based on your current income ie it could be a top up or full payment of your rent.
Council Tax Benefit is also income based and eligibility concerns how many dependents you have as well as where you live. It's received from the local council.
Carers Allowance
A Carers Allowance is available for those who find it difficult to manage with the tasks of day-to-day living and need help with what the government term 'personal care.' This includes such basics most of us take for granted as dressing ourselves, washing or cooking. The payment for this benefit ranges from £21.55 for basic care, right up to £81.30 (the latter being if someone is terminally ill and requires day and night supervision).
Attendance Allowance
Available to anyone aged 65 years old and over who has needed help with personal care for at least six months, Attendance Allowance is not means tested and works out at £54.45 per week. This rises to £81.30 for those who need overnight as well as daytime help.
Miscellaneous benefits
Other benefits (automatically awarded under Universal Credits) include eye tests, travel expenses to and from hospital, free dental treatment and the cost of any wigs/fabric supports that the illness has resulted in.
Free prescriptions
Prescriptions are free in Scotland, Wales and Northern Ireland. In England those in employment or who have cancer and aren't claiming Universal Credits can receive free prescriptions by applying for a five year prescription exemption certificate. Forms for this are available from GP surgeries.
Social Fund
The Social Fund provides grants for such instances as maternity or funeral expenses (the latter including transport, burials or cremation). The Fund also provides money – known as a cold weather payment – if the temperature drops below zero for a week.
Adaptations
Some home adaptions for cancer and its treatment will be funded – either partially or completely – by local councils under their Disabled Facilities Grants scheme. This includes financial help with purchasing such adaptations as stair lifts, ramps and wheelchairs.
Bereavement benefits
These can be paid to an individual on the death of a spouse or civil partner and are dependent on national insurance contributions. A one-off Bereavement Benefit payment of £2,000 can be claimed if individuals are under pensionable age when their partner dies.
What if it's a child who has cancer?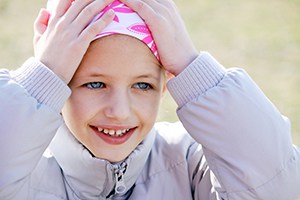 Children too can benefit from Disability Living Allowance (around £47 per week) while parents will also qualify for Working Tax and the means-tested Child Tax Credit. If a parent has to leave work to look after a child who has been diagnosed with cancer then they may be entitled to a Carers Allowance (around £53 a week).
An Educational Maintenance Allowance could be available to other offspring in the family who are at college or in some form of further education (including high school). This is worth around £30 a week.
Free school meals are available for children looked after by adults who receive income-related Employment and Support Allowance, income-based Jobseeker's Allowance or Child Tax Credit. Local councils can also provide grants for school uniforms if the family is deemed as being on a low-income.
Car drivers who have a cancer diagnosis can claim for a host of benefits on the road such as free access to toll roads and tunnels as well as dispensation from the London roads Congestion Charge (which works out at around £8 a time). Some hospitals will also reduce hospital car parking costs for patients who are receiving cancer treatment.
The Family Fund
A grant from the Family Fund is available for lower income families who are coping with a disabled or seriously ill child. The money is to be spent on items which will make life in the family easier or more enjoyable. This could involve spending the money on a holiday, buying a washing machine or using it to cover hospital visits etc.
 Ben Heroes Trust
Ben's Heroes Trust is a small charity which provides financial help and support to children with cancer who require new treatment or drugs not available on the NHS. The charity is five years old and named after Ben Loyns, aged nine, who died from cancer. Last year it supported more than 52 children and their families.
CLIC Sargent grant
The children's cancer charity CLIC Sargent supplies one-off grants to children and young people with cancer and their families within the first year of diagnosis. Applications need to be made through a CLIC Sargent social worker or some other health professional. For more information, call 0300 330 0803.
Adult Charity Grants Available
There are a number of charities and professional bodies which provide financial support to help those with cancer and their families. In most cases, the referral is made by someone in the medical field such as a social worker, community nurse, GP or hospital consultant. Some charities will pay for particular costs eg transport while others will award a sum for general needs.
Macmillan Grant
Around 600 individuals a week receive a grant from the Macmillan charity. This is a one-off sum of money of around £400 which is available to those who have cancer or are still seriously affected by the illness or the treatment for it.
The money can be used to pay for a holiday, clothing, utility bills or any other expense deemed necessary because of the illness. It won't affect state benefits since it is viewed as additional financial help rather than as a replacement.
To qualify for the grant an individual's savings must be £6000 or less and £8000 for a couple/family. A patient's net weekly income must be no more than £170 (£289 for a couple). State income payments aren't included in this calculation.
To apply for the grant individuals must fill in a form via a Macmillan nurse, practice nurse or social worker. It should include a short report from a medical person who is treating the illness. Payment is usually very quick. More information on applying for this grant can be found by ringing a Macmillan hotline number, tel: 0808 808 00 00.
Charis Grants Ltd
The Charis Grants organisation manages trust funds and assistance funds on behalf of utility companies and local authorities. Their grants can be used to clear debt in respect of utility bills, to purchase necessary household items such as a washing machine or cooker, and to help cover Bankruptcy tel: 01733 421 021.
Help with heating
Individual energy suppliers look at rethinking an individual's payment arrangements to make it easier for them during their illness and ongoing treatment. Some may even supply a grant.
A special grant to improve heating and insulation is available via local councils and eaga and is available to individuals who are disabled, have a low income or are aged 60 or over.
Contacts for charities and advice organisations
Contacts for Government Bodies providing benefits for cancer patients
The Department for Work and Pensions' Benefit Enquiry Line (BEL). This can provide advice on benefits for individuals and those caring for them tel: freephone 0800 882 200
This gives online advice concerning financial support, rights, employment and independent living. See www.direct.gov.uk/disability or www.direct.gov.uk/carers
HM Revenue and Customs. Advice on claiming tax credits and other tax-related matters. Tel 0845 300 3900 or see hmrc.gov.uk
It's clear then, from all the help available either via charity or the government, that cancer can be an expensive as well as a frightening illness. But just like the illness itself, there is often a solution. Grants and benefits are there for a reason and that is to be used. Even if you're not sure if you qualify for a particular grant or benefit it's still worth chatting it over with either the organisation itself or a hospital social worker. The old adage is true – if you don't ask, you don't get – and without question, cancer patients are amongst those most in need of financial security at such an unsettling time.